If you are visiting Southern Germany with your family, then going to Dachau is an important site to visit. Among other things, Dachau is a grim reminder of what can happen when good men and woman sit by and do nothing. When we visited Germany last year I knew  I would be traveling with my young 4-year-old grandchild and finding information about Dachau and if it would be appropriate for him was challenging. This post is not to make a political statement or provide parenting advice. We just wanted to share our experience in our short Parent's Guide to Visiting Dachau, provide some more information and help you decide if you should take your children when visiting Dachau.
A Parent's Guide to Visiting Dachau
The Entrance
Immediately upon arrival to Dachau, the infamous words are visible on the iron gate into the camp, "ARBEIT MACHT FREI" (work sets you free).  Those words starkly greet you.  It is a lie and is a sullen reminder that you are about to enter a place where terrible atrocities against humankind took place.  
Dachau was the first official Nazi German concentration camp and was in operation from 1933-1945.  It was set up on the grounds of an old munitions factory in the pleasant little town of Dachau. Today it is an open-air museum and memorial to the thousands of people and liberators who passed through these gates during WWII.
The Main Exhibit, Replicated Barracks, and Memorial Chapels
The main exhibit inside focuses on the doomed prisoners.  You will see the "path of prisoners." This refers to the path where the prisoners entered the camp, their life in Dachau, and their journey to either death or liberation.  The feeling inside is sterile, cold, and hard.  You can read about different prisoners and their experiences.  You also learn up close and personal about the starvings, beatings, gruesome experiments, and mass murders that were a reality inside this camp.  There are graphic pictures and videos.  If you are sensitive to these things- you may want to quickly move on or have a shield person in front of you to carefully guide you through and around those exhibits that are particularly tough.  Many are difficult to view and I kept asking myself in disbelief if these things really could have happened in the very recent past.  Barbaric.
Outside, there are 2 barracks that have been rebuilt to give an idea of what life was like inside.  Barracks like these were originally meant to house hundreds of prisoners but at times housed many many more.  
Three memorial chapels are on the grounds.  There is one Protestant, one Jewish and one Catholic.
The Dachau Crematoria Area
Also on the property is the rather pleasant looking brick building where some prisoners were "processed".  Oddly, the front part looks business and very bank-like with glass windows resembling a bank teller. When you walk into the second room, above the door is the German word Brausebad, which translated into English, means shower.  The shower room is complete with Zyklon B (the infamous poison gas) distribution vents, fake showerheads in the ceiling, and shows the extent to which the Nazi's were willing to go to deceive.  It's beyond comprehension.  Next door is the crematorium where other prisoners were forced into burning bodies.  The ovens are still there.
* Just a note, there is still some controversy surrounding Dachau today. The official statement is that the Dachau showers were never used in mass extermination and that very few "gassings" took place, even though there is architectural evidence and prisoner testimony to prove otherwise.
The experience is both shocking and moving.  We went to Dachau with a private guide.  There were three of us in our group and each of us had a different reaction to the experience.  One of us felt like vomiting, one of us felt like crying.  I didn't feel either of those things but was so saddened.  I had learned at length about Nazi Germany and the Holocaust and had never doubted that it happened, but throughout the visit found myself baffled and asking so many questions… What?  Why?  How?  What was the Nazi's end game?  If they hadn't been stopped where would this have ended?  So many unanswered questions in my mind.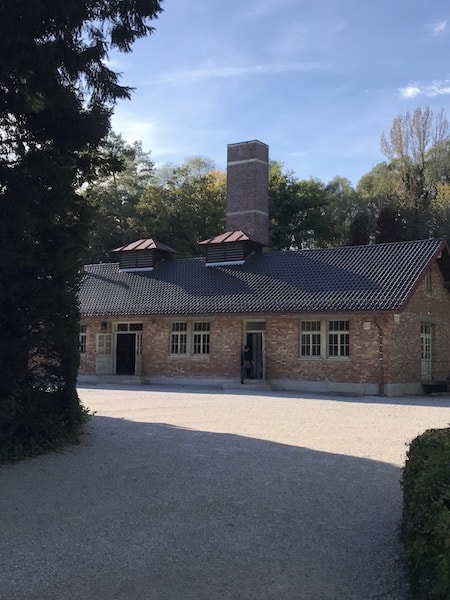 Should Children Visit Dachau?
Should you take a child or children to Dachau? As family travelers, we often take our children to many locations that some travelers would never think to take a child and we usually have a great experience. In the case of Dachau, we wrestled with this idea repeatedly.  We wondered whether we should take my four-year-old grandson.  We knew there would be graphic pictures and videos, but thought we could just shield him from the most difficult parts, and maybe even distract him by giving him his iPad.  
What we Ended up Doing
In the end, we decided NOT to take him and we were so glad. We had a member of our party stay back in Munich with him (To see the rest of our Munich Itinerary click – A Complete Guide to Munich in Five Days).
Firstly, we did not see any other children there during our visit.  The memorial is quiet and somber and the exhibits gripping.  Not only would it be difficult and scary for a young child, it would have been a different experience for us who went, having to worry about and distract a young child.  Without him, we were able to engage and connect with the stories and information that was available.  
Secondly, I have already mentioned the graphic nature of some of the exhibits.  It is our opinion if we had a child traveling in our group under the age of about 4-6 we probably wouldn't take them.  Obviously, it depends on the child and you know your child best.  I personally have a son that at the age of 13 became physically ill at the Holocaust Museum in Washington DC and had to leave.  He is now a grown adult and I think that he would struggle visiting Dachau.  In any case, we think children must be old enough to have some sort of reference points, knowledge or background about Nazi Germany and the Holocaust. Even as adults it affected us profoundly. Also, be prepared as a parent for some (maybe many) follow up conversations with your child about the experience.  It is grim and horrifying.
Essentials for Visiting Dachau
Dachau is located 15km (about 10 miles) northwest of Munich and is easily accessible via public transportation.  Allow yourself 3 hours inside the camp.  At the Visitor's Center you can rent an audio guide, and peruse the bookstore.  We were there in the afternoon around 2:30 or 3:00 pm and we did not experience the crowds that some visitors do. In the end, the more prepared you are for a visit to Dachau or any concentration camp for that matter the better off you will be. It can get windy so a small jacket is advised.
If you book ahead of time you may be able to secure an on-site guided tour through the Stiftung Bayerische Gedenkstätten (Bavarian Memorial Foundation), you can fill out the request form here. For other visitor information, you can see the site here Dachau Concentration Camp Memorial.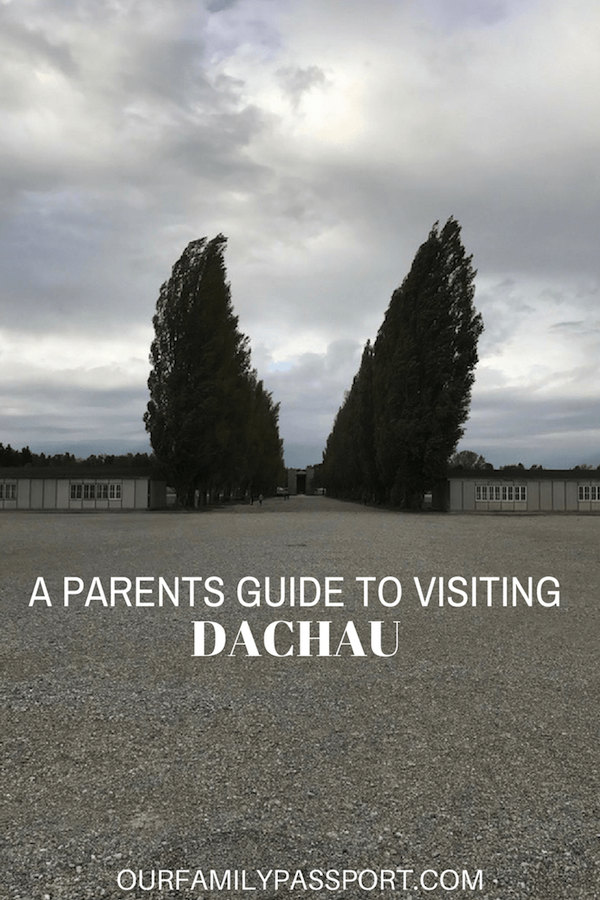 *For more information regarding family travel and to receive your FREE #coloringtheworld starter kit, CLICK HERE!