A Quick Note on 10 Family Air Travel Tips During Coronavirus!
Beckham and I recently took a trip to South Carolina to meet up with my sister who lives in North Carolina. We wanted to explore Charleston, and to break free from Utah for a bit. We flew from Salt Lake City to Atlanta and then Atlanta to Charleston via Delta. Flying right now with the COVID outbreak was very unique. It was the first time Beckham or I had flown in over two months and air travel right now is most certainly different than it was before.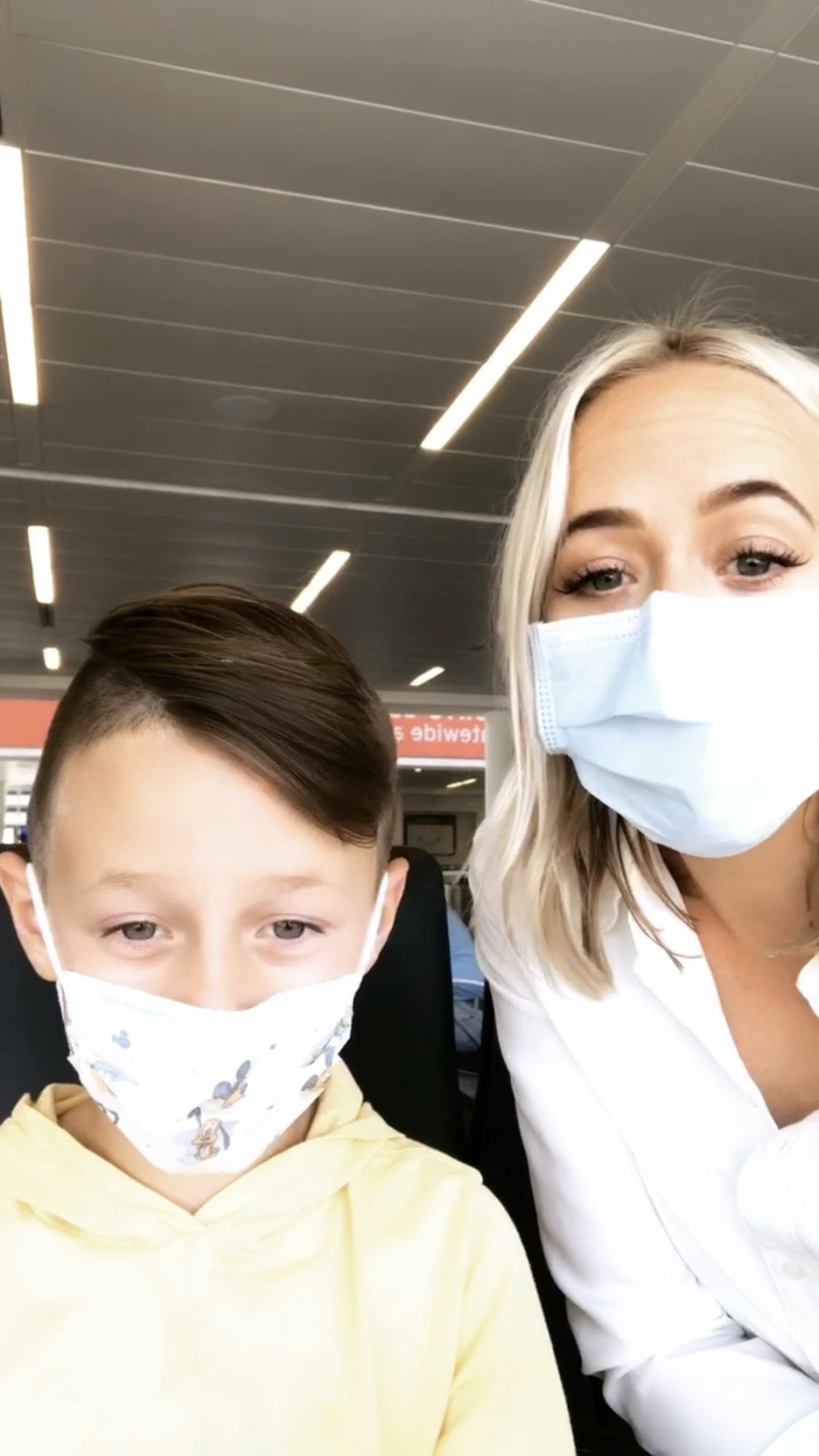 I spent the majority of the flights making notes, observing different procedures, and experiencing what I could so that I could then write a post on family travel tips during coronavirus. What resulted was our list of 10 family air travel tips during coronavirus that you can and SHOULD use if you and your family decide to travel right now. For some more flying with kids tips, click the link here – Flying with Kids, Tips and Tricks for Moms!
But first…
Air Travel Right Now… Is it Safe? What's Like? What To Expect? Is It Worth It?
Is it safe to travel right now? I honestly don't think anyone can answer that question for you and your family, but you. Here are some things to consider and ask yourself.
Is It Safe To Travel Right Now – Things to Consider
What does the CDC say? You can get the most current and updated information for almost any destination here at CDC Travel Recommendations. Follow recommendations and be informed.
Does anyone in your party, including you, feel sick?
Does anyone in your group have underlying or pre-existing conditions?
Is there a shelter in place or self-isolation order for your destination or for your home when you return? You can see the current self-isolation CDC orders here – CDC, After Travel Precautions.
Are you and everyone in your party able to wear a mask for long periods of time?
Do you have any young children in your group who might have a hard time keeping fingers, toys, or other small objects out of their mouths?
Do you feel comfortable and okay traveling right now?
What is Air Travel Like Right Now?
To be honest, in terms of crowds, cleanliness, and assertiveness from airport staff, and airline crew, in my experience, it has never been better. I have NEVER seen the airport or any airplane cleaner than what I saw and experienced. Lines are short, security is efficient, boarding is easier, and I felt like people were overall really nice and patient with Beckham. I made a specific attempt to go into the bathrooms at each of the three airports we visited and each of the bathrooms was spotless.
However, some things are very different. The airport felt dead almost everywhere. Half of the stores are shut down, it was hard to find a place to eat, and I found that I was super on edge about where Beckham and I sat. Anytime anyone came within the 6-foot bubble, I automatically felt on edge. While most of the airport was clear of crowds, only a few of the restaurants were open. So the ones that were serving food had really long lines. This was especially true at the Atlanta airport.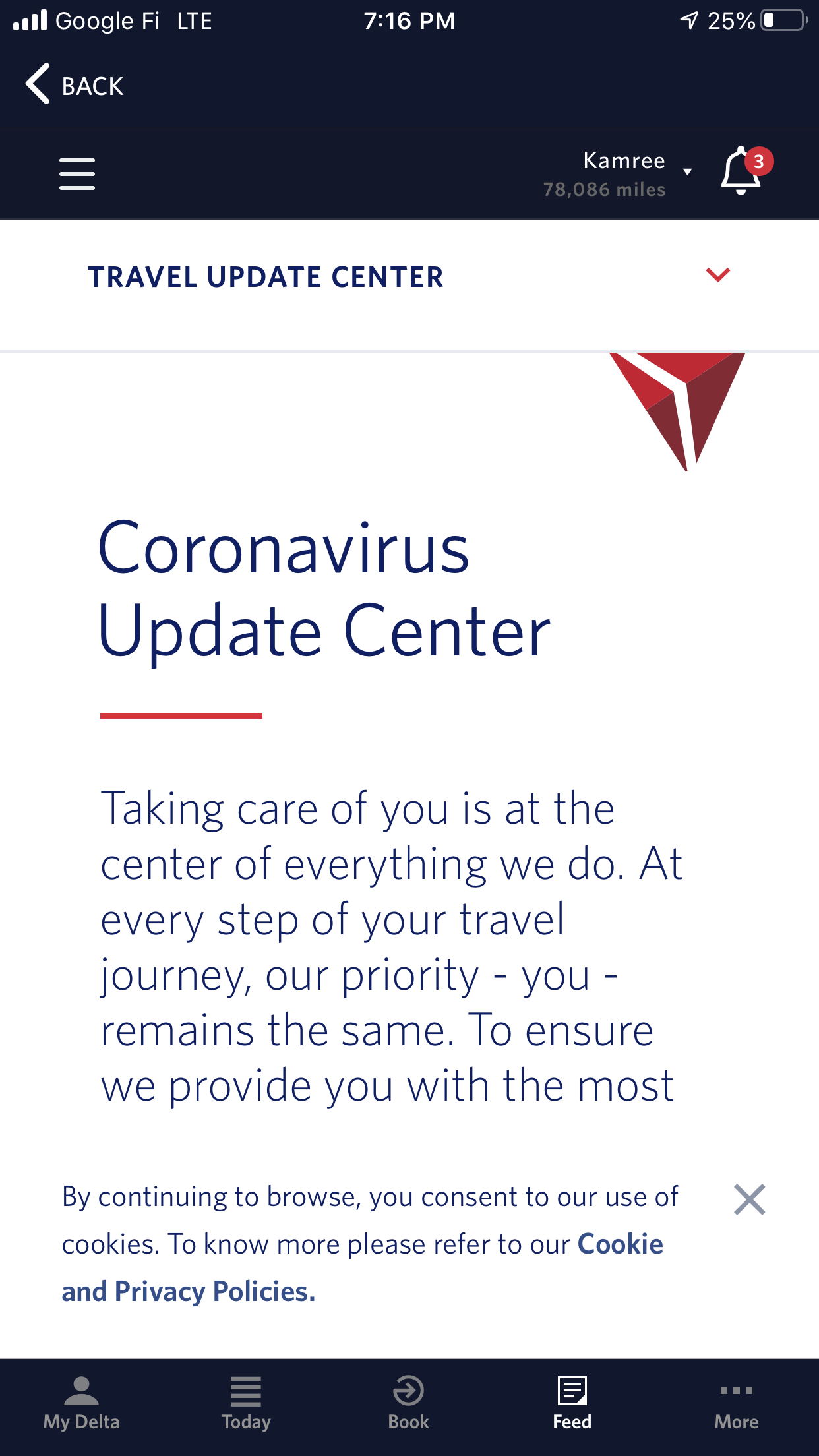 Here are some things that are vastly different about air travel right now-
Boarding. In the case of Delta, boarding now occurs from the back of the plane to the front. Regardless of your status. If you are sitting in the back, you will get on first.
Face masks are required. You will not even be allowed to get onto the airplane if you do not have a face covering. Some small children on our flights were not required to wear them. However, I erred on the side of caution and made Beckham have one on the whole time.
The drink and beverage service is canceled. You will get a small little plastic with a small bottle of water, Biscoff cookies, crackers, a hand sanitizing wipe, and a napkin.
Hand sanitizer is everywhere. Going through security, getting on the plane, getting off the plane, and throughout the airport.
Most likely you will be seated every other seat on the plane. This is SO nice! However, it can create a bit of confusion with kids and bigger family parties. If you have an issue with where you are seated, let a flight attendant know.
Planes should be sanitized and cleaned after each flight. PRAISE THE HEAVENS for this!
Do not plan on being able to use Skycap, Lounges, or even to be handed blankets on the airplane. Airport play areas are shut down. Basically, anything superfluous to flying is not currently operating.
Things Are Just a Bit… Different.
Things just feel different. To be honest, it felt otherworldly to me at times or that we were in some sort of post-apocalyptic movie. The departure board is half empty, everyone is wearing masks, stores are closed, people aren't talking to anyone. Then, in my case, I kept Beckham extra close and was extra cautious. I noticed every other parent doing the same thing.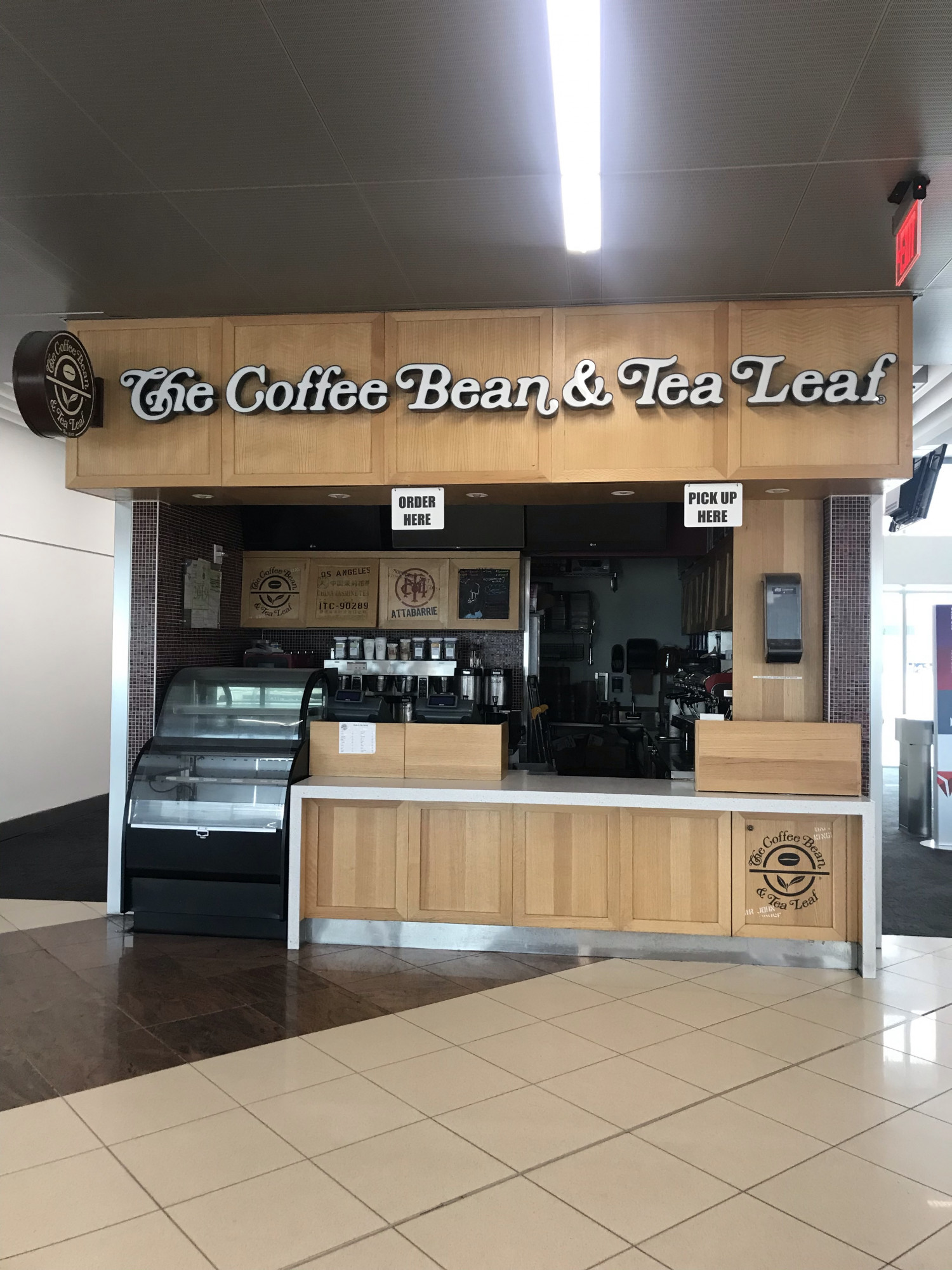 Is Air Travel Worth it Right Now?
For me, and for this small instance, yes. We have been home for over two weeks. We have not, and are not presenting with any symptoms and it was really nice to be able to visit family and get out and explore a little. Beckham loved digging and playing on the open South Carolina beaches and I liked being able to eat at a few restaurants and be somewhere new. We have all felt a little stir crazy and I know this is massive first world problems but I have missed traveling and experiencing different things.
However, we have canceled all of the other trips that we had planned until August because of the precarious nature of coronavirus right now at the destinations we were going. This is me speaking just for me and for my family – if I was able to travel internationally right now to a country that was open, I would. I wouldn't not go because I was worried about the air travel part of things. It is more about how things currently are at the destination for me. Things were not nearly as bad as I had expected them to be. The overabundance of caution was really nice and appreciated.
Now Onto the Tips!!! …
Have Masks
Have a Ziplocs on Hand
Dress in Layers
Practice
Expect some Emotions
Keep Sanitizer and Wet Wipes on Hand
Gloves
Water Bottle with Lid
Prep
Have Fun!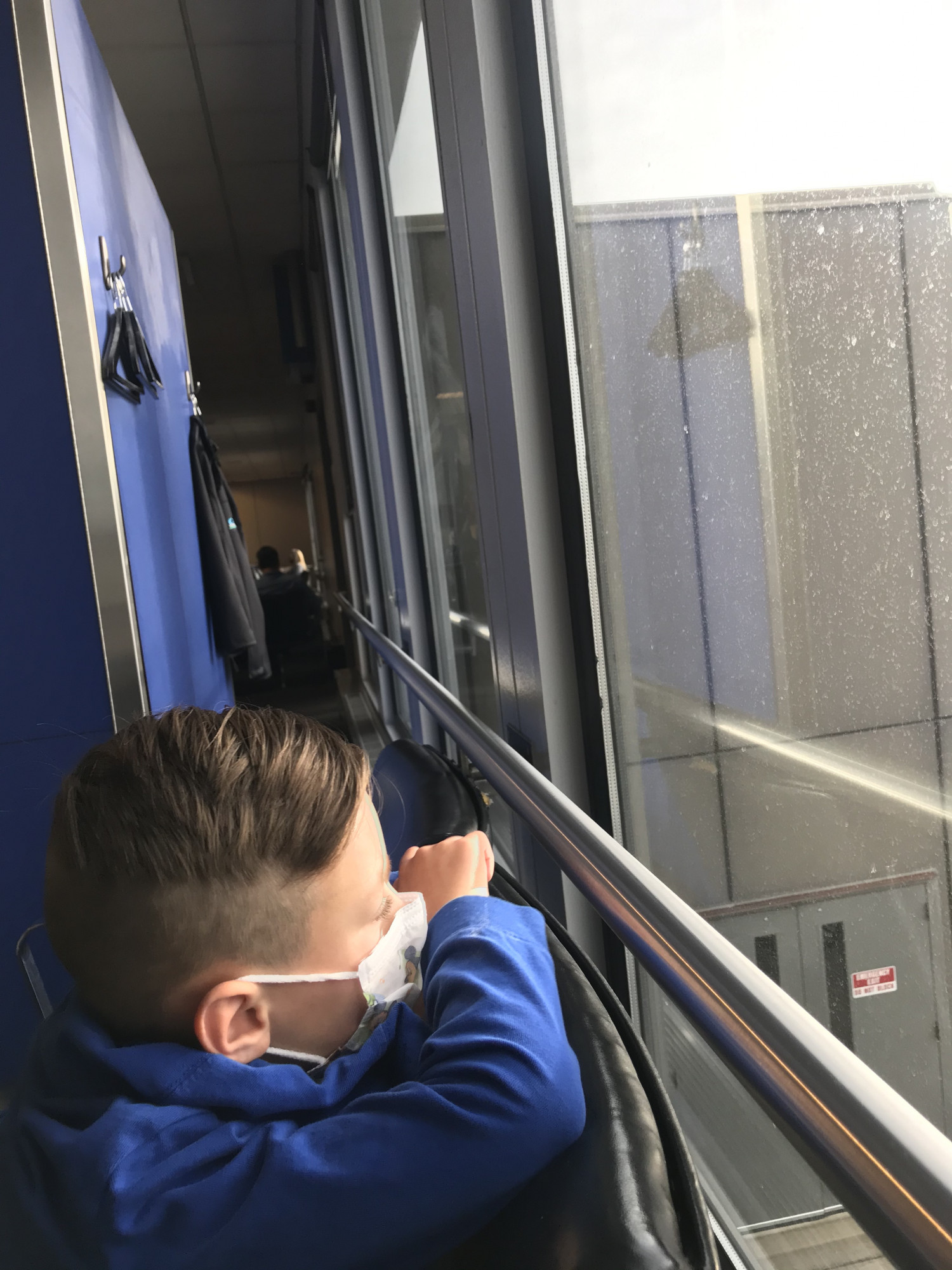 1. Have Masks
Have masks on hand for everyone in your group. Then have some more. Masks get dropped, stepped on, spit in, and all sorts of things. Just imagine having your hand next to your child's face for an hour and how gross it would be. That is their mask. YUCK.
2. Have a Ziploc or Some Sort of Case for your Masks.
I have a hard enough time trying to get Beckham to remember to make his bed and brush his teeth. Masks are new for these little people and Beckham did not know what to do with it when he wasn't wearing it. At one point it was stuffed into the backseat pocket of the seat in front of us, and another time, it was one the floor. Have a place that you and your little ones can tuck them away and keep the germs from getting on them.
3. Dress in Layers and Bring Jackets – No Matter Where You are Going
Blankets and pillows on airplanes are a thing of the past. We were FREEZING at one point and I would have given anything for a chintzy, stupid, little airplane blanket. I made sure that on the way home I dressed both of us in several layers and kept a jacket out just in case.
4. Practice Wearing Masks for Long Periods of Time
We struggled to keep our mask on for hours at a time. (PRAISE YOU HEALTH CARE WORKERS). At the end, it became a little fight between the two of us and I was so sick of telling him to put it on right. I was kicking myself for not having Beckham practicing wearing his more (before we left home) so he would be a little bit more used to it.
5. Expect Tears
This is new. Things are weird. Beckham is an experienced flyer and he was bugged about some things and that it wasn't what he was used to. He was super bothered that the airport ice cream shop he liked was shut down, that he wasn't going to get his Sprite on the flight, and then the mask. He cried at least one time and I felt like it too. Just expect a few tears and then if they don't happen, you will be pleasantly surprised!
6. Have So Much Hand Sanitizer and Wet Wipes on Hand
Seriously, wipe down that shiz. When we were in a situation where we were unable to wash our hands, we were sanitizing. The more the better in this case.
7. Bring Gloves
I honestly wished I had brought a few pairs of gloves. Simply because when wearing gloves and masks it makes me more aware of what I am touching. There were a couple of times that I had wished I had a pair for Beckham like when he was trying to touch anything and everything. Oh, your kid does that too? Weird!
8. Have a Water Bottle with a Covered Lid
Oh my goodness! This is one of my biggest tips. I had forgotten ours on the way there and it was a mess. Beckham had his hand all over the cap, it got dropped on the floor, and I ended up having to throw it away and he was thirsty. Kids are kids, and they just touch everything. Having a bottle with a covered lid that can protect the cap from any extra germs.
9. Prep and Talk with Everyone in Your Party Beforehand
A little preparation can go a long way. Let the little ones know why they need to wear a mask, that they won't be sitting next to anyone, that they have to be extra careful what they touch and that they need to stay extra close. Keep it age-appropriate but a little education never hurts. Here is an excellent CDC article on Talking with Children About Coronavirus.
10. Have Fun!
This might be the new norm. Who knows? I tried really hard to not get too stressed out and have fun with Beckham. Wearing masks creates new experiences. We were playing games where we tried to decide if the other person was frowning or smiling. Then we started doing what we called "Corna Kissies". Where we just touch our masks together. We tried to pick out our favorite masks in the airport and started counting how many times we washed our hands.
I honestly hope this helps! Decide what is best for you and your family, stay informed, be prepared, and if you do to travel right now, HAVE A BLAST!
Safe Travels,
Kam 🙂