Think you can't earn points and miles on Airbnb and VRBO stays? Think again! This article will show you the absolute BEST ways you can earn points on miles through Airbnb and VRBO so you can travel more for less!
While I LOVE staying at luxury hotels and earning points and elite status for hotel chains, sometimes a hotel is not the best option for our family of six, and staying at an Airbnb and VRBO is a way better route.  
If you're looking for a nice, relaxing family vacation or an extended stay with amenities like your own kitchen and plenty of space – then renting through Airbnb or VRBO might be the way to go too! The best part is that with the strategies covered in this post, you can take advantage of earning points and miles on your Airbnb and VRBO stays. This way you don't miss out on racking up the points regardless if your stay is at a hotel or vacation rental. 
Are you new to earning points and miles? Check out our Crash Course to Reward Traveling here!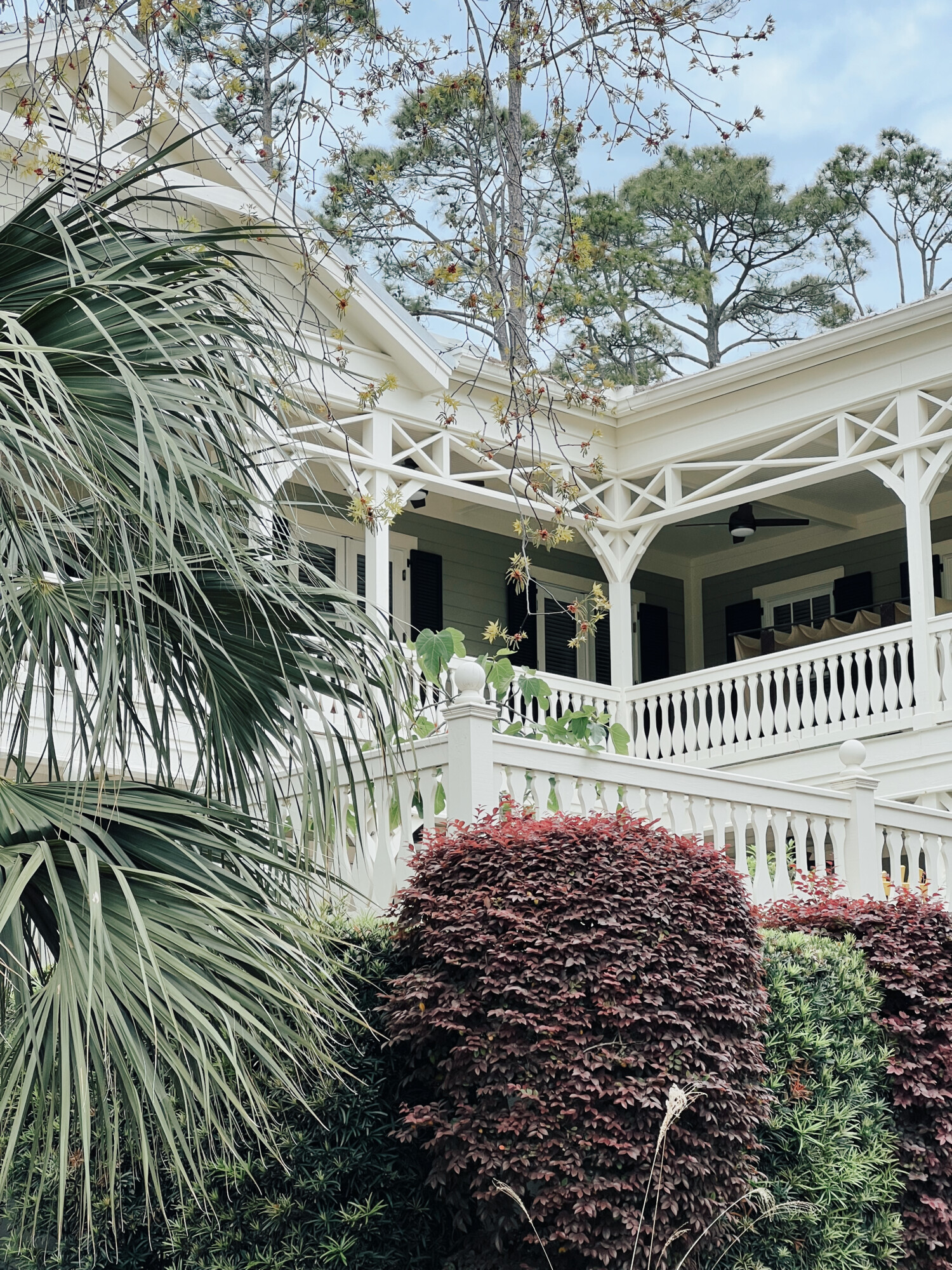 The BEST ways to earn points and miles on your Airbnb and VRBO stays!
We're going to cover 4 amazing strategies that you use to earn the maximum amount of points on your next vacation rental stay! The best part is that you can stack some of these strategies and do them together so you can earn even more!  
Use the right cards to earn points and miles on your Airbnb or VRBO

Book through a collaborative airline partner portal to stack and earn airline points

Use gift card category multipliers

Add credit card offers when they come!

Using the Right Cards to Earn the Most Points on Your Vacation Rentals!
Without a doubt, one of the most important things you can do if you are wanting to earn the most points on an Airbnb or VRBO stay is to start out with the right card! The cards listed below will get you double to triple the points on your booking just by using them. The rest of the strategies will be enhanced by making sure that you are using the right card to book your vacation rental to start with!
Chase Sapphire Reserve
The Chase Sapphire Reserve will get you 3x the points on all of your Airbnb and VRBO purchases! This card also gets you a 1.5 return when you use these points in the Chase Ultimate Rewards Travel Portal. You can also transfer these points to amazing travel partners like Hyatt & Southwest! (Want a breakdown of the different transfer partners? Check out our Transfer Partner)

American Express Green
This awesome, low annual fee American Express card will get you triple the points on every dollar spent on all of your Airbnb and VRBO stays. I love this card because it also opens up the possibility to earn Amex points through Rakuten so you can stack even more earnings!

Capital One Venture
One of the best and easiest reward cards on the market, this card will get you double the points on ALL your purchases (not just travel purchases). This card is fantastic because it also gives you the option to "erase" your Airbnb or VRBO purchase thus giving you the opportunity to use your Capital One Miles for nearly free vacation rentals!

Capital One Venture X
This card is the swanky older sister to the Venture card. It comes will all of the benefits, earning potential, and some really fantastic luxury offerings like receiving a $300 annual statement credit that you can put toward your vacation rental purchase! 

Chase Sapphire Preferred
One of my top recommend cards for beginners will help you earn double the points on your Airbnb and VRBO purchases! This card is a staple in the points and miles world and deserves a good look.

Book Your Airbnb or VRBO Through a Collaborative Airline Portal to Stack and Earn Airline Miles
Ready to take your earning to the next level? Once you are using the right card, you can then book through an easy-to-use collaborative airline portal to earn points and miles on your Airbnb and VRBO stays! Not only do these portals make booking a breeze, but with every dollar spent on your vacation rental comes airline miles that can be put toward future airfare. Here's the lowdown on some of the best portals out there – so let's take off and explore them now!
Airbnb Airline Portals
Here is a list of the different airlines that have partnered with Airbnb. In order to use any of these portals you want to make sure that you have a loyalty number with the associated airline.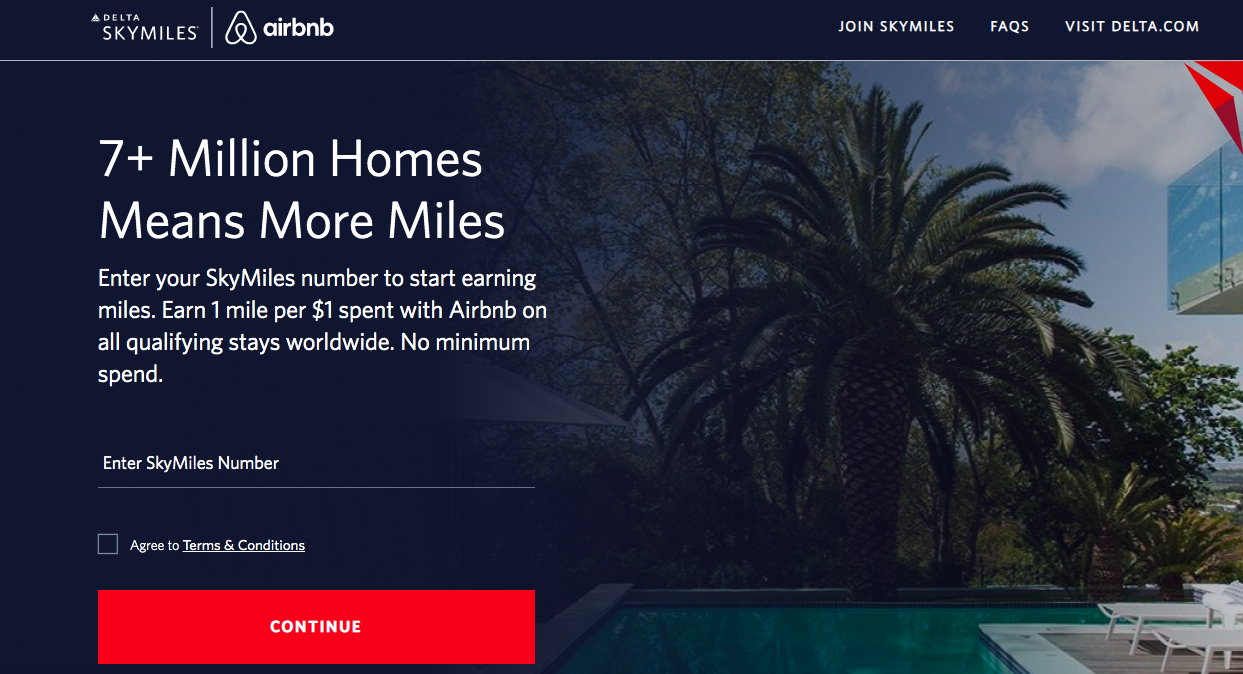 The Delta + Airbnb Portal is one of my favorites. I am a loyal Delta customer and LOVE being able to stack and earn SkyMiles any way that I can. In order to earn Delta Skymiles off of your next Airbnb booking, all you need to do is to book through the collaborative portal and put in your Delta SkyMiles number. Every dollar that you spend (not counting taxes and service fees – cleaning fees do count though!) will earn you an additional Delta Skymile! This means if you are using the right card to start with you can earn anywhere from triple to quadruple the points on your booking!
This Airbnb Partnership with British Airways is a fantastic way to earn some Avios points that can be used on certain American Airlines flights! This portal works a bit differently. You'll need to click on the link above and enter your British Airways loyalty number. Then it will unlock the booking portal for you. For every dollar that you spend on Airbnb, you can earn up to 3 Avios miles. 
If East Asia is on your list to travel to and you will be staying at an Airbnb in Japan, then you might want to consider taking advantage of the partnership between ANA and Airbnb. This Japanese-based airline offers some amazing flights from the US to Japan, Thailand, Bali, and more! This program is a little different as it only counts for Airbnbs in Japan and you need to generate a code that you can then use when booking your Airbnb. This code signals the ANA loyalty program to count your Airbnb purchase for their loyalty airline miles program. You can read all about the program and how to take advantage of it here! 
This Australia-based airline offers a fantastic return on your Airbnb stay. For every 0.70 USD that you spend, you'll earn a Qantas mile. You will also earn 500 Qantas miles on your first Qantas + Airbnb booking! In order to earn these miles, you need to make sure you have a Qantas account and you book through the Australian version of the site.  
VRBO Airline Portals
While VRBO has fewer airline collaborative portals than Airbnb, these portals pack a punch and will help you earn miles that you can use to travel nearly all over the world!
When booking a VRBO through Alaska Airlines Shopping Portal, you will earn one Alaska mile for every dollar spent! Booking is really simple and requires that you sign in with your Alaska Mileage Plan account before you book. You will just need to follow the prompts here. 
Arguably the most lucrative airline collaborative portal is the United + VRBO portal. When using this portal, you will earn up to a whopping 3 United miles for each dollar spent! The booking process for this is a bit different as you need to make sure you find and select your VRBO through the collaborative website here and then when you are checking out and paying, you will enter in your United loyalty account number!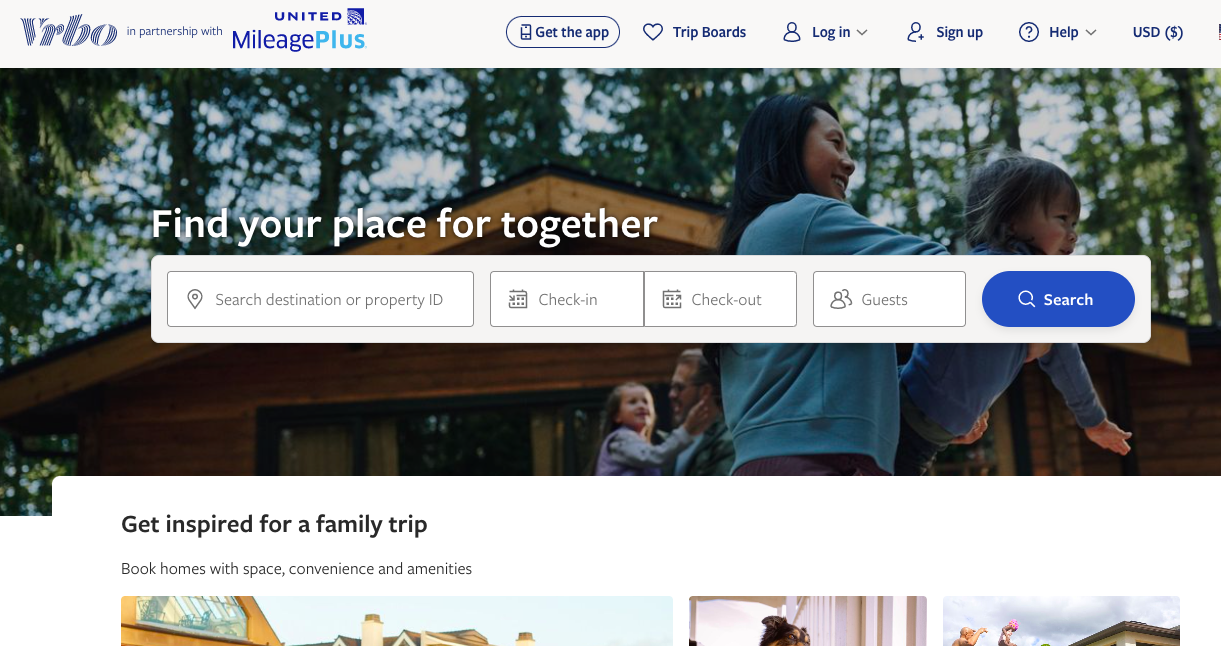 FAQ about Airline Partner Portals
Are the prices on the Airline Portals the same as on the standard Airbnb and VRBO site?
Yes! There should be no upcharges or hidden fees when using a collaborative portal. You will get the same price. 
What if I need to cancel or change my reservation?

You can do it through your Airbnb or VRBO account like normal! If you do cancel your reservation, you won't get your airline miles. 
When will my airline miles be deposited into my account?
Usually, anywhere from 4-8 weeks after completion of your stay.
Can I stack my credit card earnings with these portals?
Yes! You absolutely should earn your 3x or 2x the points when using the right cards in these portals and they should still code as "travel". It doesn't hurt to keep an eye out and make sure that they do code as travel so you can earn your credit card points as well!
Use Gift Cards When Booking at Buy Your Gift Cards With Your Category Multiplier Cards
One of the easiest ways to earn a standard 5x the points on your booking is to use a Chase Ink Business Cash Card to buy Airbnb and VRBO gift cards at your local office supply store and earn 5x the points on your purchase! You will then use these gift cards to book your Airbnb or VRBO direct. 
Tips for using the gift card technique:
It is best practice to purchase a few other small things at checkout when you are buying a large number of gift cards. 

Try to keep your gift card purchase below $500 for each transaction per day. 

Make sure your office supply store counts (Office Depot, Office Max, and Staples all count. However, stores like Target and Walmart do not. You can read more about what office supply stores work here – Chase Ink Office Supply Stores

) 
Expert Hack:



Use your Chase Sapphire Reserve $300 annual credit in conjunction with your gift cards. For example, if your Airbnb or VRBO is going to cost $800. Buy $500 dollars in gift cards, use them at check out and then use your Chase Sapphire Reserve to pay for the remaining $300. This will get you $300 off of your stay, and you'll also earn 5x the Chase Ultimate Reward points on your $500 of gift cards! 
Add Your Airbnb and VRBO Discount Offers or Category Multipliers to Your Card When They Come!
American Express, Chase, and Capital One frequently have special add-on offers that you can add to your card. A regular offer I see is 5% off an Airbnb or VRBO booking when you add the offer to your card and then use that card at checkout. It is very important to note that these offers are not always available and while they have been frequent, there is no guarantee that they will be offered again. To check to see if an offer is available to you, simply log into your credit card account online and look at the different add-on offers available! 
Common Questions about earning points and miles on Airbnb and VRBO Bookings!
Do I get points on Airbnb?
You can earn specific "T-points" that are through Airbnb although these are not nearly as lucrative. To make the most of your Airbnb booking it is best to use a credit card that earns 2-3x the points on your travel purchases. This way you can earn points that are flexible, lucrative, and transferable.
Does Airbnb count as travel for credit cards?
Airbnb and VRBO both regularly code as "travel" for most major credit card companies like American Express, Chase, and Capital One. This is great because this means that you can take advantage of higher category multipliers and bonuses. 
Does Chase give points for Airbnb?
Yes! Chase does give points for Airbnb and VRBO bookings as they code as travel purchases. You need to use either the Chase Sapphire Reserve to receive 3x the points on your vacation rental bookings or the Chase Sapphire Preferred to receive 2x the points on your vacation rental bookings! 
Do you get 3x points for Airbnb on Chase Sapphire Reserve?
You do get 3x the points on your Airbnb and VRBO stays through the Chase Sapphire Reserve. This is hands down one of the best cards to use for vacation rentals because you can earn triple the points AND you get a $300 annual credit that can be put towards vacation rental stays. 
Do you get double points for Airbnb on Chase Sapphire?
You will get double the points for Airbnb and VRBO purchases if you use the Chase Sapphire Preferred card!
Which Chase credit card is best for Airbnb?
If you are looking to earn the maximum amount of points on your Airbnb or VRBO stay through a Chase credit card then you want to use the Chase Sapphire Reserve. Just make sure that you take advantage of all of the bonus offerings to help offset the higher annual fee. 
Does Amex give points for Airbnb?
Absolutely! If you use the American Express Green card you will receive 3x the points on all of your vacation rental bookings through Airbnb and VRBO. You can then use your Amex points within the American Express Membership Rewards Portal or transfer them to partners like Delta, Marriott, and Flying Blue!
Can I earn Capital One Miles by booking Airbnb and VRBO?
You can easily earn Capital One Miles by using your Capital One Venture or Venture X card on your vacation rental purchases. Each purchase you make with a venture card will help you earn double the points. 
How do I use my Capital One Points on Airbnb?
Using your Capital One Miles on Airbnb or VRBO is really simple. Just charge your vacation rental purchase to a Capital One Venture card and you can erase your charge with the miles that you have. When you do this, you will get roughly 1 cent per point you use. You can also use the $300 Venture X Annual Credit to put towards your vacation rental purchases. 
Bottom Line
By using these different strategies alone or together and booking your next vacation rental strategically you can easily earn points and miles on your Airbnb and VRBO. That way you know that you are making the most of your spending and will be rewarded for it in the form of more travel later!