Our family keeps going back to the Los Cabos area in Mexico, read below to find out our 5 reasons why Cabo is a perfect family destination in Mexico – and why you need to go now!
Why Cabo is the Perfect Family Destination
A Little Geography
Cabo otherwise known as Los Cabos, refers to a region located at the southern end of Mexico's Baja Peninsula that we have found to be very family friendly.  It includes two towns; Cabo San Lucas to the west and San Jose Del Cabo to the east.  The towns are located only 22 miles apart and are connected by a stretch of road called the Golden Corridor.  In close proximity to each other, it is very easy to stay in one and day trip to the other.  This region provides hotel accommodations from budget to luxury and everything in between.  We prefer staying along the corridor because it provides easy access to either town.  There is so much to see and so much to do.  If time allows, we recommend scheduling a time to visit both towns.  We prefer San Jose Del Cabo as it seems a little more authentic.
If you are heading to Cabo soon, don't delay, and download our Cabo coloring page!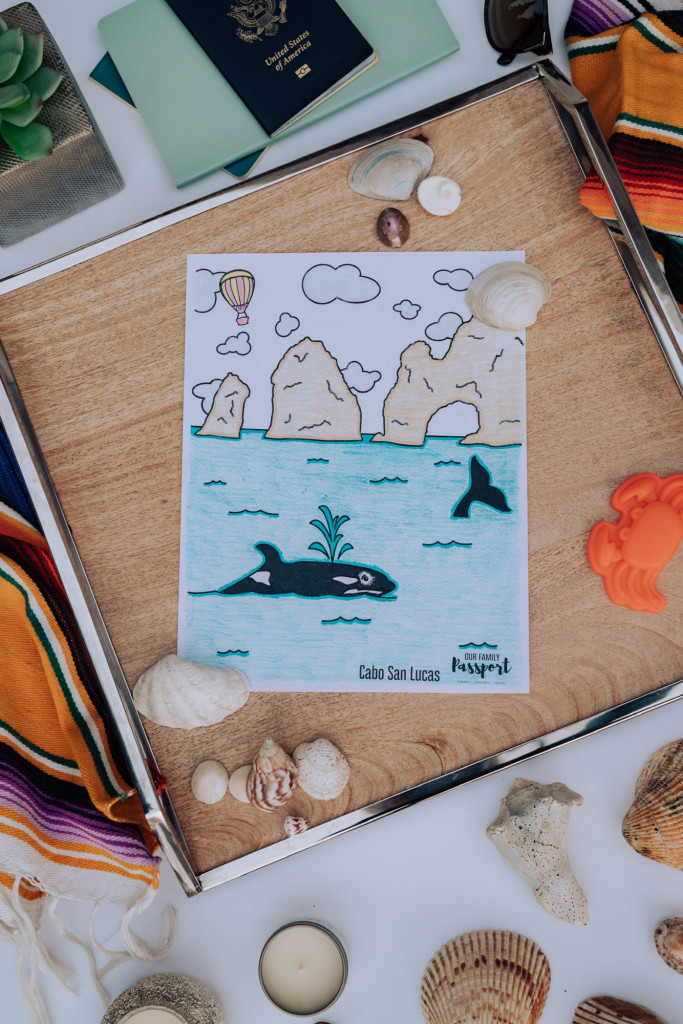 Our 5 Reasons why Every Traveling Family Should Visit Cabo
1. The Weather
Reliably Great Weather- Los Cabos receives 360+ days of sunshine per year and that is one reason it makes our "return to" list.  In our 6 times visiting, we have never had a cold, rainy day in Cabo.  Maybe it has just been our luck but we have also noticed that Cabo is less breezy than other beach destinations we have visited.  We do however try to avoid the hurricane months of August through October.  Yet, overall Cabo is a great place to sit back, relax and take the sunshine in.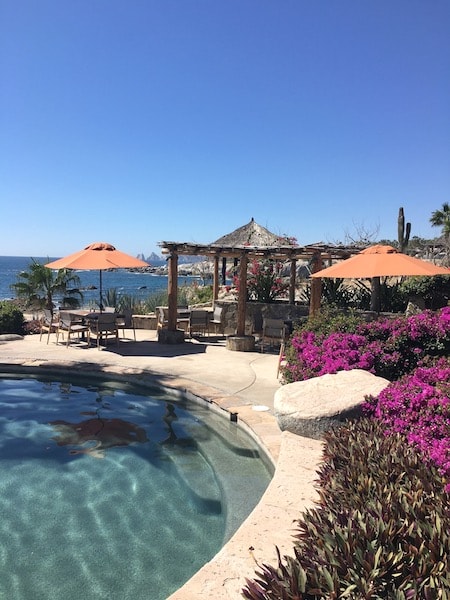 2. Hello, Food!!!
Oh, the food!  Some of us have been known to nearly eat our body weight in guacamole while in Cabo (not going to mention names).  Mexico has our vote for some of the best cuisine in the world.  The food in Cabo is delicious and if you are a fish lover, you will not be disappointed.  You can eat mahi-mahi, halibut, and sea bass to your heart's content.  A few of us are always,
ALWAYS on a quest to find a great fish taco!!  You can find what you are looking for from standard, cheap fare to thrilling fine dining.  When traveling with the whole crew in tow, we tend to stick to more casual (hello 3 year old) and inexpensive meals.  A few of our favorites for yummy fare and a laid-back ambiance are Mi Casa in Cabo San Lucas and Tropicana Inn Bar and Grill in San Jose Del Cabo.  El Matador is delicious but more expensive and upscale.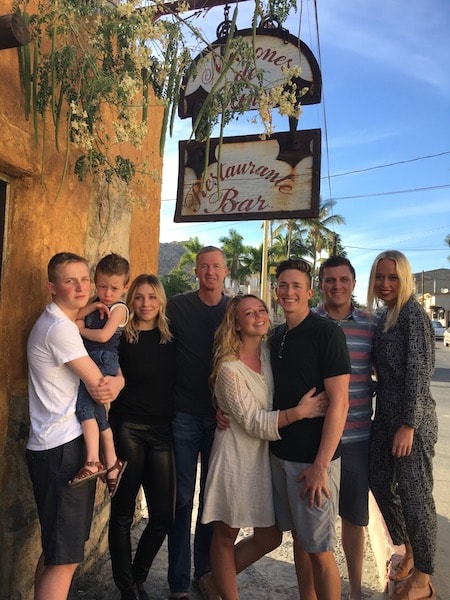 3. Mega Water Sports
Water Sports- Snorkeling, scuba diving, whale-watching (Dec.-Mar.), sportfishing, boating, and parasailing.  While all of these activities (and more) are widely available, we tend to stick to snorkeling, diving, boating and whale watching.  Sav and E are both recently certified scuba divers .  They completed their certification on the island of Maui and their other diving experiences were in Bora Bora.  I was a tad bit worried that they might find their diving experience in Cabo to be disappointing.  They weren't disappointed at all.  In fact the opposite.  In addition to seeing many eels, turtles, reef sharks and many other creatures, they especially enjoyed the rock formations.
Their dive guide took them through an "underwater canyon", whatever that is (I clearly didn't get to see it).  Sounds a little freaky to me, but they thought it was great!  While they were diving, the rest of the party snorkeled and hung out on the beach. The water was warm, the sun was warm, the water was clear and we observed some seriously beautiful fish.  Can't ask for more.
Whale watching is one of my favorite things to do.  It provides a thrill that I love and I never tire of it.  All along the corridor between December and March you can sit on the shore and with a sharp eye see these magnificent humpbacks breaching, spouting and playing in the warm water (they clearly like Cabo too).  If this is the way you want to see them I recommend having your binoculars close by.  Of course, there are many outfitters that are happy to take you out on the water to get a more up close and personal experience (you should still have your binoculars close).
4. Easy Access*
Easy flights- All international flights arrive at Aeropuerto Internacional de Los Cabos (SJD).  We love the easy 21/2 hour non-stop flight from SLC to SJD.  SJD receives short (under 3 hours) nonstop flights from many cities in the US including Los Angeles, Houston, Dallas, and Phoenix.  In 2.5 hours we can go from what seems to be eternal winter to warm and sunny!  Warm and sunny sounds good right about now… (*We realize this isn't the case for all of our readers, however, for us this is a big deal if we need a quick get away.)
5. Golf – We can't Forget the Golf!
I almost overlooked golf.  Oh boy, I would be in some serious trouble with the men in the group.  I am not a golfer, but we have a few obsessive golfers in our fam. Although there are many nice courses in this area (and a few under construction), the current favorite is Cabo Del Sol Ocean Course.  What I know about the Ocean Course is that was included in the "Top 100 Courses in the World" for 2013 and 2014, and it combines ocean and desert golf.  Enough said. There are MANY beautiful resort courses that are open to the public and easy to get on.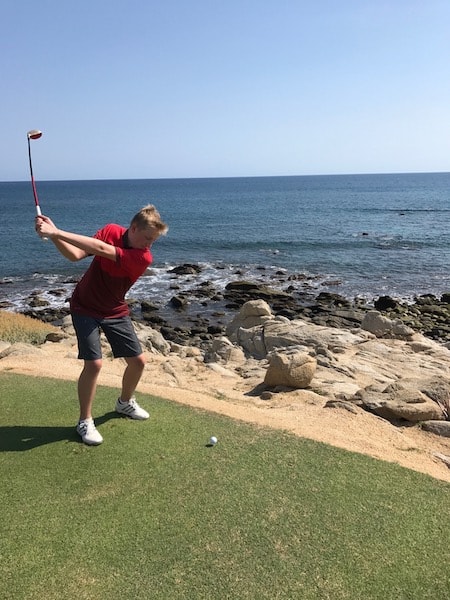 Some of our Other Favorite Activities in Cabo
We have participated in many other activities while traveling here (riding razors in the desert, swimming with whale sharks, hiking, day tripping to La Paz), but the ones listed above are our favorites!  
In the end – Los Cabos is fantastic and deserves a visit!!
Do you have any places that you keep going back to? What about some activities that are a must for you while on a beach vacation? Any questions about the Cabo area? As always let us know what you think below. If you are looking for some more great Mexico Family Vacations be sure to read The BEST 8 things to do in  Cancun that you don't want to miss!
Happy Travels,
Shani
Don't forget to pin this and to subscribe to our email to get access to your free #coloringtheworld starter kit, itineraries, and family travel hacks!