Our family LOVES Cabo San Lucas, it is so easy for us to get there and we always have a great time. You can see our post on Why Cabo is the Perfect Family Destination here. Since we have visited Cabo many times, we have been able to narrow down our favorite family restaurant in Cabo San Lucas to Mi Casa Restaurant. It has excellent food and it is seriously fun!
Our Favorite Family Restaurant in Cabo San Lucas – Mi Casa
The Location
Mi Casa is located a few blocks from the main marina and across from the town's plaza.  From the outside of the restaurant, you would never guess that there was a huge bustling restaurant behind the nondescript exterior.  The ambiance is very casual and there is no need to be concerned that your children will disturb other diners.
The decor is eclectic and almost wild. Think cheery, brightly colored murals on the walls, palapas, hanging wicker lanterns and many, many "dia de los muertos" skeletons sitting around.  It is welcoming and has a fun, old Mexican vibe.  
The Food
The food is tasty with regional specialties and traditional Mexican food.  See the menu here. There is something for everyone.  The carne asada plate is delicious and I always enjoy the chicken enchiladas served with both red and green sauce.  Last visit, on a recommendation from the server, two in our party ordered the oven roasted pork short ribs and thought they were delicioso!!!  There is a station inside where you can watch them prepare and cook their homemade tortillas.  Vegetarian options are also available.
The Entertainment
Our MOST favorite thing about the restaurant is the entertainment.  There are traveling entertainers who come to your table.  The Mariachi band comes asking for requests and last time we requested Sweet Caroline by Neil Diamond (we should have chosen something a little more Mexican but we have a thing for Sweet Caroline:)).  We all sang along enthusiastically (wonder what the diners next to us were thinking, HAHA), as they played.
Becks' Favorite
I know that for some this may be a bit cheesy but the kids love the balloon twister that comes and surprises each diner with a balloon hat.  Beckham (age 3) sat in awe as the entertainer twisted balloons crazily into funky hats.  Beckham was hesitant at first to wear his hat but insisted on taking it with him upon leaving the restaurant and played with it until it deflated.
My Favorite
My favorite entertainers are Paco and Pepe, the fortune telling canaries.  They are the cutest tiny little yellow canaries who, on command, hop from their cage and choose from a box of folded fortunes one that is just right for each person. They are then rewarded with a small seed and hop right back into their cage. Beckham watched with wide eyes and wonder.  
A Quick Note for Families
We have also visited Mi Casa when children were not present and the entertainment was geared more to adults, with a couple of innuendos. Keep this in mind when visiting. When visiting with children we have never had any sort of inappropriate entertainment, but this is something you might want to be aware of for your group.
The Price and Tips
The price for the food is very moderate and very comparable to restaurants in the area. All of the entertainers in the restaurant work for tips.  It is obviously an added expense, but for $10-$15 USD (we usually tip $5. USD p/entertainer), we get dinner AND entertainment.  Not bad for a party of 8. Of course, their services are not obligatory and it is alright to politely decline if you wish.  
In our experience adults and kids alike will enjoy this restaurant.  Prepare for great food, lots of laughter, and great FUN!
Happy Travels,
Shani
*Click to check out our darn cute Cabo coloring page that is easy to download and color!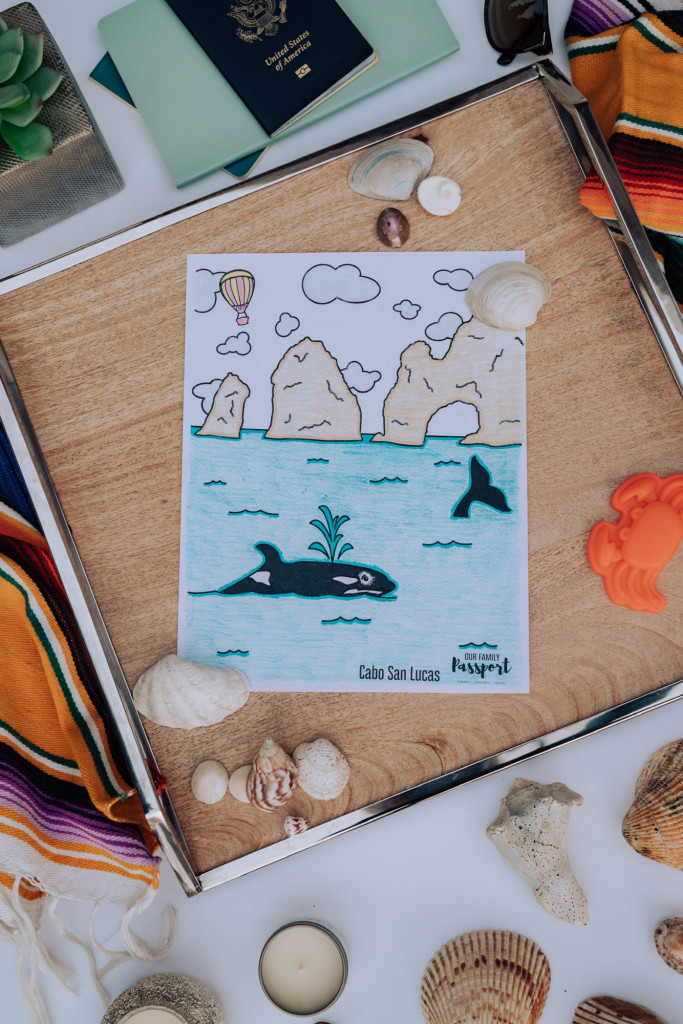 Don't forget to pin this and to subscribe to our email to receive family travel tips, itineraries, and your free #coloringtheworld starter kit!!