I have lived in Utah pretty much my whole life and I just barely made it to Goblin Valley State Park… What??? That is definitely a mistake on my part, because Goblin Valley State Park offers an escape like no other. It felt like experiencing another planet or stepping onto the set of a Star Wars movie. Not only is Goblin Valley out of this world cool, but there are also so many incredible things to do while visiting. Let's dive into how to have one awesome day in Goblin Valley State park!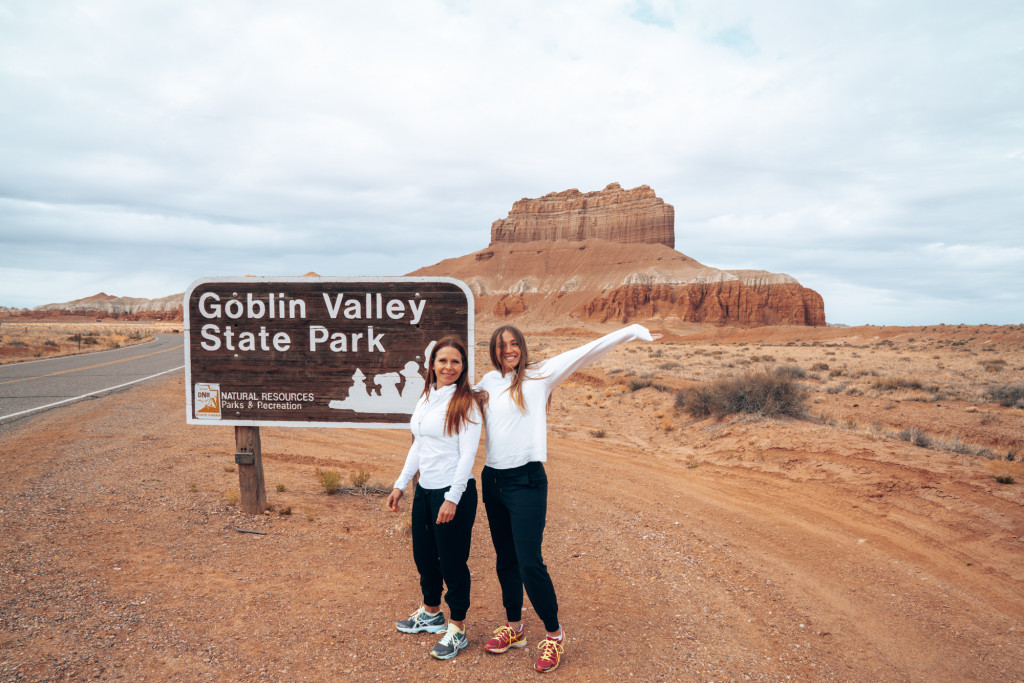 Things to do in Goblin Valley State Park
Walk Among the Goblins
Goblin Valley gets its name from the goblin shaped stones, also known as Hoodoos. The Hoodoos formed over millions of years of erosion on the red sandstone. Perhaps the best thing about Goblin Valley is walking three square miles among the thousands of hoodoos and seeing, up close, how erosion has formed these fairytale-like stones. There are no designated trails in the Valley of the Goblins so you are free to wander and explore how you'd like. You might even consider playing a game of hide and seek or steal the flag if you are visiting as a family. Be mindful to not climb on or damage the fragile hoodoos. You can also observe the Valley from the observation point.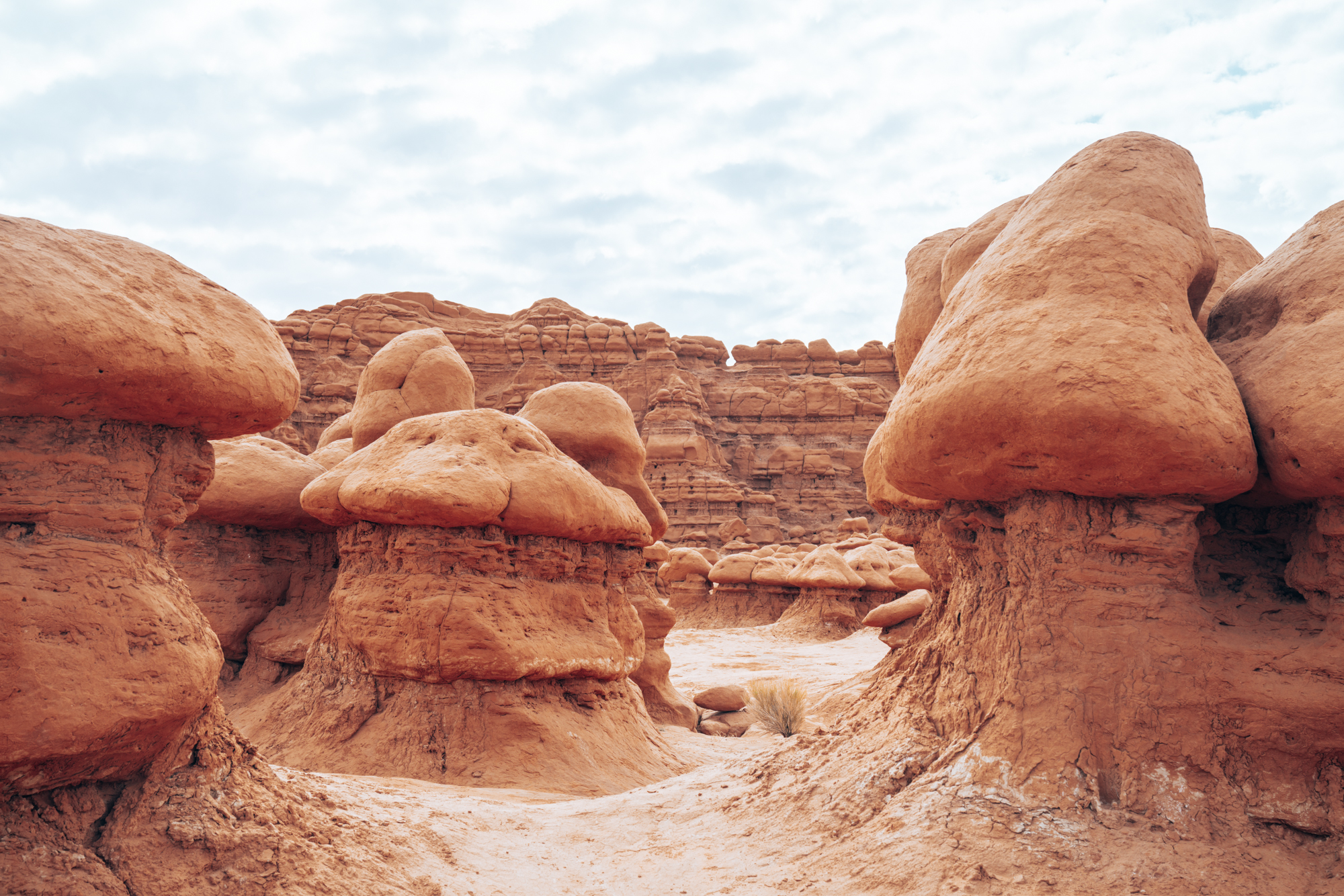 Hike
There are only 5 designated hiking trails in Goblin Valley and one day will give you enough time to explore most, if not all, of them. Here is a break down of the hikes:
Goblin's Lair 
This hike offers adventurers a chance to scale down rocks into a "lair" or cave, taking you down to the desert floor. The lair is actually a slot canyon where the entrance has been sealed by fallen rock. Once on the desert floor you can look up and see the sun shining in through the cracks, 100 feet above the desert floor, above you. At the entrance of the lair, there is a huge fallen rock. Make sure when you scale up to the entrance, that you then descend on the right side of the rock. We first tried to descend down the left side and it was incredibly sketchy, but the right side is a lot more manageable.
This hike is not suitable for young children or senior citizens as you have to pull yourself up in certain places to scale out of the lair, but is the perfect adventure for older children or adventurers who are up for the challenge! The three mile out and back starts at the observation point, and follows the Carmel Canyon loop before splitting off after ½ mile.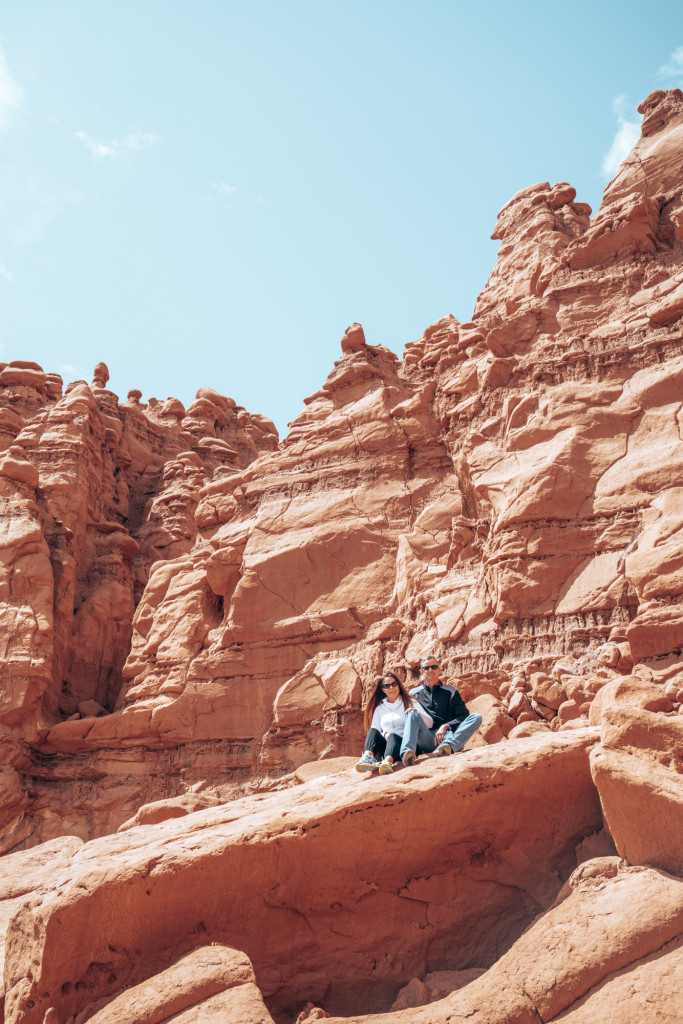 Carmel Canyon
This hike is perfect for families who want to venture out a little. This moderately strenuous 1.5 mile loop will give you and your family the opportunity to hike among the desert floor, where you will have fun doing some light scrambling up and down the simple slot canyons. Kids love it.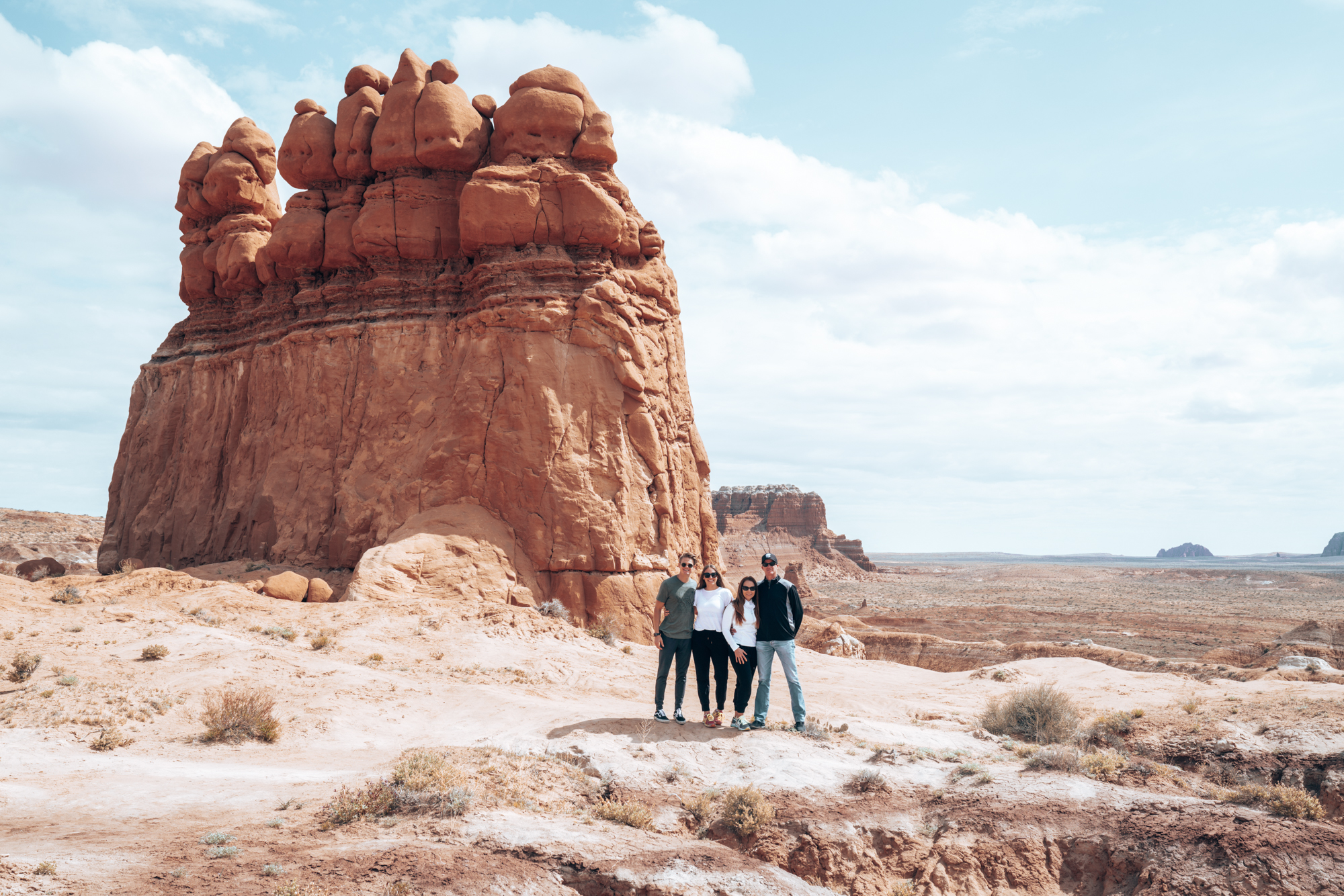 Curtis Bench
This fairly easy 2.1 mile out and back trail is perfect for a moderate hike. Curtis Bench offers an incredible view of Goblin Valley and the Henry Mountains. 
Entrada Canyon
If you are camping in Goblin Valley, you will hike Entrada Canyon a lot.  This trail will take you directly from your campsite to the goblins and back. This isn't the most beautiful hike in the park and I recommend doing another if you do not have to get to and from the campground.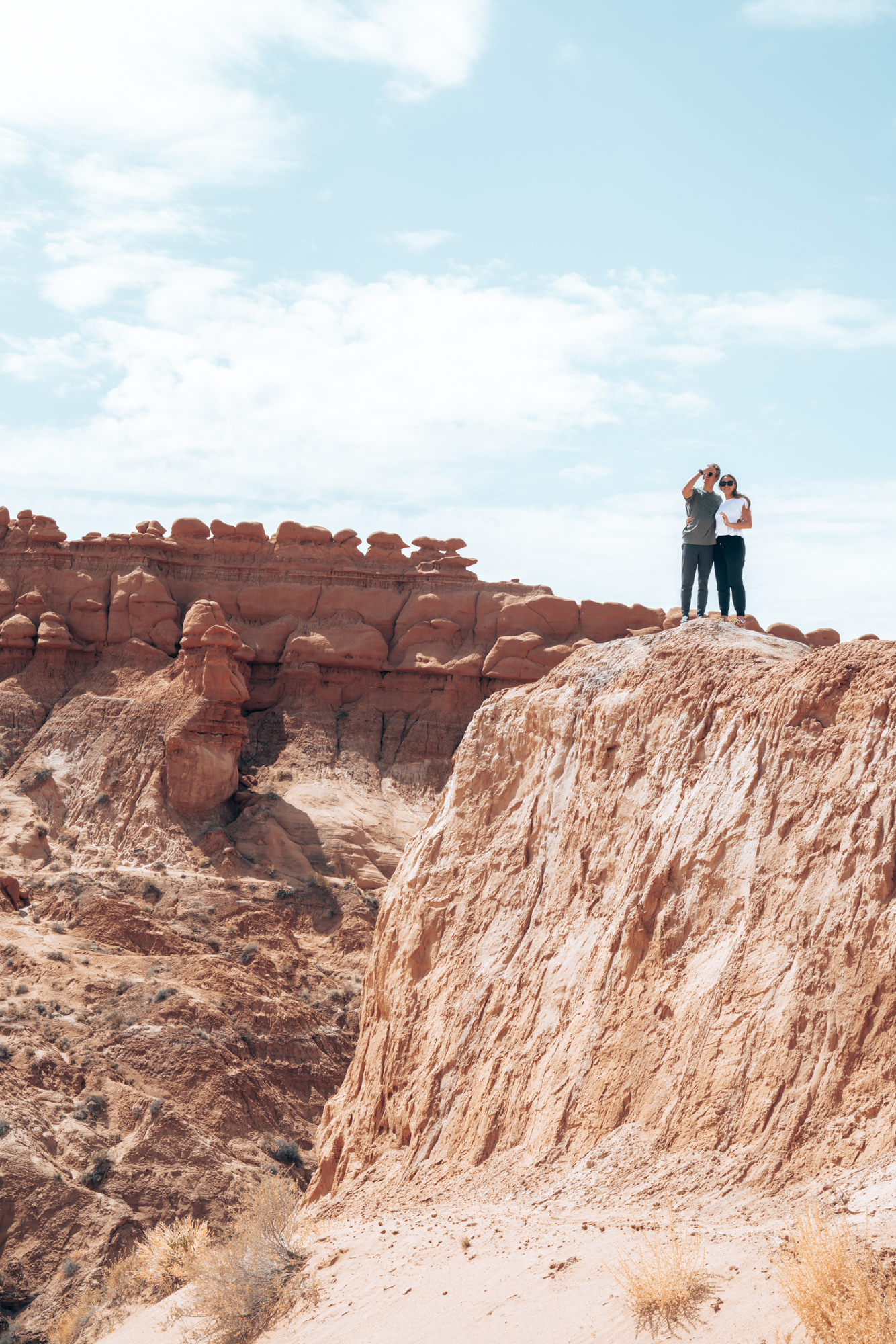 Three Sisters
This is the easiest and shortest hike of the entire park. But short and easy does not mean that this should be overlooked. At the end of the 250 meter trail, you will be greeted by the beautiful Three Sisters, who are the most iconic goblin formations in the whole park! If you are visiting with young kids, you might consider bringing sand toys for the little ones to play in the soft sand in front of the Three Sisters, while you set up for a picnic, but be cautious of spiny plants and cacti. While you are there, please notice the small rocks balancing ever so perfectly on top of the sandstone spires.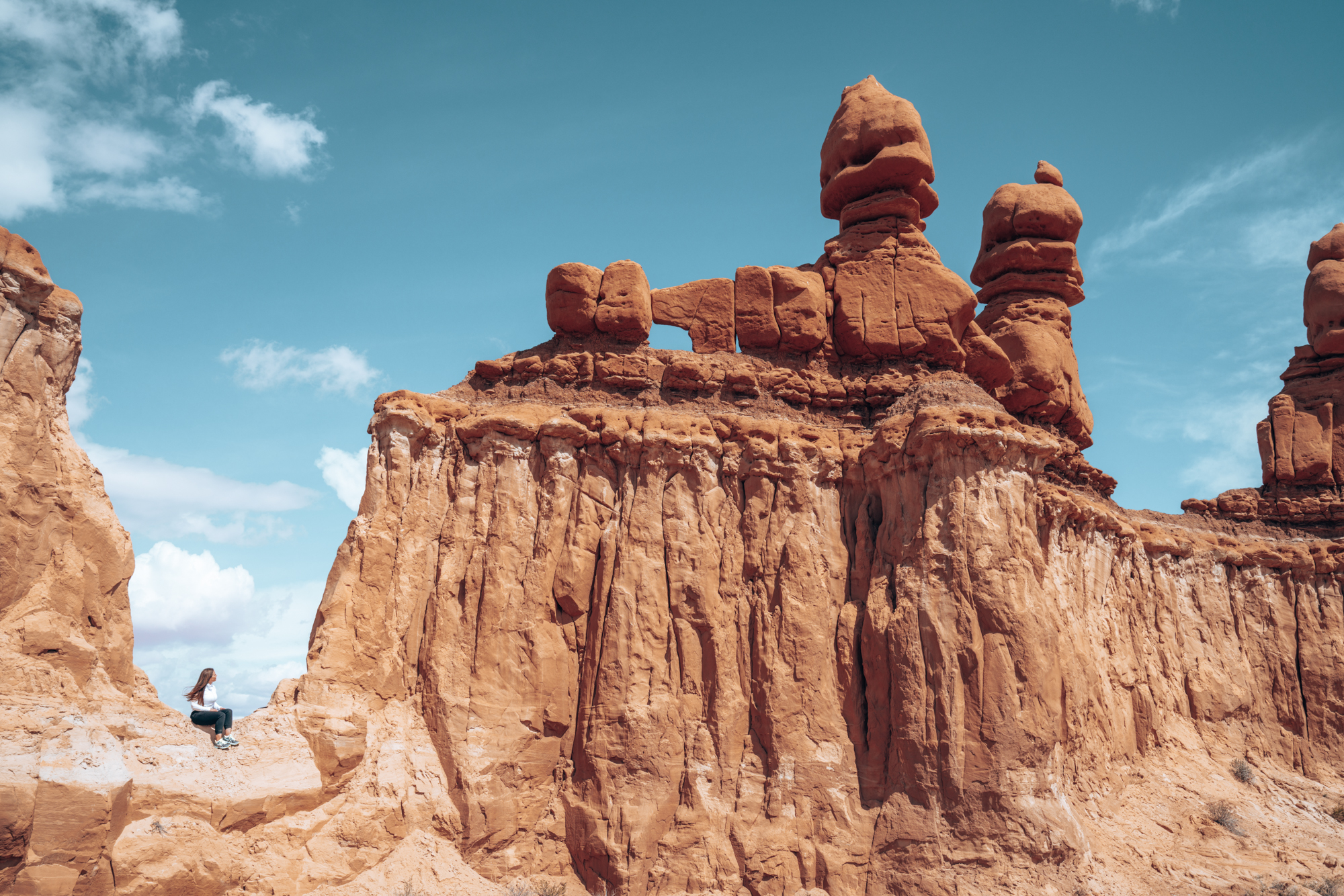 Camping 
There are 24 sites, one group site and 2 yurts in Goblin Valley State Park. There are showers and flush toilets at the sites, as well as a water and dump station that are included in the $30 camping charge (per night). Each site includes a picnic table, metal fire ring and shade shelter. To be completely honest, this is not the place I would choose to camp. There are way cooler places to camp in Southern Utah (in my humble opinion) and you can see everything in one day without spending the night. 
Biking
There is mountain biking available in the park, check out this website for a trail map and other suggestions.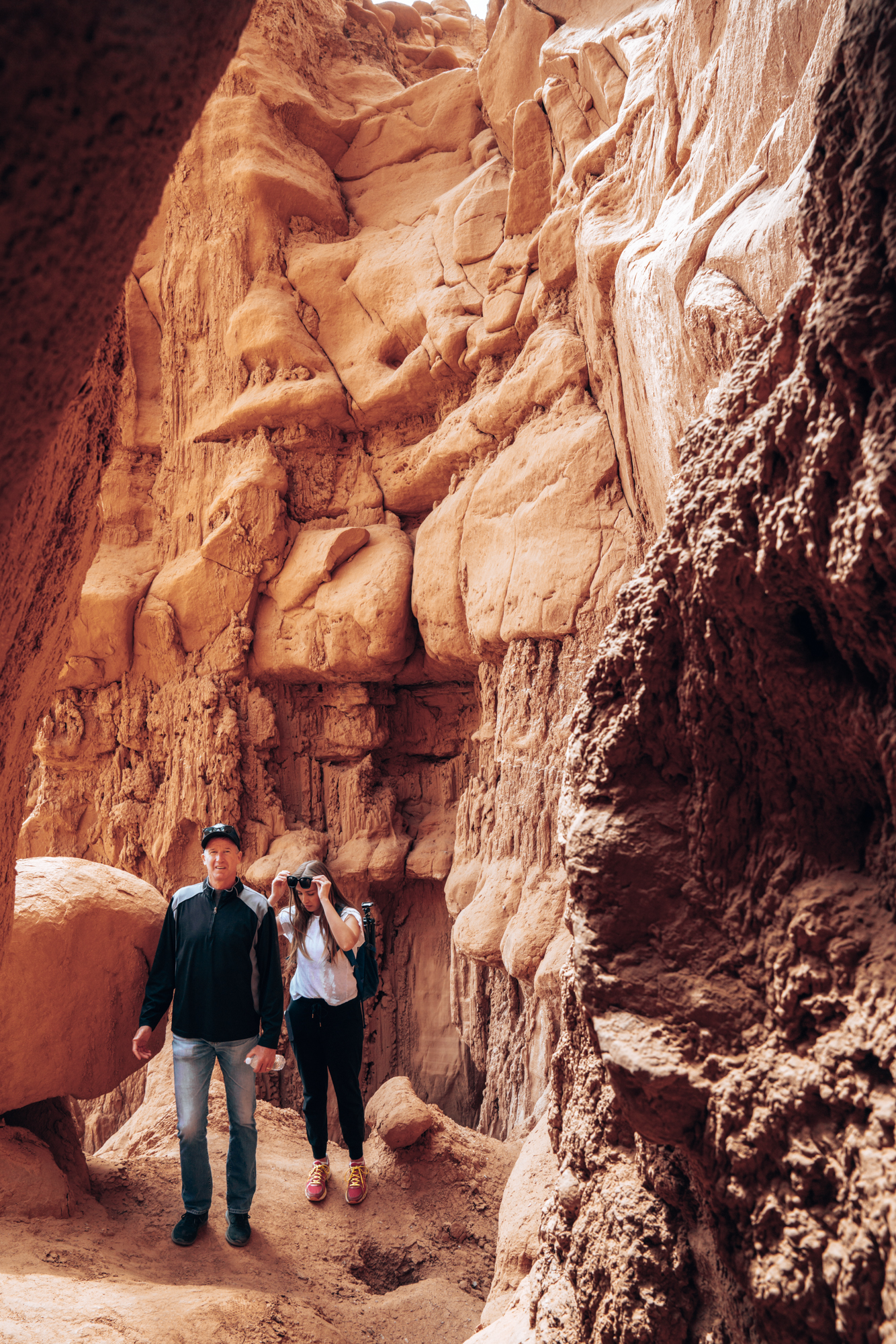 Canyoneering
Canyoneering is something that looks super interesting to me, but since I've never done it, check out this website for all the information for canyoneering in Goblin Valley State Park. 
Stargazing
Goblin Valley State Park offers some of the best stargazing in the world… seriously. The National Park Service Night Sky Team visited in 2015 and determined that Goblin Valley has one of the darkest night skies on earth; free from any light pollution from populated areas! Visit Goblin Valley to stargaze and see some of the best night views of the Milky Way! They even have ranger-led including moonlight hikes and telescope tours. Check here for the calendar of events.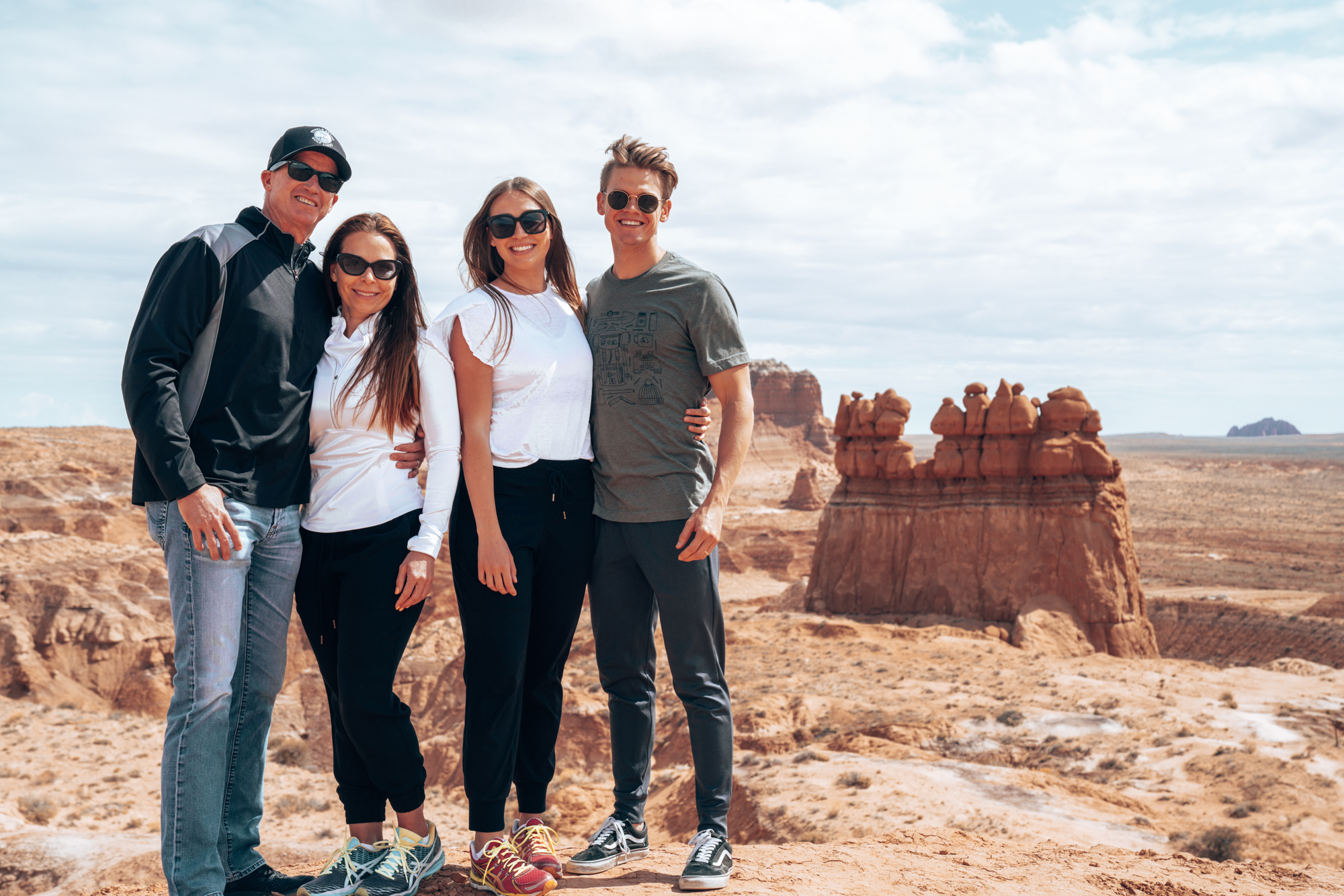 Where is Goblin Valley State Park?
Goblin Valley is a state park in Utah. It is about 225 miles Southeast of Salt Lake City (about 3 hrs and 30 minutes of driving time). And is also 100 miles west of Moab (around 1hr and 40 minutes of driving time). Goblin Valley is the perfect day trip from some of the other National Parks in Utah. The closest town to Goblin Valley is Hanskville, which is about 30 miles from the park (nearly a 40 minute drive). 
Thinking of checking out some of the other beautiful places that Utah has to offer? Check out this blog post for the Best Hikes in Southern Utah for Families and this blogpost about Visiting Moab in the Winter!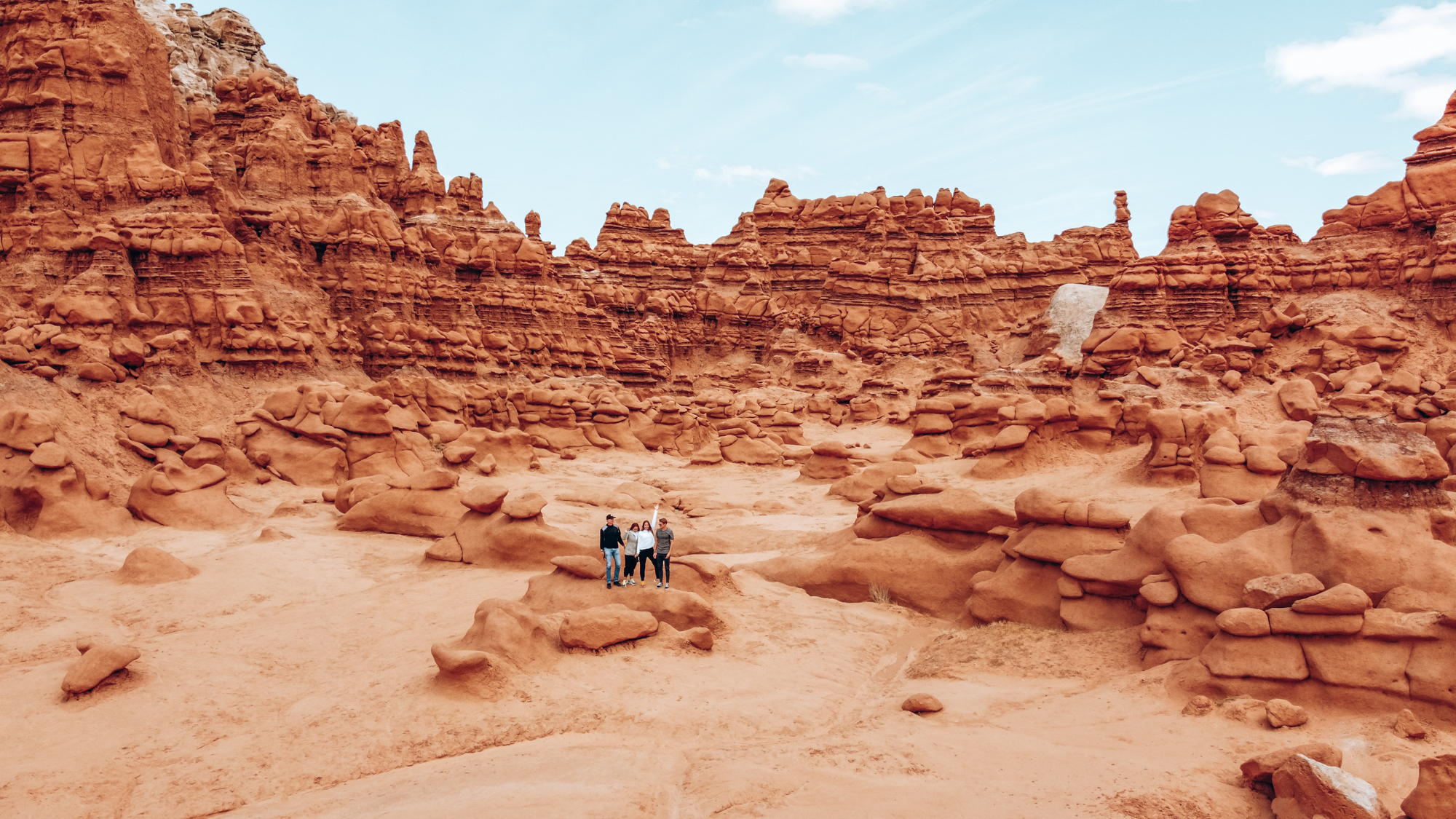 How much does it cost to go to Goblin Valley?
$15 – for a private vehicle for day-use (valid for two days)
$10 – Utah seniors 62 and older (single day)
$10 – for a motorcycle, bicycle or pedestrians (single day)
$4 – for a per-person commercial vehicle fee (single day)
$30 – for main campground (with $15 extra per vehicle fee)
$100 + tax – this is to stay in a Yurt
$5 – for a Drone permit
Is there cell service in Goblin Valley?
We found that there is no cell service in most areas of the park. We got a few texts here and there while at the Observation Point, so be prepared to be without cell service.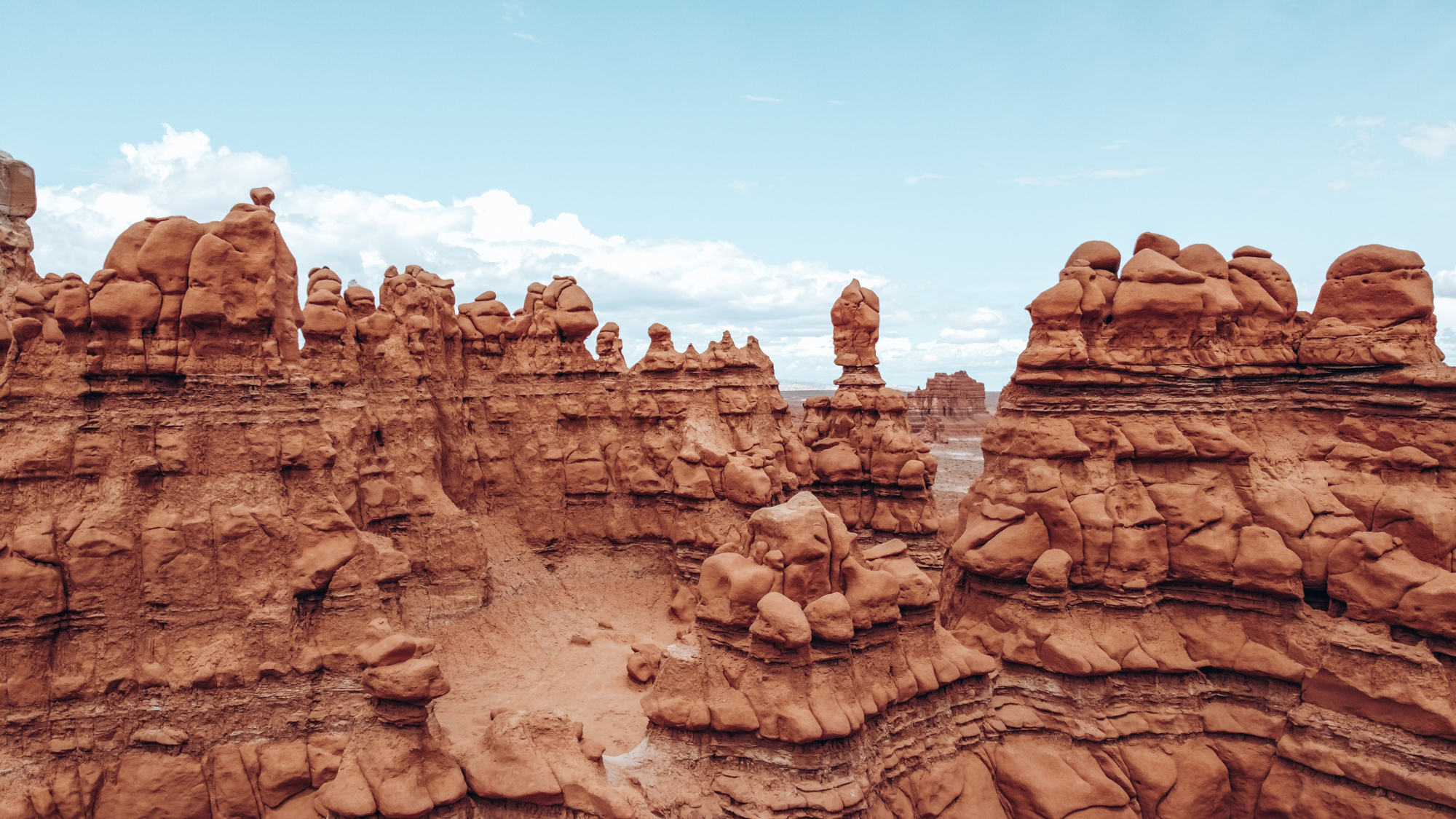 General Safety
As always, make sure to tell a loved one where you will be and how long you will be there.

There are no places to purchase food or water in the park so make sure to bring enough food and water for everyone in your party. The recommended amount of water is one gallon per person, per day.

Lightning danger can be severe in Goblin Valley because it is so exposed to the elements (remember, this is how the hoodoos got their shape). Make sure to find shelter and get to a safe area during a thunderstorm. Flash flooding can be a problem in this area. Check the forecast and ask park rangers for more information.

Remember that Goblin Valley is a rough and remote desert terrain. Watch out for cacti and spiny plants that could harm you and keep an eye out for slithering desert animals with fangs. 

There is VERY little shade in the park (except at the covered pavilion at the observation point). I'm not exaggerating when I say that there isn't a tree in sight. Be mindful of this and travel with hats, sunglasses and plenty of sunblock for everyone in the party. In the summer months plan to hike and explore earlier in the morning or later in the evening to avoid extreme temperatures.

The hiking surfaces in the park range from smooth and slippery to deep sand.  The hikes may not sound difficult but sand hiking can add a whole new dimension. Appropriate footwear is a must.
Well that is it! You are going to have such an awesome day at Goblin Valley State Park. Please let us know how you like visiting. Leave a comment below of all the things you like to do in Southern Utah! Happy adventuring, my friends!
Xo, Sav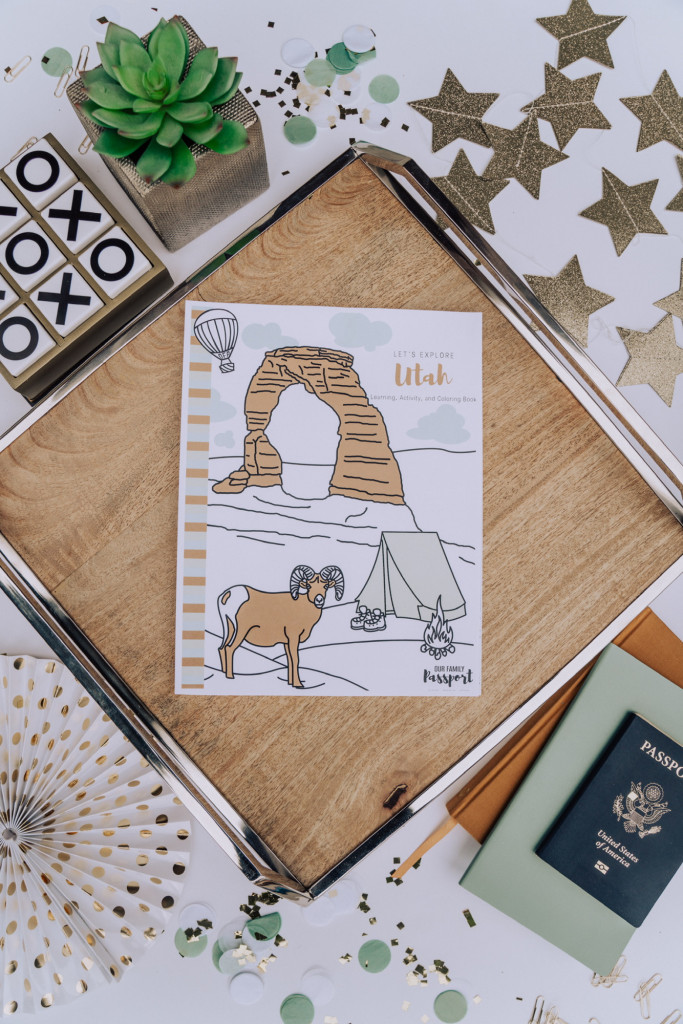 Want more of Utah? Check out our Utah Coloring book that features incredible places to visit similar to this. 
Don't forget to pin this and save for later!