New York City USA Coloring Page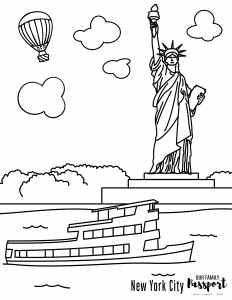 Welcome to New York friends and welcome to our New York coloring page!! New York City is one of our favorite big cities and a visit here never gets old.  Our Statue of Liberty coloring page shows Lady Liberty standing tall on Ellis Island and welcomes you to this cosmopolitan and vibrant city.  We love the boat in this page shown gliding passed her in the New York harbor. It is in truth one of the best ways to see the Statue of Liberty.
Our Family Passport (OFP) downloadable coloring pages are kid-friendly and are easily downloadable in two formats!  This boat coloring page is no exception. We feel confident you and your kiddos will love all of them!
Why did we Start the Coloring the World Movement? 
At Our Family Passport, we believe that exploring, traveling and learning go together like cream cheese on a New York bagel.  Whether you are looking for a fun and simple family activity, or you are about to embark on an adventure across the world, we feel confident our educational coloring pages will provide you and your family with hours of enjoyment and learning!
What Your Purchase Includes
Your purchase includes a total of 5 PDF and 5 PNG file downloads so you can print, color, and download your travel coloring page all around the globe!
AND remember that we always want to hear from you and see where these pages may take you! Tag us on Instagram with your pages using the hashtag #coloringtheworld
Loved this New York City coloring page? You are in luck! We have an entire New York City learning, coloring, and activity book that will prepare your child for their own adventure in the city that never sleeps. Our New York coloring book is 36 pages full of education, fun, and iconic New York City sights. Click here to check it out!