After first arriving in Munich or München as the Germans say (Beckham loved to try and say "München") we immediately knew we were going to love it! It quickly turned into a favorite family European destination, and the Bavarian area of Germany is somewhere we know we will have to get back to soon! While most people think of Munich and "Oktoberfest" as synonymous, we found it to be extremely family-friendly and had a wonderful time participating in all of the family activities  Munich has to offer. To help with your Munich vacation planning, we decided to put together our family-friendly itinerary for our favorite things to do in Munich in 5 days!
The Best Things to do in Munich in 5 Days
Day 1 – Alstadt, Viktualienmarket, Marienplatz, and the Best German Pretzels 
Walking Tour of the Altstadt (Old Town) we had a fabulous private tour by BigHatTours. This is a great way to get a layout and overview of the city. The starting point should be the top of the Oberammergau street and end at the adorable and picturesque Viktualienmarkt for some Bavarian treats. For this first day, we suggest taking your time and enjoying the relaxed atmosphere of the old town. To us, it is a fairytale and there is something adorable on every corner.
Our Old Town Munich Walking Tour Recommendations:
Marienplatz
Munich's Neo-Gothic Square is home to the famed Glockenspiel. This square is DARLING! It was partially rebuilt and reconstructed after the bombing in WWII which explains the new architecture parallel to the old. However, today this visual history adds to the charm and allure of this square. There are often street musicians and a crowd of people eager to see the 1908 clock that chimes and retells a Bavarian story at 11:00 am and 5:00 pm every day. To be honest, the only person who was impressed by the chiming of the Glockenspiel was the 4-year-old (he thought it was the coolest haha). It may be overrated, but we think it is worth doing one time.
Frauenkirche
This cathedral is impressive in scale and the little onion-shaped domes can be seen from various points in the city. It isn't our most favorite interior. However, the panorama from the top of the towers is fantastic. On a clear day, there is a beautiful view of the Bavarian Alps.
Hofbrauhaus
This is the beer house of all beer houses and this is coming from people who don't drink beer! HAHA. Historically it is steeped in importance and infamy. Vladimir Lenin was once a regular and this is where some of the first National German Workers Party (Nazi) meetings were held. Today it teems with tourists and locals alike. When you go, don't forget to sneak back to see the lockers where the locals can clean, and lock up their own unique beer mugs. It is a classic!
Viktualienmarkt
Okay, CUTEST STREET MARKET EVER! Like, ever! And guys, the food here. Think fresh pesto, divine cheeses, and soft pretzels the size of your face. We could have wandered this market for days. Make sure to try the Baerlauch Pesto and don't forget to stop at Karnoll's Back Und Kaffeestandl and have some of their pretzels. We were told by several people that these were the best pretzels in Munich and we were not disappointed! Go early, they often sell out later in the day.
Other fantastic places to see in the Altstadt
Asam Church

Saint Peters

Ohel Jakob Synagogue
Day 2 – Neue Pinakothek and Dachau 
This is a mood swing of a day here, but no matter what you do, Dachau is going to be heavy. So we suggest pairing the horrific remnants of the Nazi's first concentration camp with a morning of pleasant easy going viewing of world-class 19th-century art.  
Neue Pinakothek (New Picture Gallery)
Out of all of the museums in Munich, this was our favorite! If you are going to go to any museum in Munich, in our opinion, this is the best. While we enjoyed the Alte Pinakothek (Old Picture Gallery) I thought the overall works in Neue were superior. However, the Dürers in the Alte are out of this world! But, if you only have time for one museum, we would suggest the Neue.
In the Neue, there are some fantastic works by van Gogh, Degas, Turner, and a lovely gallery upstairs that was empty. We took our time and went through the whole museum.  It is for sure worth a visit!
*Note that the layout of the museum is a little confusing. It is almost organized by rectangles within rectangles. If you are not sure where you are going, ask a docent or a museum employee. In our experience, they were all very helpful and accommodating.
* Also, in almost all of the museums in Munich you have to check your bags and some of the bag checks require several euros in coins.
Dachau
There is so much information about visiting Dachau that we decided to write about it in a separate post. We cover the best way to see it, our reactions, and answer the question if you should/could take young children to Dachau. See our Parents Guide to Dachau here. 
Day 3 – Day Trip to the Romantic Road
Rothenburg de Tauber and Dinkelsbuhl
Day trip to the Romantic Road with stops at Rothenburg de Tauber and Dinkelsbuhl. You could go to the Harburg Castle as it is an easy stop combined with the two, but we would suggest skipping Harburg Castle altogether and spending more time in Rothenburg and Dinkelsbuhl.  These are two of the cutest, fairytale German towns! While both are pretty touristy, if you get off into the back roads there are some amazing shops and sights.  I don't think two villages could be any more picturesque. Allow time to wander, get a snack, and enjoy the charms.
Day 4 – Nymphenburg Palace, Munich Residenz, and the Odeonsplatz
Nymphenburg Palace
Nymphenburg Palace is a really quick taxi ride out of the main city center of Munich and it is splendid and grand. It is a great place to be able to get some background on the Bavarian kings and the history of Munich. We had read that spending a whole day there was a must and while we thought it was super cool, we were ready to leave before lunch.
Our favorite things about the palace were visiting the riding stables (this requires an additional ticket – and it is SO worth the couple extra euros), the palace grounds and gardens, the main ballroom, and the delivery room of the "mad" King Ludwig II.  You can also pay extra to visit the Porcelain Museum, but in our opinion, it was a snoozer. If we could do it again we would skip it.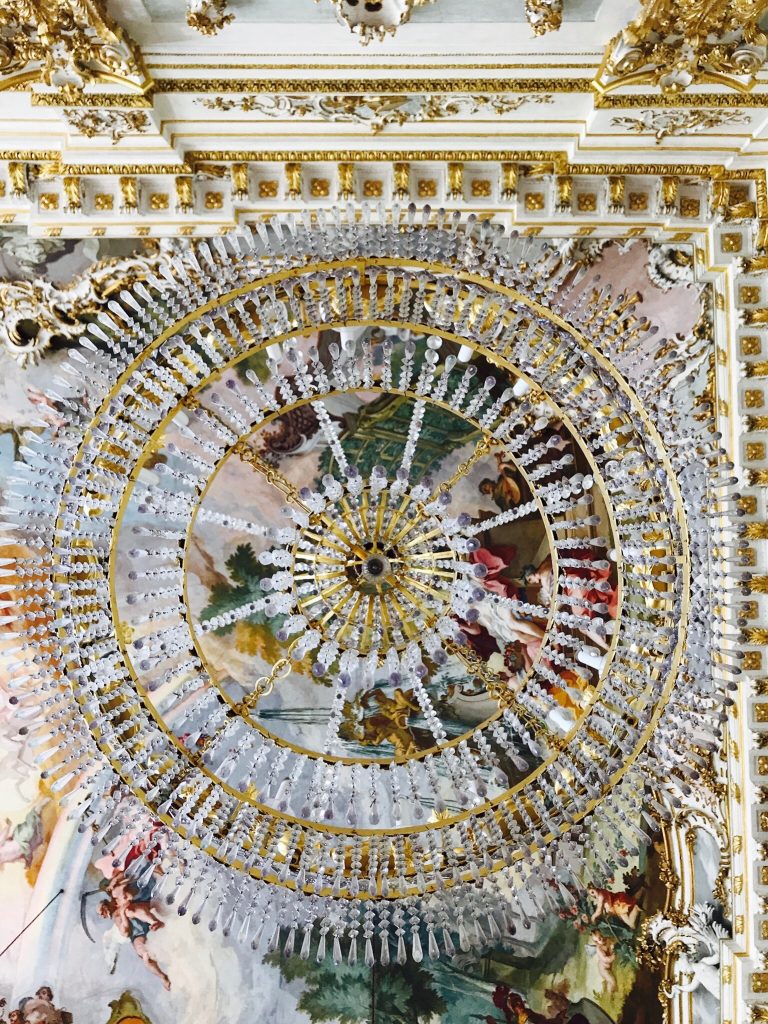 Munich Residenz
Okay, so the Munich Residenz is SERIOUSLY cool but be prepared for opulent overload. Like almost on the level of Versailles, overload. We honestly didn't have many expectations for this (I am not sure why) but totally ended up thinking it was so awesome.
This palace is the largest palace in Germany and it makes the interior of Nymphenburg Palace look … eh. Expect some crowds but once you get through the coat check and ticket area the crowds seem to dissipate a little. About halfway through the palace, you will have an option to take the long way through the palace or the short way. We chose the short way and still spent over 2 hours visiting the complex. So, if you have a little one with you when visiting the Residenz bring snacks and point out all of the cool details. There is a whole room made out of seashells, unexpected hidden pathways and tunnels, and some cool swords.
Munich Residenz Extras
Like Nymphenburg, you can pay extra to see additional things at the Residenz. In our opinion the additions of the Opera House and Wittelsbach Crown Jewels should not to be skipped. The crown jewels are housed right in the palace and you can walk two seconds from the crown jewels to the beginning of the palace tour. To visit the Opera House you must walk about 5 minutes to it's location in the palace complex. When we visited, there was NOBODY there!  We had the whole theater to ourselves and it was exceptionally lovely.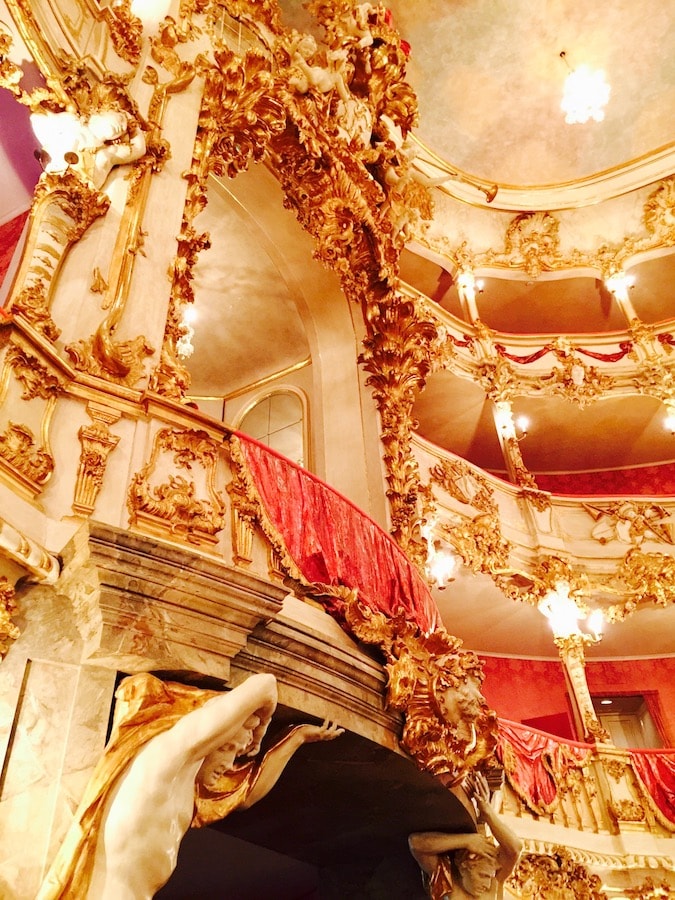 The Wittelsbach Crown Jewels
We thought the crown jewels here were more impressive than … are you ready for this… the British Crown Jewels. The diamonds weren't actually bigger but the collection on display was really impressive and some of the pieces dated back nearly a thousand years. I usually hate audio guides but the audio guide for the crown jewels was fantastic and even Beckham loved it.
Odeonsplatz and Surrounding Area
Just a couple of steps away from the entrance to the palace is the gorgeous and picturesque Odeonsplatz square which houses the exceptional Feldherrnhalle (Field Marshall's Hall) and the famous lions of Munich.  What was so gripping about this square was that while we were in Berlin we visited the Topography of Terror Museum and they had a huge image of a massive Nazi rally right on the Feldherrnhalle and today it is a peaceful and charming area where children and other tourists rub the feet of the lions and snap selfies.
For me, it was a strange dichotomy to see what a span of 70 years can do. This is so cheesy, but I found myself wishing that I could listen to the stories that those lions have to tell.
This area was one of my favorites in Munich. I could have wandered the streets for hours and thought the pastel facades of the buildings and the view of the onion domes of the Frauenkirche in the background made for a perfect evening.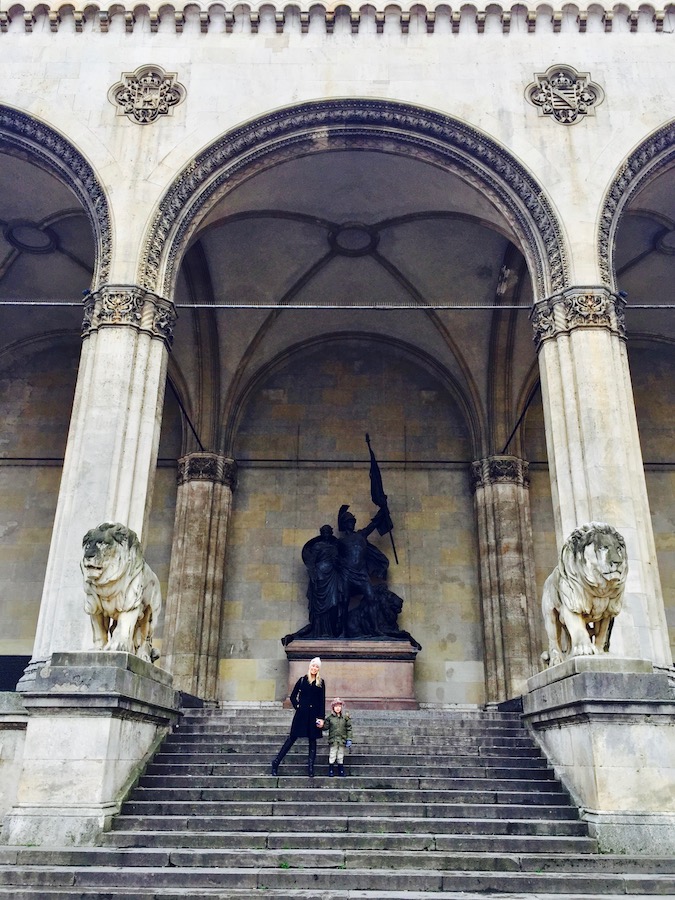 Day 5 – 

Neuschwanstein and the Bavarian Alps
The Bavarian Alps and Neuschwanstein
By far, and I mean BY FAR, our favorite thing was visiting the Bavarian Alps! I don't think it gets more gorgeous than the exterior of Neuschwanstein juxtaposed with the background of the alps, tall pines, alpine lakes and foggy clouds. This was a place that we had been dreaming about for a decade, and it totally measured up to our expectations. Even the drive there was so beautiful!  Be ready for the crowds and be prepared to fight your way onto the bridge to snap some good photos. Trust us, it's worth it.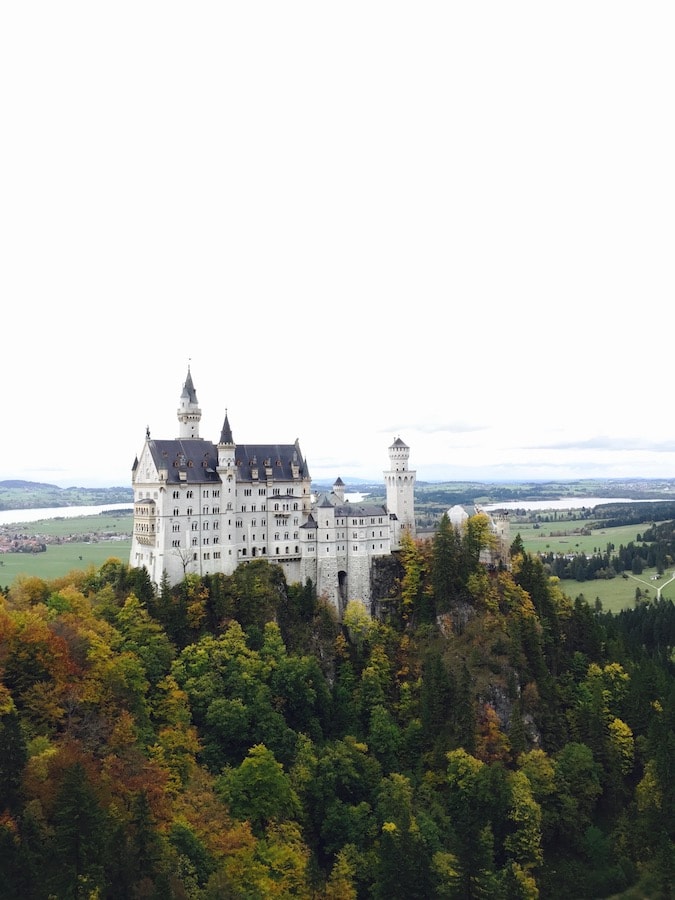 Neuschwanstein Interior
However, that being said don't expect too much from the interior. It is largely unfished and the areas that are finished are strange and feel inauthentic. We anticipated it being totally over the top and kitschy, and that was exactly what it was. But, it gives a fantastic glimpse into poor Ludwig II's life and some of the best views are from the inside of the actual castle.
Tips for visiting Neuschwanstein Castle
Expect crowds, just do

There is a driver that comes to the base of the hill and will take you to the top for 2 euros p/person. Do it.

Have a ticket beforehand. If you miss your ticket time, you are out of luck.

Allow at least an hour before and after the tour of the castle to wander around and view the castle from different vantage points.

Go to the bridge adjacent from the castle – OUT OF THIS WORLD beautiful!

Following the conclusion of the tour, walk down to the cafeteria and go out to the balcony and you will get a stunning view of

Hohenschwangau castle and the Alpsee and Swansea lakes. Most people don't even know you can go out on the balcony and get pictures.
Other things near Neuschwanstein that should not be missed
Linderhof Palace (absolutely beautiful) and the grounds are SO much fun! Beckham could have played here for ages.

Oberammergau village

Hohenschwangau Castle

If warm weather permits visit either the Alpsee or Swansea lake
Beckham's Favorite Experiences in Munich (Munich for Kids)
Our little man LOVED Germany! We found it to be so kid friendly and there were so many things that captured his imagination and attention.
Visiting the toy shops in Rottenburg de Tauber

Feeding the ducks and swans at Nymphenburg Palace

Running and playing on the grounds of Linderhof Palace

Throwing sticks off the bridge at Neuschwanstein (Dude was obsessed!)  

Rubbing the feet of the huge lions at Odeonsplatz square

Eating pretzels and feeding the birds at

Viktualienmarkt

Listening to the performers at Hofbrauhaus

Waiting for and watching the Glockenspiel
Our Munich Recommendations
Where to Stay In Munich
We stayed at the Charles Hotel and it was family oriented, ideally located, and had wonderful amenities. It was perfect for us and our little horde. The restaurant there is also fabulous as is the indoor swimming pool and spa area.
Our Favorite Schnitzel in Munich (as recommend by Big Hat Tours)
Schnitzel, oh how I need you in my life!! The turkey schnitzel salad at Opatija is what dreams are made of. This place deserves a visit .. or two .. or three haha.
Where We Ate the Most While in Munich
Aside from the yummy restaurant at the Charles Hotel, we ate several times at L'Osteria near Karls Gate and Karlsplatz. It was Italian and I know eating Italian food in Germany seems pretty stupid, and maybe it was, but we had a little man who was dying for pizza and the food was delicious. It is also really well priced. My recommendation would be the carbonara pasta and the turkey caesar salad.
How to Get Around
We used public transportation with one of our guides and it was clean and efficient but seeing that our German is less than stellar and the instructions in English are almost nonexistent, we used the taxis and found them to be reasonably priced and super easy to use. We downloaded the MyTaxi app on our phone and scheduled taxis from our phones. So easy and user-friendly!  
Overall
Needless to say, we LOVE München and can't wait to get back!
Like this itinerary? Click here to see our Top 5 Things to do in Amsterdam with Kids.
Don't forget to pin this and sign up for our newsletter to receive family-friendly itineraries and travel tips straight to your inbox!
Xo,
Kam
*Click to check out our freakin cute Bavarian Alps children's coloring page!!