Looking for cheap flights to Disney World? You've come to the right place! I booked nonstop, roundtrip airfare for my family of six from Salt Lake City to Disney World over the Holidays for $56.00 total. Yes, $56.00 total for all six of us. You better believe that some serious travel hacking happened and if I can do it, YOU CAN DO IT too! 
The absolute best way to score cheap flights to Disney World is to travel hack. Disney vacations are expensive and one of the best ways to cut down on costs is to use and maximize credit card points where you can! This article is going to walk you through one of my favorite cards to use when flying and how to use it to book those cheap flights to Disney.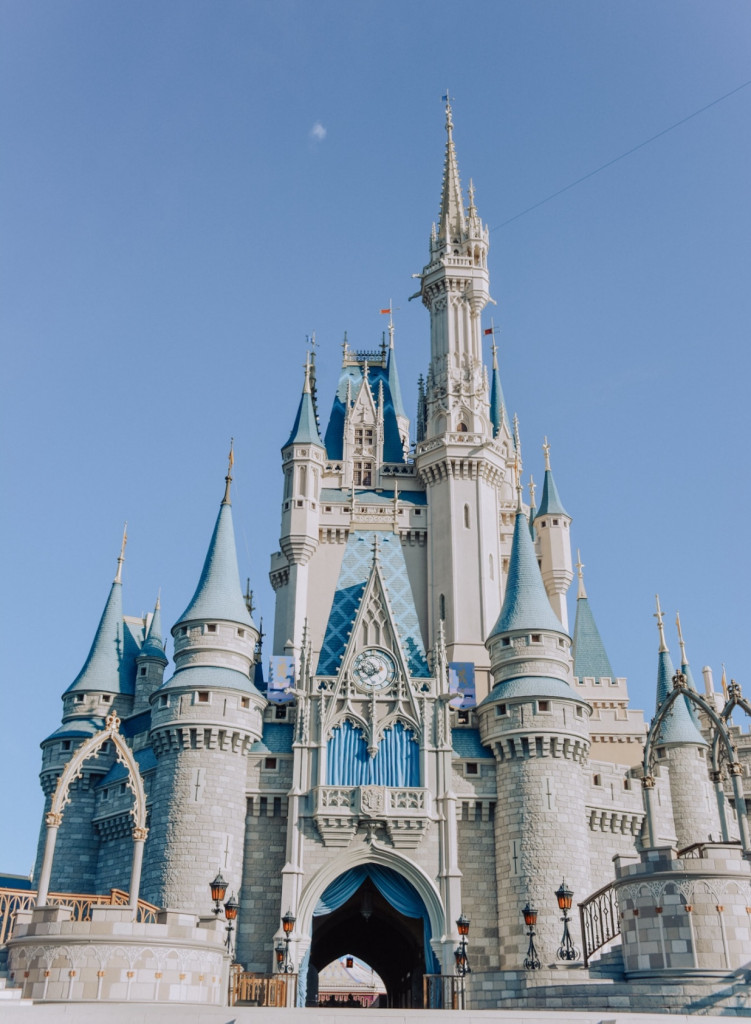 Travel Hacking to Score Seriously Cheap Flights to Disney World 
Before you click out of this article because it covers travel hacking, hear me out. Using credit cards doesn't have to be scary, it doesn't have to put you into debt, it doesn't destroy credit (in fact, quite the opposite, once I started travel hacking my credit reached over 800), and it doesn't have to be stressful!  With a little bit of planning and know-how, you can earn and maximize points by utilizing everyday spending and then take your family on some epic vacations for cheap. 
The first thing that you want to do is to apply for the RIGHT card. I am going to show you how I scored 11 dollar round trip flights for my family to Orlando using the Delta SkyMiles Platinum American Express. I love my Delta American Express and I am going to give you step-by-step instructions on how to best use it to book your Disney World flights. However, this might not be the right card for you. If you aren't sure what card fits you and your family best. You can sign up for a free 15-minute travel hacking consultation by DMing me through my Instagram account @ourfamilypassport and we can walk through some of the different options. 
Finding and Booking Inexpensive Flights to Disney World 
Before we even get into the travel hacking nitty-gritty, there are a few things to cover when trying to find some cheap flights to Disney World. Knowing these general ideas will help you immensely even if you decide to pay cash for your flights.  
When Should I Book My Disney Flight?
The general rule is to book your Disney flight about 4-6 months out. This will usually give you the most reasonable prices. However, an even better suggestion is to set up a price tracker on Google Flights 8-10 months in advance. Watch the trends and then book when the prices drop! Using this technique will get you the highest savings return.  If you aren't familiar with Google Flights and the ways using Google Flights can save you tons of money, check out The 5 Google Flight Hacks You Need to be Using Now. 
What is the Cheapest Day to Fly Into Orlando?
Right now the data says that the cheapest day to fly into MCO Airport (Orlando International Airport) is Wednesday, saving on average about $38.00 per ticket. The savings isn't massive for just one ticket, however, if you are flying with a group of 5-6 the savings become significant. Most Disney World travelers tend to book a one-week vacation starting on the weekends or at the beginning of the week. Because of this, consider starting your trip in the middle of the week as it could save you money in airfare and hotel stays. To maximize your savings consider flying home mid-week as well. 
When you are pricing out your flights (even if you are planning on using points) look at Google Flights and play around with their calendar grid so you can get the data and prices for the different days around your trip.
What is the Cheapest Airport to Fly Into for Disney World?
By far, the cheapest airport to fly into for Disney World is MCO. According to a study from FinanceBuzz using data provided by The Bureau of Transportation Statistics, Orlando International Airport (MCO) is listed as the third-cheapest airport to fly into and out of. Yay! This is great news for those of us who want to get some cheap flights. MCO is also the closest airport to Disney and is within easy driving distance to Disney World at only 19 miles away. 
Even though anecdotally and statistically MCO is the best airport to fly in and out of for Disney World, you should always check the surrounding airports just to see if there is a mistake in fare or a great deal being offered at another airport. 
How Much Does it Cost to go to Disney World?
If paying cash for everything, the average family of 4 will spend anywhere from $5,000 to $9,000 total depending on hotel upgrades, and extra add ons in the park. The best way to work around this and to plan a Disney World vacation on a budget is to use points! This can reduce costs significantly. For me, dropping $9,000.00 cash on a trip to Disney World was just not realistic this year.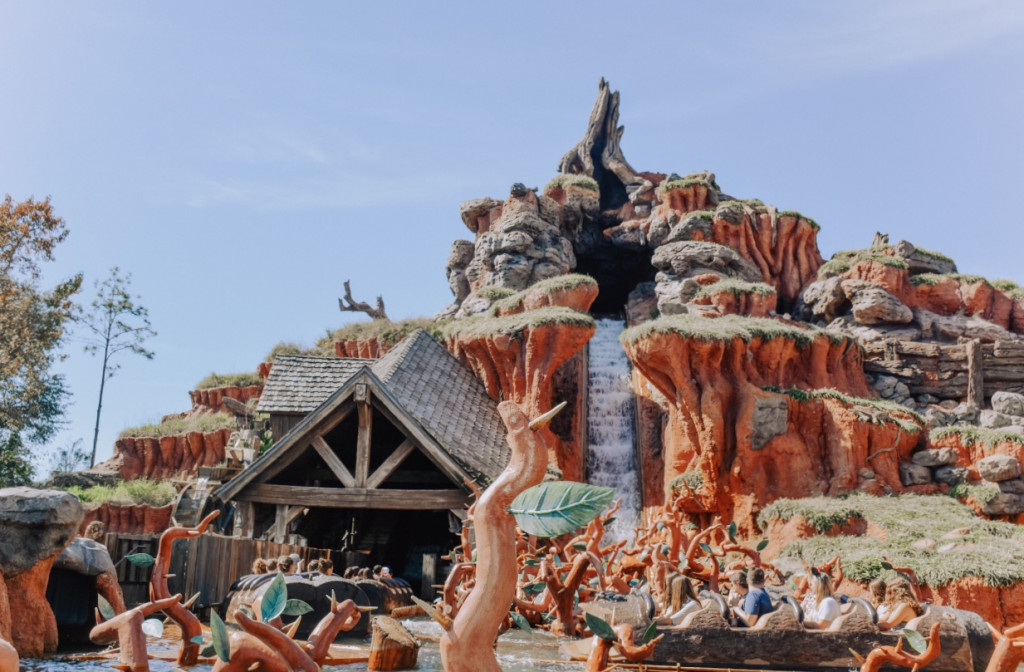 Why Everyone Should Consider Travel Hacking for Their Disney World Vacation
I knew last Christmas that I really, REALLY, wanted to take my family to Disney World for the Holidays. I also knew that my travel budget this year was going to be cut because we had baby Benson and babies are expensive! So, I sat down and priced out my Disney World trip and decided that if I wanted to make the trip work, I was going to have to earn and maximize some points. It was just too expensive otherwise. From my research, I figured it would take me just under six months to earn my points and to get everything squared away. 
After some research, I ended up getting the Delta SkyMiles Platinum American Express, and guess what?! I earned my cheap flights and scored some awesome deals on my tickets. We are taking a $9,000.00 vacation for just around $3,000.00 total for our family of six for 8 nights during the busy holiday season! This is all because of travel hacking and using money-saving strategies. I am absolutely giddy about it. As I mentioned, the flights for our entire trip for my family of six are only costing me 56 dollars!! ($11.20 in taxes and fees x 5 tickets + 1 free infant in arms ticket add on) 
Curious how our Disney World vacation is so cheap?
Why I love the Delta SkyMiles Platinum American Express 
The Delta SkyMiles Platinum is one of the very best airline reward cards on the market. With massive bonus offers and high earning potential, it should be a consideration for anyone's wallet. Even if you aren't into intense travel hacking, using the Delta Amex Platinum can earn nearly free flights every year for your family. One of the best things about this card is that it offers one domestic companion pass certificate every year! Resulting in a buy one get one free situation. This can save hundreds for those cross-country flights. 
Check out everything there is to know about the Delta American Express Platinum here. The annual fee may feel a little steep but keep in mind that you will get one annual companion pass to use domestically. As long as you are using your companion pass on a flight that costs more than $250.00 you are making money with this card! 
First Checked Bag Free w/ Delta (worth 30 dollars per flight) 

Free Credit for TSA Precheck/ Global Entry (worth 300 dollars)

Annual Companion Certificate (We have used this on flights over 700 dollars! And got our second flight totally free!)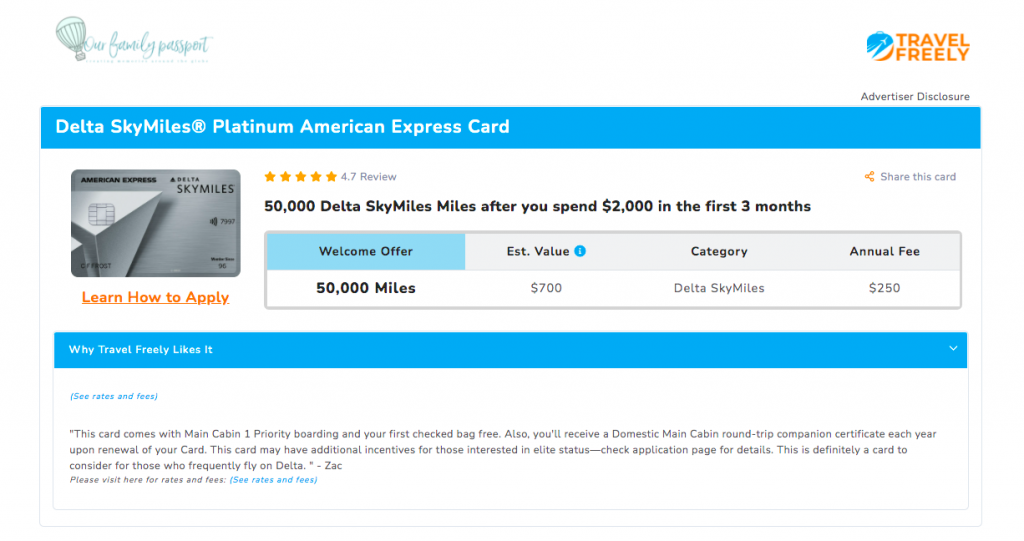 Steps to Using Points to Score Seriously Cheap Flights to Disney World 
These next steps will walk you through how to earn SkyMiles and will have you and your family talking off to Disney World soon! 
We really love to use Travel Freely. They are a safe, verified source and are perfect for anyone starting out with travel hacking. Their software will help you keep track of your cards, annual fees, and when you can apply for new cards! You can apply for the Delta Amex through them here! 
Make sure you put in your Delta SkyMiles account when applying. If you don't have one, you can apply for one here for free. Keep track of this number as you will be using it often and Delta uses it as an identifier.  
Step 2: Meet the Minimum Spend to get the Welcome Bonus
Right now at the time of writing, the bonus welcome offer is 50,000 miles! That's awesome! The minimum spend is $3,000.00 in the first 3 months, which is relatively doable. Use the card for your everyday spending and you'll be golden. We try to put all of our groceries, gas, entertainment, and misc. spending on a new card when we get it. When using this card, you will also get 3x the miles on purchases made with Delta directly at hotels, and then 2x the miles at supermarkets and restaurants and food delivery. Awesome!
Step 3: Pay off the Card Every Month, Get Your Welcome Bonus, & See Your Points Grow
Pay off the card every month! This is crucial if you want to earn your points so you can fly to Disney World for cheap! 
Step 4: Consider Having Your Partner or Spouse Apply for a Card Under Your Referral Code for More Points
If you are still needing some more miles to get to Disney World consider having your spouse or partner apply for the card. Then repeat steps 1-3! This will score you 100,000 miles total (assuming the welcome bonus is still 50k) between the two of you! 
Travel Hacking Tip
Make sure YOU refer your partner to the card. The referral right now is an additional 12,500 miles to you for your referral. This is awesome and can get you almost another 63k points! This will total your earnings to 112,500 points! 
Step 5: Use Your Points & Book Your Trip!
After you have met the minimum spend and paid your card off, you are ready to use those points!
Booking Your Cheap Flight to Disney World Using Your Earned SkyMiles!
Once you have earned your points, you are ready to book your award trip for next to nothing! (Keep in mind that you will still have to pay taxes and fees. That's why my flights were 11 dollars each.) Here's how you will book your trip!
Log in at delta.com with your SkyMiles number and book your cheap flight to Disney World!! 

Go to book a trip 

Put in your departure location and MCO as your destination

Select your dates 

Search for only 1 passenger (I'll explain why below)

Select the "shop with miles" box 

Search

Use the flexible date calendar and select the best dates 

After you make your selection, follow the prompts to continue booking your ticket 

Use your

Delta SkyMiles Amex

to pay for the remaining taxes and fees!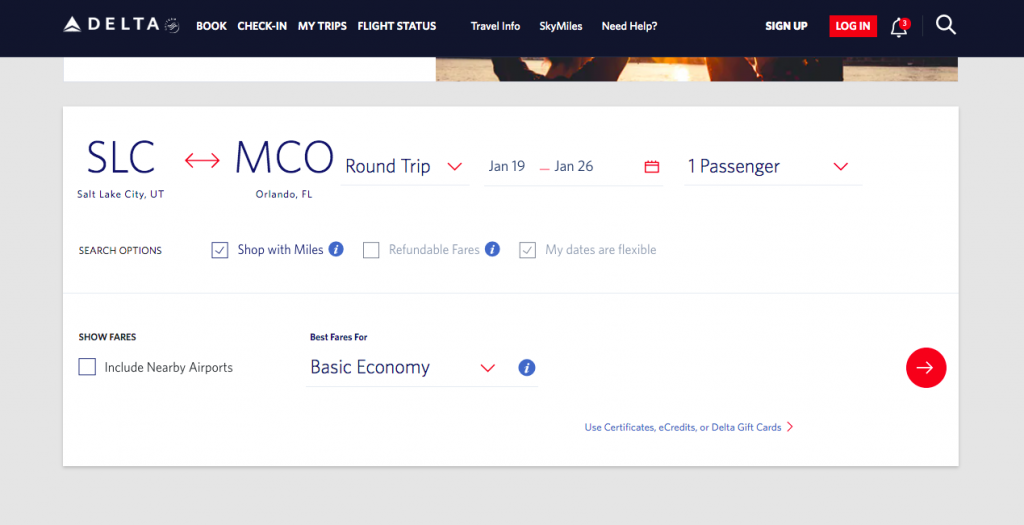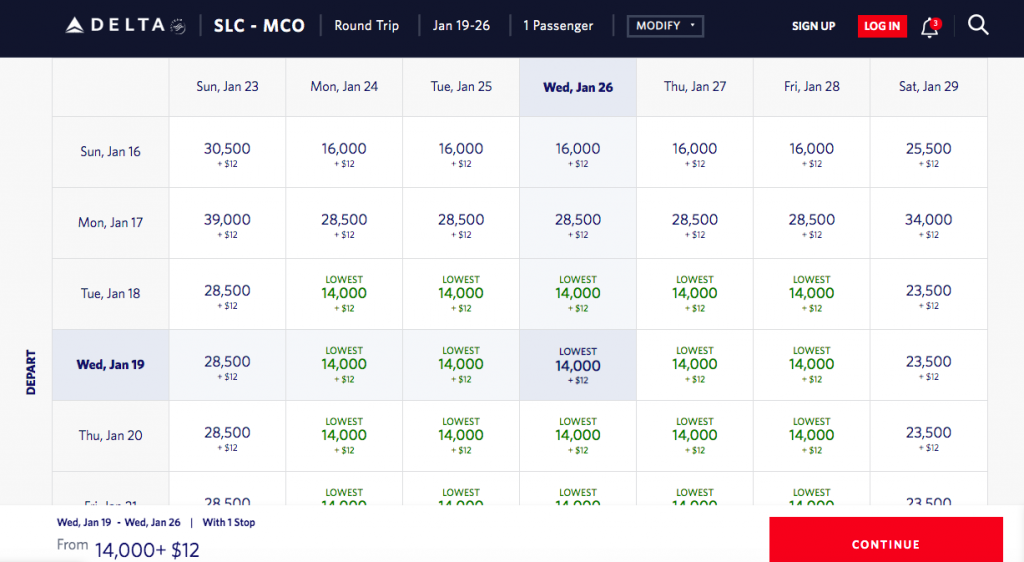 Booking Cheap Award Flights to Disney World Tips
There are a few things that you can do to make the booking process easy. Here are some tips to help!
Search for Only 1 Passenger At A Time
Airlines are tricky and often have tiered pricing. Tiered pricing is when the airline only offers so many tickets for a particular flight at the cheaper fare. Once the tickets in the lower tier get booked, the pricing will bump into the next tier. For example, Delta might offer a flight to Orlando for 14k miles and has 25 tickets available at that price. Once those 25 tickets get booked, then the price bumps to 20k miles per ticket and they'll offer another 25 tickets at that price. Once those get booked the price will jump to the next tier at say 25k miles and etc… 
See Delta (and other airlines for that matter) are super tricky. Let's say that there are 5 remaining tickets in the lower 14k miles tier, but you searched for 6 passengers. Even though there are 5 remaining tickets in the lower tier, Delta is going to show you the price for the tier that has six remaining tickets. So instead of even seeing the 14k price option for 5 of your tickets, you will only see the redemption value for 20k points for all six. Searching 1 passenger at a time will help you get the lowest price for every ticket. In terms of cost, it is much better to individually book five tickets at 14k miles per ticket and then redeem 20k for that remaining sixth ticket. 
Once you book all of your tickets, you can link them together by talking to a representative via chat or online. It's a headache but can make a significant difference when you are spending your hard-earned points.  
Decide Between Main Cabin & Basic
If you book a Main Cabin class you can get points refunded back into your account if the price drops. Because of this, I usually try to book a Main Cabin fare and then keep an eye out if there is a price drop. If there is, I'll call Delta and then have them redeposit the difference back into my account. I have gotten almost 50 thousand combined miles back this way. However, in order to do this, you must book a Main Cabin fare. If you book basic, you are locked into the rate and the dates. 
I would suggest booking Basic Economy fare if you know that your dates are not going to change and that you have gotten the lowest fare. Recently I needed to book a flight to NYC and saw that the Basic Economy was 11k points. I jumped on it knowing that it probably wasn't going to get any cheaper. 
For a full breakdown of Basic and Main Cabin, fares you can go through Delta's Onboard Experience here. 
Booking and Planning Your Disney on a Budget Vacation
Once you have your flights squared away, you can start working on hotels, tickets, and extras. I love being able to save on things like airfare. Then I can spend my money on ticket upgrades and other nice things and experiences in the parks. If you have any questions about booking your own cheap flights to Disney World, reach out via Instagram, and let's chat! 
Xo
Kam
---
Love it?! Pin it!