When it comes to family destinations in Europe, Berlin ROCKS!! If you like history (especially 20th-century history) and art, there is SO much to see and do! I am going to be completely upfront, one of the most common things that are found on Berlin itineraries are the "Berlin Pub Crawls". Stefen and I don't drink alcohol, so you won't find any pub or bar tips here. What you will find is where to stay, what historical sites to not skip, restaurant tips, and how to get around for A Complete Berlin for History Buffs 4 Day Itinerary!
Berlin for History Buffs: A Couple of Notes
Berlin in General
One would had to have been sleeping through every history lesson growing up to not know the impact that Berlin played in 20th-century history. Nearly everywhere you turn in Berlin there is something to see that has some sort of historical significance. However, it should be noted that Berlin is not a classic European beauty like you would think of Southern Germany. It is clear that at one point Berlin was a gorgeous Prussian capital but after the British bombing and the Russian Battle of Berlin in WWII, much of Berlin was left in rubble. It was then reconstructed into a literal and figurative war zone during the communist era.  
What is left behind is a coalescence of Prussian, former Nazi, communist bloc, and very modern architecture. At times it is bizarre, but OH so cool! Berlin today is hip, cool, clean, and uber modern. In my opinion, one of the best things about Berlin is that it doesn't shy away from the horrors of its past. Berliners are very open and upfront about both the Nazi and Communist rule.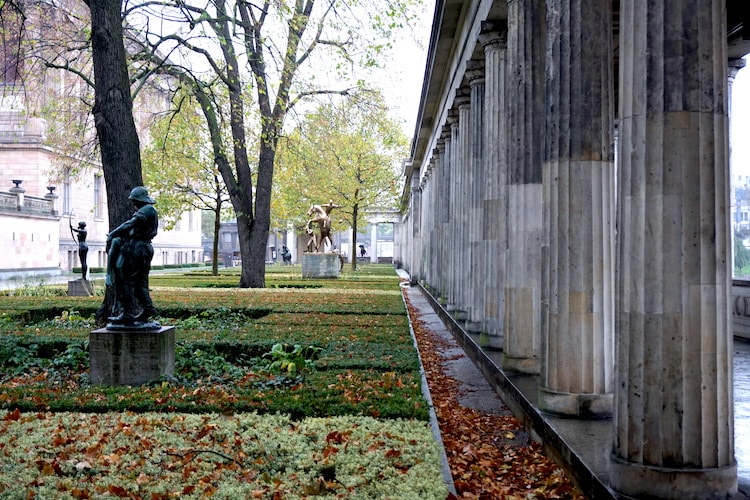 How to Get Around
Geographically, Berlin is BIG and spread out.  Additionally, because there were essentially two cities from 1945 – 1989 (East Berlin and West Berlin), there is a distance gap between some of the major sites. That makes it very different to get around when compared to a city like Paris or London (See our 4 Day Paris Itinerary Here).
Public transportation is a must, and makes traveling between East and West Berlin SUPER easy! I was planning on taking taxis the whole time but after going on the U-Bahn with our guide the first day, I realized that at least getting from East to West was easy and convenient. There were a couple of nights when we decided a taxi was best (mostly because my feet hurt haha) but for the most part, I suggest walking and taking the S or U-Bahn between the two sides.
Where to Eat
Because Berlin is so hip, it has a really cool food scene. Here is a list of the yummiest places we ate.
Where to Stay
Berlin has many really nice hotel properties! We decided to stay at the gorgeous boutique style hotel The Autograph Collection Hotel am Steinplatz. It was lovely, the rooms were nice, the spa was fabulous, and the service was excellent. One thing to be aware of is that it is in West Berlin so it is removed from some of the major sites but really close to others. It is within easy walking distance (like 5 minutes) to the Major Zoological Garten Station, some major shopping malls, and Kaiser Wilhelm Church. If we were to return to Berlin, I think I would stay here again. I liked that it was quiet and a little bit removed. It was perfect for a couples getaway.
A History Lovers Berlin 4 Day Itinerary
Day 1: A City Overview
(4 hours long, 14 Euros per adult)
If you have been following us for awhile, you know that we are not fans of big group tours and that we by far prefer a private tour! However, we decided to try a couple of the Insider Tour Berlin tours (mostly because of our budget for this trip and their reviews) and these guys were really quite good. If you are traveling with young children (which we usually do, but we weren't on this trip) then I would still suggest hiring a private guide. However, these guys were full of knowledge, personable, inexpensive, and overall great for the adults in our group!
One of the best parts of this tour is that the guides will instruct you on how to navigate the U and S Bahn all while getting a really great overview of the city. Because of this tour, we were able to get around the city just fine using public transportation for the rest of our trip. Some of the places you will visit are:
Nazi Book Burning Site at Bebelplatz (P.S. to the right of the memorial in the square, is the school where Albert Einstein taught)

Hitler's Bunker Site (Today it is a dumpy parking lot, so don't except some preserved time capsule. However, it is still really interesting to see.)

The Former

Reich Aviation Ministry and Herman Göring's Center of Power

(Currently, it is the Federal Ministry of Finance)

Berlin Wall

Gendarmenmarkt

The site of Checkpoints along the wall

Brandenburg Gate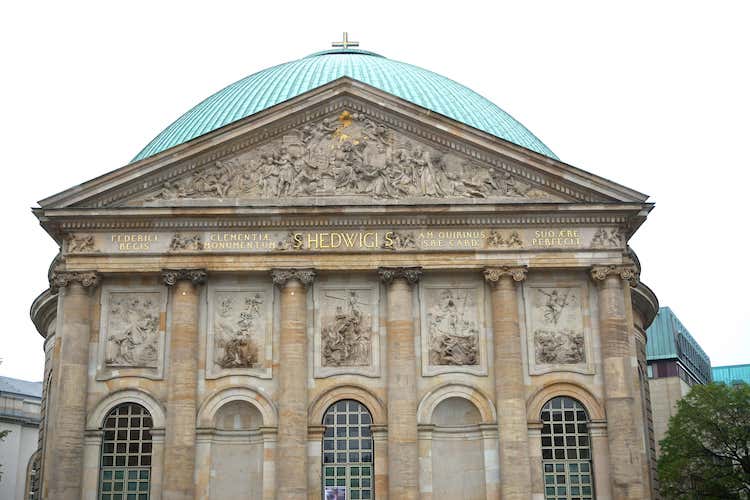 (Plan on at least 2 hours, Admission is free)
This free, partially open-air museum is integral to understanding the rise of the Third Reich and the crimes that were committed. The museum is now housed on the same location where the SS headquarters and the Secret Service "in-house prison" were located. When you first arrive, make sure to wait and watch the quick video introduction to the building and then plan on taking your time going through the exhibit. Something that I appreciated about this museum is that it is not sensationalized but the information is presented to the viewer in cold hard facts.
To fully appreciate the museum, plan on doing some reading. Most of the museum is a collection of primary sources explained in chronological order. When you are done on the interior, be sure to walk outside and see the remnants of the former prison cells – it is a harsh reminder that you are standing on the ground of something very sinister. (Also, try to make note of the images that show the huge Nazi rallies around Berlin. You inevitably will visit some of those same locations on your trip and it really brings an awareness to just how powerful the Nazi's were when you compare the location to the images.)
Tiergarten and Potsdamer
Decompress and walk down to the Tiergarten Park through Potsdamer Platz and enjoy a quiet evening after experiencing some of the more heavy information from the Topography of Terror.
The Tiergarten Park is really lovely and has been named one of the best city parks in Europe, it is an awesome place to rent a bike and do some light cycling, or even take a small picnic.
Day Two: 

Museum Island
Can you say … museums??? Another great thing about Berlin is that its world-class art museums are all near each other, making it super easy and convenient to visit them! Of all of the museums on museum island, I would suggest visiting the Pergamon and the Neue Museum. If you want to see more art you can hop on over to the Bode or Alte Museum as well.
(12 Euros per adult, plan on a visit of about 2 hours)
The crown jewel of the collection at the Neue Museum is, by far, the bust of the Egyptian Queen Nefertiti. The bust is in almost perfect condition and is over 3,000 years old. In other words, Nefertiti is magnificent. Even for non-art lovers, you can not deny that she is darn cool. The rest of the museum houses artifacts from ancient Egypt and pre and early history artifacts from Europe. Visiting the Amarna room is a must!
(12 Euros per adult, plan on about 2 to 2 ½ hours)
The Pergamon Museum is an ancient Greco-Roman and Middle Eastern haven! Arguably one of the most significant works of ancient middle eastern architecture, and one of the original seven wonders of the world is housed in the center of the Pergamon Museum; the fabulous Ishtar Gate! Ishtar Gate was built by King Nebuchadnezzar II to flank and wall his palace complex in Babylon.
Trying to figure out how a seminal piece of Ancient Near Eastern work is now owned and housed by the Germans opens up a whole can of ethical and art law worms. Nonetheless, visiting this reconstructed gate is a must when visiting Berlin. When visiting, be sure to check out the individualized detail on the lions in the brickwork, and make sure to go to the left-hand side of the gate and read the translation of the cuneiform inscription of King Nebuchadnezzar II (most viewers miss this).  
Tips for visiting the Pergamon
This museum gets busy!!!!!!! Like, having to wait in line for two hours just to enter, busy. Here are my suggestions on how to hack the wait and enjoy your time.
GO on a Thursday if you can. Thursday is the museum's late night and visitors lessen the later in the evening it gets. Even in the offseason, the lines were over an hour and a half long just to buy tickets for the museum, no thank you. Order the personal Pergamon Museum tickets online BEFORE your visit and schedule your appointment time (don't do the museum island pass because you WON'T be able to get front of the line access). This will allow you to bypass any sort of a ticket line. Again, if you can go during the last several hours of the late night.  When we did this, at one point, we had the entire Ishtar gate to ourselves. I was in heaven.
Evening Cruise and Berliner Dom
Go inside the Berliner Dom and explore the surrounding area and possibly take an evening boat cruise on the River Spree. We suggest Berlin City Cruises. (Just a note, the cruises are great, the food not so much. So, I suggest booking one that doesn't have food included.)
Day Three: A Day Trip
Get out of the city, and see Potsdam or go to the Sachsenhausen concentration camp. We had just recently visited Dachau, and the hubs gets a bit squeamish and so we decided to go out to Potsdam instead. However, we have heard that Sachsenhausen is very worthwhile and moving.
Potsdam
Take a private day trip out to Potsdam. Potsdam is oh so cute and oh so significant! Visit the many palaces, the grand Prussian squares, the little worker's hamlets, and enjoy being able to escape the modern city and feel like you are stepping back in time. We loved Frederick the Great's Sanssouci Palace and gardens! Another great site is the WWII summit site. Be sure to stop at the Glienicke Bridge, the real-life bridge of spies. We used Tour Guides Berlin for our tour and we were really pleased with them! They were kind, knowledgeable, and very helpful! You can find info on them and their tours here – Tour Guides Berlin.
Day 4: The Cold War & Reichstag
(9.50 Euros per adult, plan on about 2 hours)
The DDR Museum is a fantastic, albeit small, hands-on museum explaining life during the DDR. It is one of the most interactive museums I have ever been to and it is one of the busiest in Berlin. We had a great time but boy were we sick of the crowds by the time we were done.
I would suggest getting to this museum right when it opens (expect a small line) or right before close and enjoy the exhibits before what feels like thousands of other people are all up in your space.  Even with all of the crowds, this museum was a must for me. It is like stepping back in time to experience the GDR for yourself. One last tip, order your tickets online and spend the 5 euros to skip the line, it is totally worth it!
(14 Euros per adult, 4-hour tour)
Again, this is a group tour but we really loved this tour and thought it was so well done. Our guide was incredibly knowledgeable about communist Germany and we learned so much! We had also called and asked what additional tours they suggested beyond the famous walk tour and it was suggested that we take the Cold War Tour. We are so glad we did! On the tour you will visit:
Several Checkpoints

Stasi Headquarters

The Berlin Wall Death Strip

An old Communist Ghost Train Station

Alexanderplatz
(plan on about 1 1/2 – 2 hours, admission is free)
This was one of our most favorite things we did! We went to the top in the evening and loved it! If at all possible, order your tickets online prior to your visit, it is MUCH easier. In case you forget, or you can't schedule any appointments online, do not fret. If you show up at the Reichstag ticket office (it is across the street from the actual building in a little trailer type building) you can schedule an appointment for that same day or up to two days out. However, you want to be one of the first people in line because they only have so many appointments and slots do run out. We were in line for the Reichstag tickets at 7:45 am and we were able to get a spot for that same evening just fine*. If I could do it again, I would have also made a reservation at the rooftop restaurant.
* be sure to check for closures on the website. When scheduling in person, you must have an official photo identification (driver's license, passport, etc) copies are not allowed.
One Last View of Brandenburg
End your trip and your day with some hot chocolate and strolling through the lit up Brandenburg Gate in the evening.
Other Excellent Spots to See
The Stasi Museum

The German National History Museum

East Side Gallery

Go up on the TV tower

Kaiser Wilhelm Memorial Church
Enjoy your trip to Berlin and let us know what sites where your favorite!!
Xo,
Kam
*Click to check out our Berlin coloring page! Its easy to download to print or color on your device or tablet!