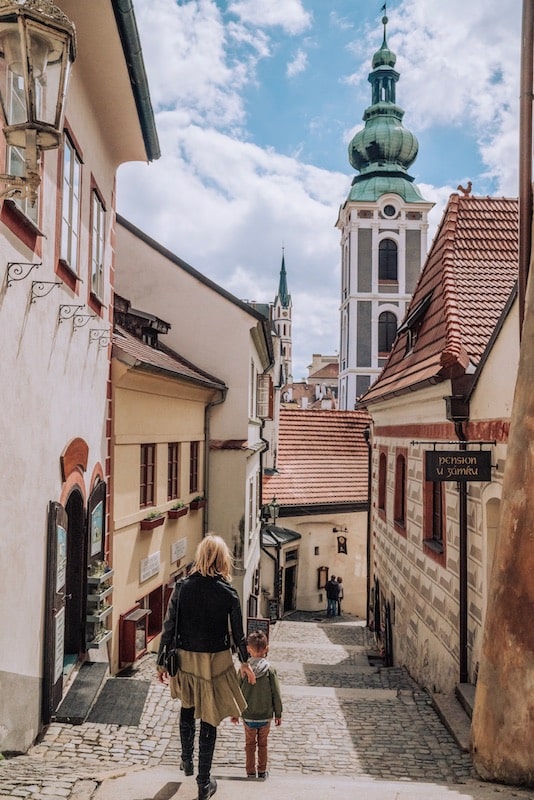 25 Aug

Best Day Trip from Prague – Visit Cesky Krumlov with Kids!

How to best visit Cesky Krumlov with Kids

Cesky Krumlov is the most charming little medieval city in the south of the Czech Republic. The city was founded back in the 11th century and the castle that adorns the city is believed to have been constructed in the early 12th century. Needless to say, this little town has just as much history as it has beauty. 

This is one of the best day trips from Prague AND it is a fabulous place to take and explore with kids! In this post, I will answer all of your questions and tell you if Cesky Krumlov is worth the visit (SPOILER ALERT: it is!!),the best things to do in Cesky Krumlov, the best restaurants in Cesky Krumlov, how long to spend in Cesky Krumlov, and of course, how to get from Prague to Cesky Krumlov! So let's get started:
Is Cesky Krumlov worth visiting?
This is obviously the first question I am going to answer because if it is not worth the visit than this blog post would be pointless, so I will answer your question with a resounding YES. Cesky Krumlov is definitely worth the visit and if you keep reading, I will tell you exactly why. :)
How Long to Spend in Cesky Krumlov? 
You really only need one day to hang out in Cesky Krumlov. This is the perfect day trip from Prague. You will be able to see and do everything in just one day. 
Visit Cesky Krumlov with Kids – Top Things to do! 
Cesky Krumlov Castle
The castle in Cesky Krumlov is the crowning jewel of the city. This castle is the second biggest castle in all of the Czech Republic with 395 rooms. This castle has a lot of history as the first mention of the castle was back in the 1200s. You can see the castle from about every vantage point in Cesky Krumlov and it is so fun to look at and photograph from every view. You can take a tour of the inside of the castle. BUT… in our experience, it wasn't the most child-friendly experience and let me tell you why. 
We purchased the interior tour of the upper castle. The tour had about 30 other people in it with one guide. Admittance for children is free for this tour. During the first 10 minutes of the tour, the tour guide ignored Beckham when he asked a question and yelled at our little 5-year old in front of everyone for shuffling his feet on the ground. We thought the guide's behavior was extremely rude and uncalled for. We actually left the hour-long tour early because it was CLEARLY not child-friendly. I will say that when we complained, they made it right by giving us a private tour with a guide who was much more kind and child-friendly. One of Beckham's favorite parts of the castle was finding all the bearskins throughout the castle. Just be aware that this may not be the best thing to do with young children. 

Find the famous Maria Theresa Bear 
Speaking of bears… it's a tradition to have bears in the mote of the castle. There is one bear that lives there today and her name is Maria Teresa (Beckham referred to her as "Theresa Theresa"). It's good luck to spot the bear and we had the honor of being able to see her! We had a clear view of her in the Mote as she was chomping away on some carrots. Beckham LOVED being able to watch her. It's a great thing to do with kids. She isn't always visible but it'll be fun to search the mote with your children to try to find her. 
Cesky Krumlov Castle Gardens
I also recommend strolling through the castle gardens. The Cesky Krumlov castle gardens were founded in the late seventeenth century. After the 30 years war, it was a time for parties and the residents landscaped gardens! The Gardens are so fun for kids to walk around, look at the fountains and blow dandelions. You can also see the revolving theater where they still hold performances. Walk around and see the sights around the baroque theater and the fifth courtyard. Be aware that the gardens are NOT a great place for a stroller so plan accordingly. 
Stroll Around
It was so fun for us to stroll around and discover all the little streets and alleys of this charming town. We loved being able to spot the Castle from every vantage point. Plus, this is the best way to walk off Trdelnik you will be eating! Lots of the streets are cobblestone streets and are not ideal for taking a stroller so plan accordingly. 
Play at the Park
There is a fun park to play behind the Schielle gallery. it is a five minutes walk from the city center with remains of old walls and is located next to the Italian coffee and gelato place. this park has a great view of the Vltava River. It was so fun to watch the rafts floating by while swinging and playing on the park equipment. Your kids will love hanging out at this little spot. 
Best Restaraunt in Cesky Krumlov? 
Best food in town is Papas Living restaurant located below the castle. We sat out back on the balcony and had a beautiful view of the castle and the river. The menu is full of Czech comfort food and everything was really delicious. They also have a wonderful little kids menu with simple and safe kids options. 
How to Get From Prague to Cesky Krumlov?
We hired a private guide for Cesky Krumlov. He picked us up from our hotel and drove us to Cesky Krumlov. He stayed with us the entire day, showed us the best places to go and gave us the history of the little place. We always recommend taking a private guide, but there are other options should you choose not to hire private. 
Take a Taxi
You could always hire a taxi or an uber to drive you to Cesky Krumlov. The drive is about 2 ½ hours. 
Take the Train
Take the train from Prague to Budejovice South (also called bud vice)  and then take the slow train from Budejovice to Cesky Krumlov. The train ride is about 2 hours and 45 minutes. 
We hope you have the BEST time in Cesky Krumlov whether you are going with your family, your kids or you are traveling solo. I know you will love this charming little city and will walk away with some awesome memories. Happy travels!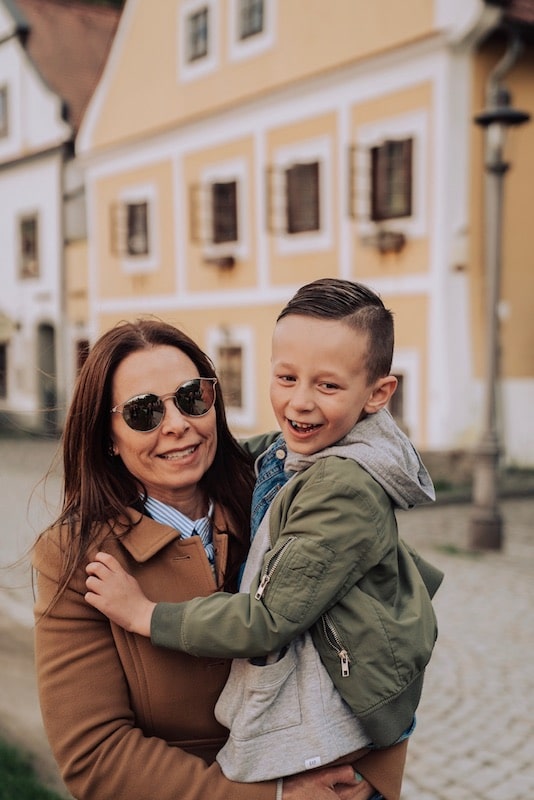 Xo, Sav
For more awesome day trips and things to do with kids in Europe, see our other European cities with kids guides here!!!