Prague is known as the "city of a hundred spires," and to be sure, there are at least a hundred different and interesting spires to be seen from any vantage point.  Prague is a feast for the eyes and successfully mixes different architectural styles into one beautiful scene. Split into two parts by the Vltava River it is a place to enjoy from the outside before moving indoors.  Be sure to get lost in the narrow winding alleyways (you and your kiddos will enjoy that) and see what is to be discovered around each turn. The city is dotted with many wonderful parks and gardens and showcases them with magnificence.  In Prague, the magic is in the atmosphere and in this ultimate guide to visiting Prague with kids, we will share with you the best of the best things to do to enjoy all Prague has to offer! In short, we will show you how to do Prague with kids!

Prague with Kids Tips and Questions!
Is Prague Family Friendly?
Prague is family-friendly in the sense that there are lots of outdoor things to do.  Kids will love the many lovely gardens, parks, and birds in Prague. There are plenty of open spaces for kids to run around and be kids.  That being said, we found the streets and sidewalks of Prague to be difficult to navigate with a stroller. Both large and small cobblestones are the norm throughout the city and were very bouncy for a stroller.  They also get very slippery (especially in the rain), so make sure you wear comfortable and grippy shoes.
Beckham took a tumble more than once. Another downside to Prague is that, as a general rule, we found the people to not be super accommodating but ESPECIALLY  not to children. Beckham got yelled at a few times, and not for misbehaving, but honestly for just being a 5-year-old child. That really bothered me. 
Having cautioned you in both of those areas, I would not let either one of them dissuade you from visiting Prague with children. It is a beautiful city and there are so many gems to be discovered there, and we found it to be worth every effort and inconvenience.

How densely populated is Prague?
Prague is a relatively small city and has a population of just over 1 million people.  You will not be alone in your visit to Prague as 2018 statistic reports that nearly 10 million people visited Prague.  With the exception of certain times of the day on the Charles Bridge and in Old Town, we did not find the many people stifling in any way.
What is Prague known for?
Prague is known for many things one of them being their beer.  Because we do not drink alcohol we cannot comment on the quality of their beer but we can say that they are also known for their great food and we can say a lot about that:).  The quality and price of the Czech food was great and really added to our family vacation in Prague. Rather heavy, the food is delicious and we especially loved the pork roast, dumplings, heavy sauces and gravy, and apple strudel to be satisfying and good.  
They are also known for their beautiful melding of architecture.  Side by side it is a glorious combination of many styles including Gothic, Renaissance, Baroque, Romanesque and even modern.  Somehow it all comes together in a unique and stunning way!
Prague is also known for its classical music and concerts.  If you desire, you can find a classical concert nearly any evening.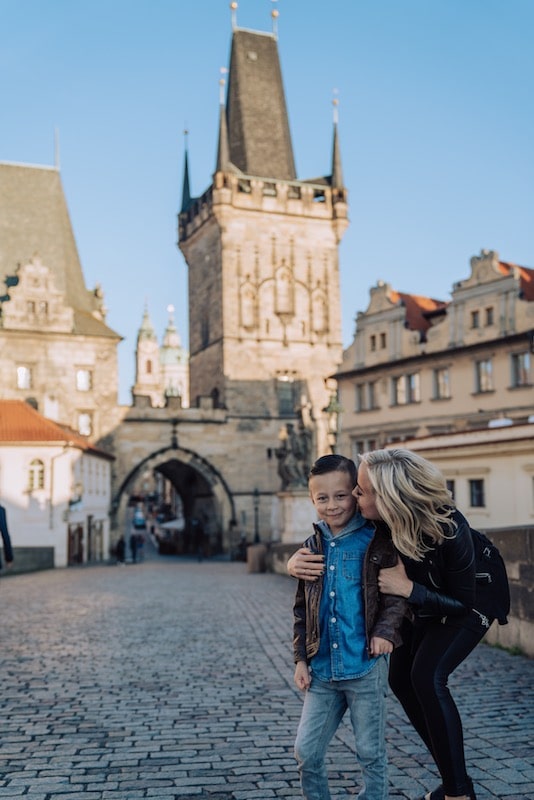 How safe is Prague?
While traveling, we are always mindful of our surroundings and cautious about what neighborhoods we are entering.  Prague is a relatively safe city and we felt completely comfortable the entire visit, including after dark. As in any big city, precautions should be taken to avoid pickpockets. For more information on this, see our blog post about how to avoid pickpockets. AND also safety while traveling with children.
What currency is used in Prague?
The currency in Prague is the Czech Crown (CZK).  At the time of publication, about 100 Czech Crowns equals about $5.00 USD.  Some places accept the Euro, but there were many small shops and restaurants that only accepted Crowns and some only accepted them in cash (no cards).  We recommend always some Crowns on hand.
What is the best time to visit Prague?
The best time to visit Prague in April, May or September.  Those are the months when the weather is the best and you will be able to wander the city without the greatest crush of visitors.  Whatever time you choose to visit, avoid the weeks of Easter and Christmas when crowds of people descend to enjoy their family holidays in Prague.  

Where should I stay in Prague with my family?
As Prague has a small city center, most things can easily be reached on foot if you are staying in the right area.  We suggest staying in either Mala Strana (Lesser Town) or in Stare Mesto (the Old Town). This will help avoid a metro ride…that just costs time and money and is unnecessary.
Mala Strana
Mala Strana is on the left bank of the Vltava River.  It is the historic part of the city and for sure the most picturesque and charming.  This area of the city that is in between Prague Castle and Charles Bridge. Mala Strana is a little more quiet than other areas of the city and you will find small hidden gardens and still be in very close proximity to the major sites of the city.  Hotel prices tend to be a little higher in this area but the city is most beautiful in this region.
Stare Mestro
Stare Mestro is on the right bank of the Vltava River.  This is the heart of the city, near the Old Town Square, the Jewish Quarter and it is also tourist central.  This should not dissuade you from staying in this area as many sights, shops, pubs, and restaurants are at your fingertips.  But, if crowds (especially in peak season) tend to get to you, you should consider staying in another area.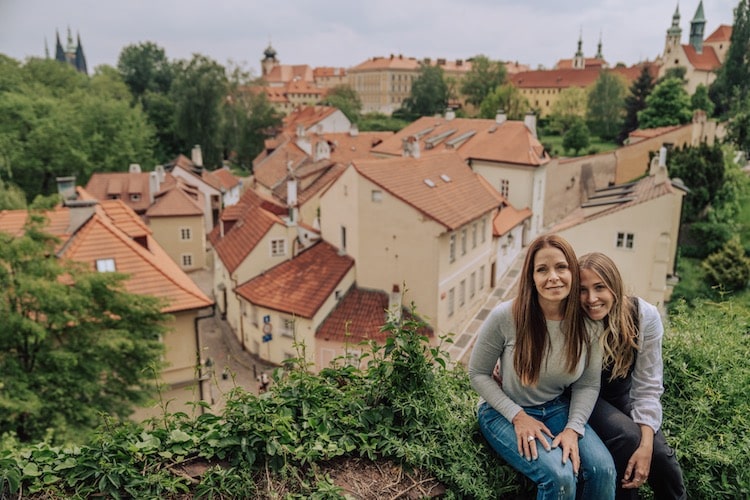 Best restaurants in Prague Old Town?
We realize that a successful family vacation means eating well without breaking the bank.  Fortunately, Prague has a vibrant restaurant scene with nearly endless international cuisines represented.  We found the food to be tasty and economical enough to enjoy. Here are a few of the restaurants that we tried and loved and felt like we didn't waste our life savings on a meal!
Lokal
Great local pub with authentic Czech food.  They have multiple locations. It was great for Schnitzel, pickled camembert cheese with rye bread, local cola and apple strudel.
Giovanni Pizzeria
Great pizza and pasta!  Cozy and one block from Old Town Square. They were very courteous and kid-friendly. Good food from Giovanni's will help make your family trip to Prague a success.
Restaurant Mincova
The menu is authentic Czech food. If you are unfamiliar with Czech food and need a good introduction, this is your place. Think the best goulash in town, dumplings, chicken and smashed peas!  Beautiful ambiance and very close to Old Town Square and the clock tower.
Puro Gelato Artigianale
100 percent, homemade from local farmers' milk.  Creamy and delectable, their gelato is a Gelato World Tour Winner. A few blocks from Old Town Square. Don't miss this one!  Gelato will only add to your family vacation in Prague:)
Las Adelitas
Our hometown is in the southern US where Mexican food is the name of the game.  We are serious about our Mexican food! Imagine our surprise when we heard of a fabulous Mexican restaurant in the middle of Prague.  This restaurant serves up traditional Mexican fare with a flare. They have multiple locations in Prague.
Best Things to do in Prague with Kids
If you are reading this post, chances are you have asked yourself what are the best things to do with kids in Prague. Now that we have cleared up some of the most common questions about Prague, let's dive right in and answer that!! Here it is…  our ultimate guide to visiting Prague with kids.  
Prague is not a city stacked with sites and a never-ending list of not to be missed museums (although there are some good ones).  As I mentioned before, a visit to Prague is about the experience, about the atmosphere, about the beautiful sites and sounds, about the impressions of the city.  Enjoy Prague slowly…romantically. Wander, get lost. Being mindful and just breathing in the beauty of the city is one of the best things to do with kids in Prague.  It's a great way to explore a city and the kiddos will respond well. Prague is to be seen from the outside first and then if you have more than three days to explore the city then start to see the inside of things.
There are a handful of "must-sees" while in Prague.  The headliners so to speak. Here are the ones not to be missed.
*Also! Not to be missed are some really fun day trips! We loved our day trip to Cesky Krumlov. See our One Day in Cesky Krumlov post here! 

Things you must see in Prague with Kids
Old Town Square
This square is the main hub of the city and for sure where the crowds will be.  Old Town Square in alive with energy. Street performers, bustling cafes, and quaint shops make this lovely square a place to linger longer, and enjoy the vibe.  
Be sure to see the oldest working astronomical clock in the world. It's housed in the famous clock tower of Prague. Make sure to watch the short show.  It chimes and performs (I guess you could say that), every hour on the hour from 8am-8pm. You can also climb the steep staircase to the top of the tower for a fab view over the square and the city. It is fun to see the city from a different vantage point.  It's one of the best views in Prague.
Charles Bridge
The Charles Bridge is a pedestrian bridge over the Vltava that connects Mala Strana (Lesser Town) to Stare Mesto (the Old Town).  The bridge is Gothic in style and has 30 religious statues lining the sides. We had fun playing a game with Beckham every time we crossed the bridge.  We had him look for and find different features of the statues. For example…"Beckham, can you find the statue with a little person (cherub) sitting on its shoulder?" He had fun and each time we crossed that famous bridge, he noticed more cool features. 
At the end of the bridge on the right bank, you can climb the Old Town Bridge Tower to see the bridge from above.  Actually, you get a 360-degree view from the tower. We did this in the evening, just before sunset and the view was gorgeous.  Beckham loved watching the trains and boats coming and going and watching the bustling city below. The entrance can be easily missed.  If walking across the bridge toward Old Town, you will cross under the arch. A small door on the right side is the entrance to the tower.
To enjoy the bridge without crowds, visit at sunrise.  From the bridge, you will have staggering views of Prague Castle and Lesser Town.
Beckham loved to chase the numberless pigeons on the bridge.  Some people were totally annoyed with him but we didn't care and let him go crazy.

Prague Castle
Prague Castle occupies a prominent spot on the hill above Prague and is visible from most of the city.  At night, when it is all lit up it is striking. Prague Castle is one of the largest castles in the entire world and is the official working seat of the Czech President.  Although he doesn't live there today, it remains the place from which he conducts official business.
A Bit About Prague Castle
Hearing the phrase Prague Castle can be deceiving because Prague Castle isn't just one castle but a huge complex of houses, churches, gardens and monuments and even a giant mote (that now houses beautiful gardens).  These sites include Vitus Cathedral, St. George's Basilica, The Royal Palace, the Powder Tower and Golden Lane (a lovely little street of houses). Truly the "castle" is a city within a city.
It is also a lovely place to wander in the evening or at night when things are all lit and the city shines. Kids will enjoy seeing the changing of the guards, hearing the church bells chime loudly and just wandering.  While there aren't any sites specifically for children, (there is a toy museum but it was closed for renovation when we visited). Help your kiddos imagine what life would have been like here when the castle complex was in its heyday.
How to Visit Prague Castle
To visit the interior of all of these sites and a combination ticket must be purchased.  To see them all from the exterior only is free of charge. The combo ticket includes the Cathedral, Old Royal Palace, Golden Lane and the Basilica of St. George.  If you really love history, then purchase a ticket, although we think it may be too much for children. To get to the castle, catch a tram (number 22 or 23) from Lesser Square to the castle and get off at the Royal Gardens.
A little note about Golden Lane.  Entrance is free after 5 pm. It is a small street with souvenir shops but originally it was lined with small houses built within the castle complex where artisans lived and worked.  At the top of Golden Lane is an armory (free of charge). It includes armor displays, exhibits of weapons, guns, swords a small torture chamber, etc. We spent some time walking through those and Beckham was engaged and had a good time.
Jewish Museum
Just like Prague Castle, the Jewish Museum is not a single building.  It is a cluster of Jewish sites.  Each site houses a different exhibition giving insight into Jewish history, culture and customs. Again, separate tickets cannot be purchased.  One admission price includes the Old Jewish Cemetery, Pinkas Synagogue, Klaus Synagogue, Maisel Synagogue, Ceremonial Hall and the Spanish Synagogue.  If you don't want to purchase a ticket for all of the sites, you can walk around the area but won't have access to the synagogue interiors or the cemetery.  The Jewish Museum is closed on Saturdays and Jewish Holidays.
Things to do in Prague with Kids Notable Mentions
After seeing and enjoying the headliners of Prague, here are some other things that the kiddos will love.  
Petrin Hill
Petrin Hill is on the left bank of the Vltava River.  A visit to Petrin Hill is a must on our ultimate guide to visit Prague with kids. They will absolutely love taking the funicular to the top of the hill. The funicular starts in Mala Strana (Lesser Town) and ends up on the top of the hill.  Beckham thought that was half of the fun…just getting up there. Once at the top, there are a host of things for the little ones to do.  
There are several playgrounds for the kids to expend some energy and walking trails that criss-cross the park.  Plenty of bench seating is available for adults, while you sit and watch your kids run around to their heart's content.
Things to See at Petrin Hill
Beckham thought the mirror maze was the coolest thing ever.   We laughed and laughed and after a while, it's hard to know where you are going and what is an actual mirror and what is simply a reflection.  It's rather disorienting but seriously, it's one of the best things to do with kids in Prague.
There is a small Eiffel Tower replica at the top of Petrin Hill.  You can climb to the top of the mini-tower and see the views from the top.  The red roofs and city views are fun.  
Also at the top is the Observatory. If it is your child's thing, the kiddos can stargaze through a very large telescope on select days and times.
A note about Petrin Hill…the ticket counters did not accept credit cards or Euros.  Therefore, before visiting, make sure you have Czech Crowns or you might have to forego the fun of Petrin Hill.  We know the kids would not be happy about that.
Hamleys
Hamleys mega toy store has a branch in Prague with loads of toys for sale as well as a carousel, a multi-story slide, and many small areas where kids can try out and play with some of the toys that are for sale.  We spent a few hours here on a rainy, cold day and we all had a great time.
Lennon Peace Wall
The Lennon Peace Wall is a graffiti wall near the Charles Bridge in Lesser Town.  During the dark days of communism, graffiti was celebrated as an avenue of free expression.  People come at all times of day and night to leave their own mark on the wall. It is ever-changing and oh so fun to visit.  

Paint on the Lennon Peace Wall
If you want to have a fun break and doing something so fun in Prague with kids, make sure to pack some paint and a paintbrush to let the kids enjoy drawing whatever they are feeling.  At the very least, pack a thick Sharpie so that the kids (and adults) can write their names and of course get some great pics to remember the experience. The earlier you visit in the morning the more enjoyable your visit will be.  By midday, in peak season the place is overrun with people and large tour groups. 
Take a Boat Excursion
While the view of the city from the water is not as grand as in nearby Budapest it is still worth the time and money.  We sat quietly and watched the daylight turn to dusk and delighted in the varied views of the bridge and the city.  
A horse-drawn carriage ride is sure to interest the young ones.  You can find them lined up in Old Town Square. Make sure you negotiate the price beforehand. The most common route is through Old Town Square and through the small winding streets through the Jewish Museum area and then back again.  It's a fun addition to your family trip to Prague!

Repubrik LEGO Museum
 This museum features 20 themed exhibitions including Prague's National Museum and a model of the Charles Bridge, a shop and a play area. This museum was a total bust for the adults and a disappointment in the highest degree BUT 5-year-old Beckham thought it was the greatest thing since sliced bread.  So here is my thought. If the weather is bad and you are looking for something to do inside then make a stop. If not, I would think twice. Beckham could have spent hours inside.
Visiting the Swans and Ducks
Feeding the Swans and Ducks on the Vltava riverfront in Lesser Town is a favorite for children for sure. Heck, even the adults had some laughs and giggles.  We were told to only feed the swans cut up veggies, grain and cooked rice. In the end, they were too spoiled (and didn't want to eat their veggies) and so we fed them pieces of bread that we had brought with us from breakfast.  From this spot, there is a great view of the Charles Bridge and some really incredible photo opportunities too. A definite must on our ultimate guide to visiting Prague with kids!! We went back a few times.
Visiting Prague with kids is a feast for the senses and your family will love exploring the beautiful city!  Have you explored Prague?  If so, share with us what your favorite things were.  As always, we are here to help with any questions!
Check out our darling Prague coloring page!