Bora Bora is the most popular destination for families in French Polynesia (especially for honeymooners) and is on almost everybody's bucket list. However, have you ever heard about the nearby island of Moorea? I promise it is worth your time to check it out! If you are going to the South Pacific, traveling to the island of Moorea is a must and here is why.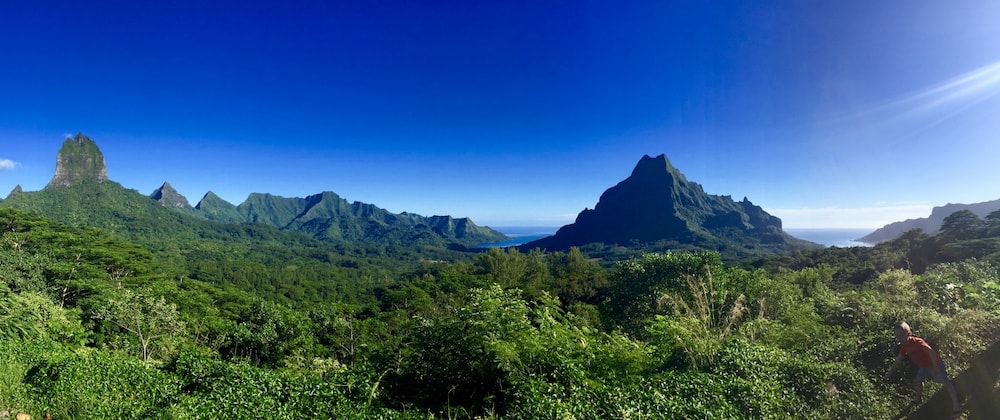 Why Traveling to the Island of Moorea is a Must
Moorea Background
This tiny little heart shaped volcanic island was originally settled by ancient Polynesians. Its claim to fame is that it was used as the on-site filming location for classic movies like South Pacific and Mutiny on the Bounty. With lush volcanic jagged peaks, crystal clear water, and coral galore it is the perfect island destination. It is also a widely researched geological study site and UC Berkeley runs their South Pacific research facility off the island. (Hello- I want to study there? Are you kidding me, half the time when I was in college it was below freezing with loads of snow).
What to do on the Island of Moorea
Moorea is a recreational and relaxation dream. It provides that perfect dichotomy and with a plethora of things to do, it is a fantastic family destination.
Hiking:
Moorea is a hiker's paradise- literally. Hikes range from multi-day hikes to the eight different peaks like Bali Hai or more casual day hikes. For a list of different hikes click on this article by Fodors- Moorea Hiking.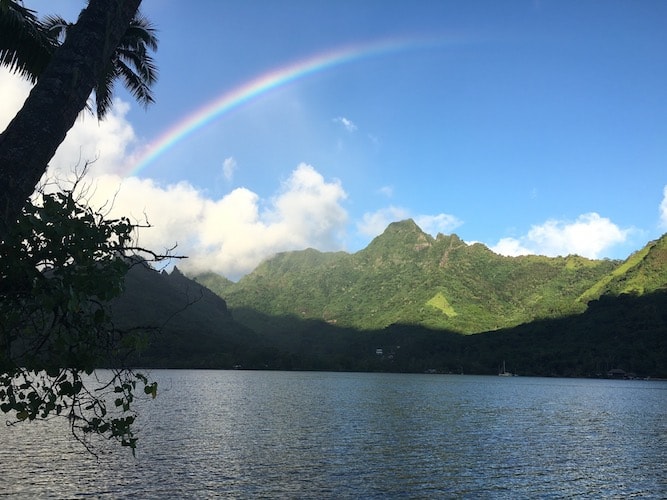 Anything in the water :(ie: swimming, kayaking, paddle boarding, jet skiing, boating)
Moorea is completely surrounded by some serious coral reef which results in shallow, clear, pristine water hugging the entire island. This water is perfect for families! I had no problem taking a swim out with my toddler. The waves are minimal, the temperature is like bathwater and even at 20 feet deep, we could see the bottom.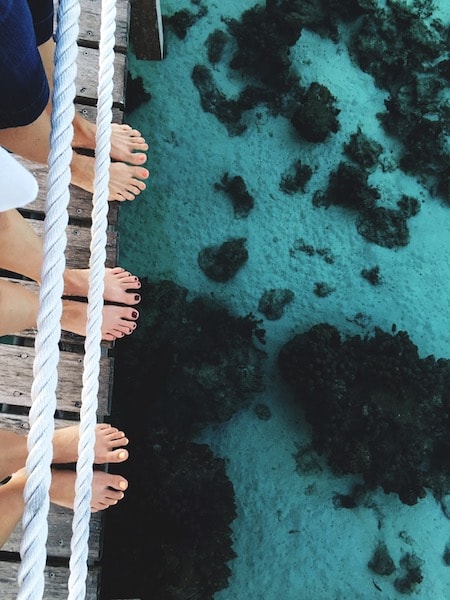 Wildlife encounters:
Okay, so call us crazy but we swam with the sharks (yep even the three-year-old, more on that in a later post) and we totally LOVED it! The fish are spectacular and the bird watching is out of this world.
Polynesian Culture and History: To us, it seemed as if Moorea was more authentic than the more touristy Bora Bora and Tahiti. With very few hotels and resorts in comparison to Bora Bora, our time on Moorea felt more like a slice of real Tahitian life.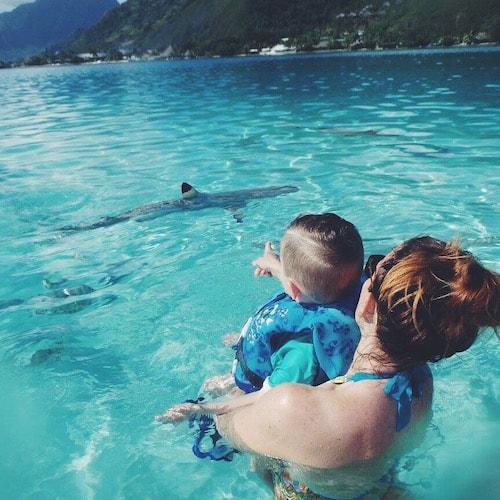 Where We Stayed, What Was Our Favorite, and Our Must Do List!
Where to Stay in Moorea
The resorts on Moorea are not nearly as luxurious as some of the the resorts found on Bora Bora.  For example, the St. Regis and Four Seasons are on the island of Bora Bora, (look for our upcoming review on the St. Regis by subscribing to our blog – it is by far one of our favorite places we have ever stayed!).  We spent a total of five nights on the island of Moorea and stayed at the Hilton Moorea Lagoon Resort and Spa.  We were able to visit the two other up-scale resorts (Sofitel and Intercontinental) on the island and we felt that the Hilton was by far superior to both of them.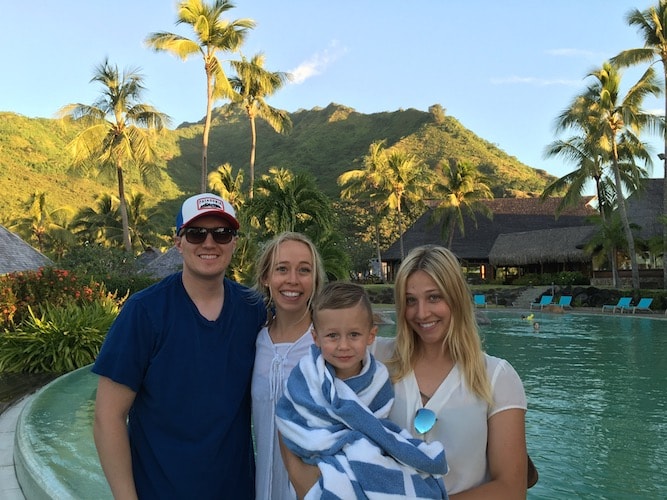 While there were plenty of honeymooners, it still was uber family-friendly and the accommodations were nice. We swam to submerged tiki statues, hiked, visited deserted beaches with some of the best shell gathering, swam with sharks and stingrays in the open water, kayaked, paddle boarded, hiked to a charming little waterfall, visited ancient ruins and most importantly sucked down pina coladas like they were going out of style.
It is also important to note that while French Polynesia is expensive across the board, Moorea is slightly cheaper than Bora Bora. The offering for less expensive accommodations on Moorea is far superior and Moorea has a couple of locations where backpackers can camp. I have found the highest rated yet the least expensive place to stay on the island is Moorea Surf Bed and Breakfast, boasting great reviews and a Trip Advisor Certificate of Excellence. If you are looking for a cheaper option this is a good place to start.  
Our Favorite Thing
By far our favorite thing we did was a private jet ski tour around the lagoon. It was perfect and we were able to take the toddler- who loved it! (more on this below).
Our Moorea Must Do List!!
Yvette was the cutest, nicest and most knowledgeable guide! We privatized a mix of her different tours and customized it to fit our family. Becks loved her and she made the yummiest homemade juice. The views were unparalleled and we loved her and her passion for the island.
Eat at Least One Meal at Rudy's
In the spirit of full disclosure, the main beef (pun intended) that we have with French Polynesia, is the food. The food is SO EXPENSIVE and at around 35 US dollars for a hamburger, I am expecting said hamburger to be swimming in gold leaf. The food is average at best and at worst down-right gross. However, for us, this was something we were willing to overlook because hello- the islands! That being said- Rudy's is the total exception! The stuffed parrot fish was to die for. I still have dreams about it. If you go, see if you can ship some back to me yeah- we would be best friends forever!
Take a Private Jet Ski and Swim with Sharks/Stingray Trip
This was one of the highlights of our entire French Polynesia vacation. Because the water is so still, the jet skiing with Moorea Best is perfect for families. For the thrill seekers, you can always go outside the reef. Swimming with the sharks in the open water was a blast!! Our guide Tama was awesome and was great with the little one. We were able to get a multi-person jet ski for Becks, and he rode between me and my mom. By the end, he was begging to go faster!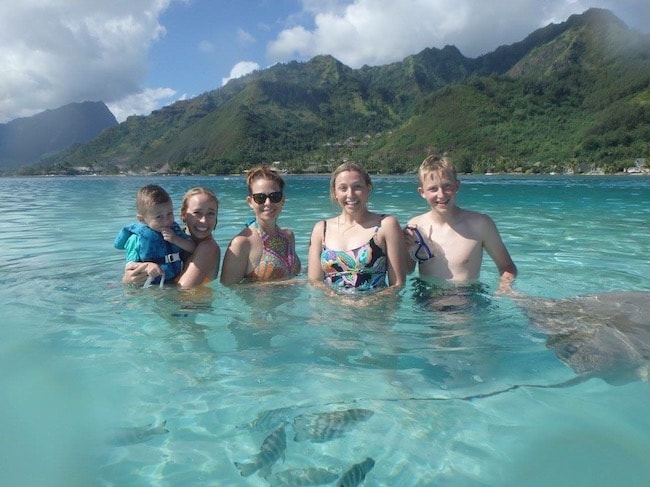 One Last Tip
Moorea is more rugged and "real" than Bora Bora. While the accommodations on Moorea are really nice, if you are staying at one of the premier resorts on Bora Bora during the course of your trip, we would suggest visiting Moorea first because some of the resorts on Moorea might be a let down after the ones on Bora Bora. Usually as a rule of thumb, when we travel to different locations, we try to stay at the nicest resort last. Because, after the St. Regis in Bora Bora my own home felt like a p.o.s. (piece of sh – you get the idea).
What is your favorite island destination? How many of you are wanting to visit French Polynesia? Do you have any questions about Moorea? As always, we love to hear from you. Leave your comments below! Also, if you are looking for another island destination be sure to check out our article on The Best Family Resorts in Hawaii.
Xoxox,
Kam
Check out our darling Moorea coloring page!