Getting ready to travel to Switzerland and trying to figure out the best family activities? Destinations for families in Europe are full of unique adventures in every city. You won't want to miss out on our Favorite 5 Things to do in Lucerne with Your Family. 
We recently returned from a 3-week European adventure!  We had a great time and learned and experienced so much.  While we LOVE Europe, it is often heavy on history, art, museums, and culture.  We have previously come home from a long European experience dragging. Our heads were left spinning, feeling like we could not absorb one more historical fact, that we could not give two craps about the symbolism of another art piece, and seriously ready to throw up over the idea of visiting yet another museum! Sometimes the culture heavy part of Europe is just that, too heavy.  We have learned through experience (and especially traveling with children) the importance of balancing our trips a little better.  
Enter the idea of Switzerland!  During this trip Lucerne, Switzerland was sandwiched between two other destinations that were pretty culture heavy.  Switzerland has its own distinct culture for sure, but we decided to visit Switzerland with a different idea in mind to break up our three-week European trip.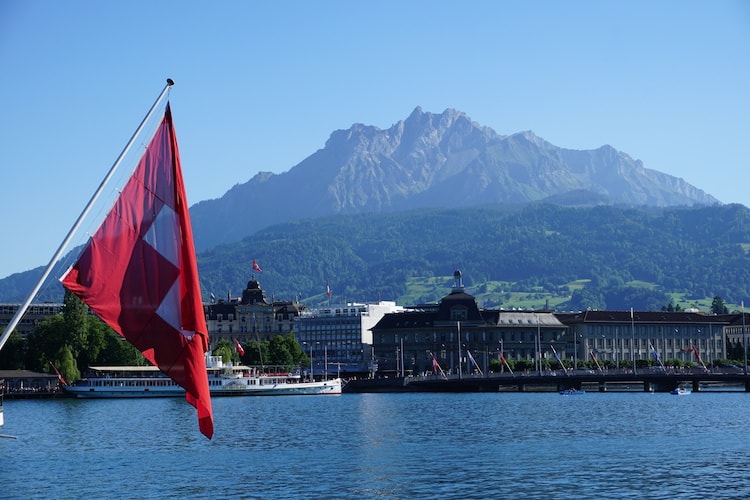 We didn't want to focus on museums and art galleries.  Instead, we wanted to see and experience Switzerland from out of doors, to see nature, to not focus on the facts but to focus on adventure.  It turns out that Lucerne was that perfect in-between mental break that we all needed.   We would like to share with you some fun-filled ideas on things to do in Lucerne with your family.
The Top 5 Things to do in Lucerne with Your Family
A Quick Little Background on Lucerne
Lucerne is a storybook image of a Swiss town; cobblestoned squares, slender church spires, frescoed buildings, charming bridges and a wonderful wall with towers that once surrounded and protected the city.  We chose Lucerne because it is a lovely town to discover and enjoy AND it is a good jumping-off place for some great day trips in the area (we will be talking about the day trips in another post coming soon:)).  
1. A City Tour of Lucerne
Upon arrival to a new city, one thing we always try to do is to take a guided tour to get acquainted.  We use a self-guided book tour, a group tour or a private guide*.  In Lucerne, our guide gave us a great overview of the city, some suggestions for family-friendly restaurants, and additional activities to do in Lucerne with our family that weren't previously known.
We quickly saw the highlights, the Chapel Bridge, Water Tower, the old city squares, the train station, the lake, the town hall and the main cathedral.  She even pointed out her favorite ice cream shop – movenpick.com in the city which we frequented more than once during our stay.  The tour was the perfect introduction and was lighthearted and casual. It helped us to know what to do for the rest of our stay in Lucerne.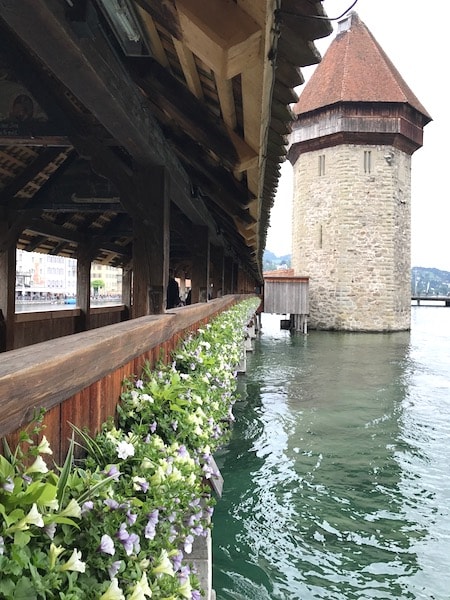 *For reference, we used Bucher Travel in Switzerland and were really pleased with all of our tours. Also, if you are using a private guide, make sure you always tell the tour company that you have children.  They often go out of their way to accommodate the little ones.
2. Enjoy Spectacular Lake Lucerne
Enjoying the gorgeous lake from different vantage points is a great thing to do in Lucerne with your family.  We took every opportunity!!  
One morning we took a long walk (stroller and all) along the banks of the lake.  We strolled past bobbing boats, manicured lawns, flower gardens and grand hotels bankside.  We walked until the paved path turned into gravel and then we turned back around and headed back to the old town.  Fresh air and exercise always get the day going and we loved every minute.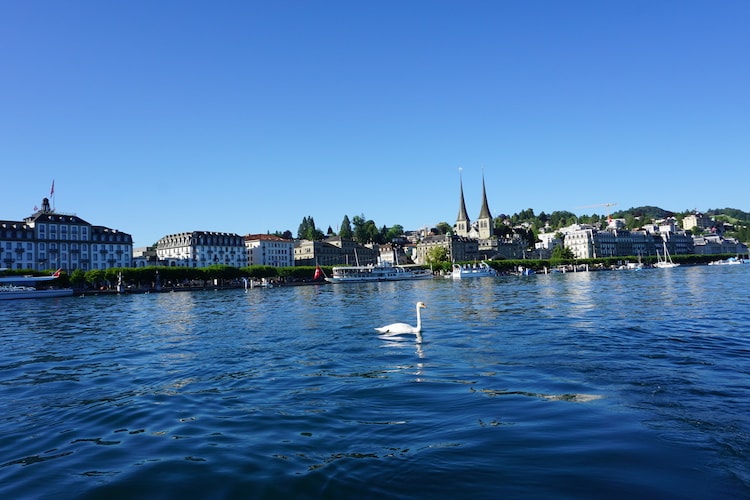 We took a one-hour boat cruise on the lake.  We hired a captain and boated across the glassy lake for an unforgettable panoramic view of the water and the steep mountains surrounding the lake.  There is also a boat service that has public boat excursions.  You can find out more about this excursion by visiting http://www.lakelucerne.ch/en/.
Also, this is about as touristy as it gets but we rented small pedal boats across from Swan Square and peddled our way around the water for an hour or so.  We all loved it and it offered yet another perspective of the lake, and views of the picture perfect city of Lucerne.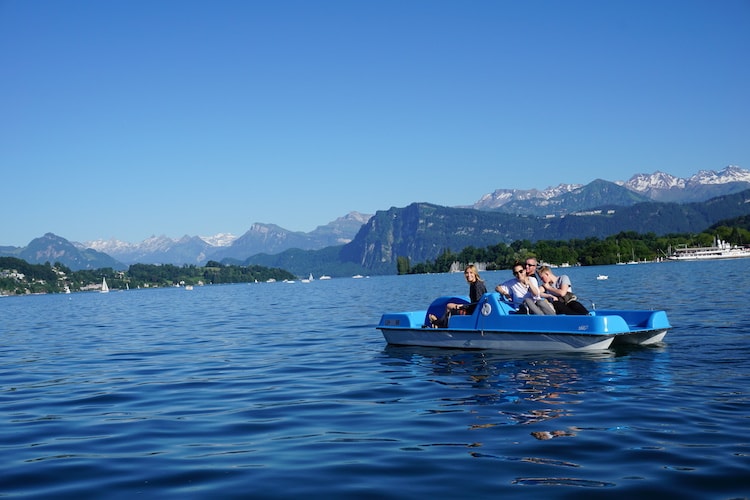 3. Feed The Swans
Lucerne is home to hundreds of beautiful white swans just chillin' on the lake and the river.  Beckham really wanted to feed the swans and so we bought a big loaf of bread at the nearest bakery, found ourselves a spot far removed from the busy area and sat down on the bank for a few hours to feed these beautiful birds.  Once they figured out we had food, they swarmed around us trying to get a bite.  It didn't take long to figure out which swans were in charge as they would chase each other away in order to secure more food for themselves.  We even saw one fluffy little gray baby that was following its mother.  So cute! It was such a simple activity. However, we found it to be one of our favorites.
*If you choose this activity, be careful because the swans may bite.  Keep on eye on little fingers.
4. Visit the City Walls and Towers
Another fantastic family activity in Lucerne is to climb the Musegg Wall (also known as the nine towers) to get a glorious view of the city.  Part of this medieval wall used to surround the city and you can still walk on top of it.  Along the wall, there are 4 towers open to the public.  One of them, the Zyt Tower houses a huge clock that still chimes every hour exactly one minute before all of the other clocks in town are allowed to chime.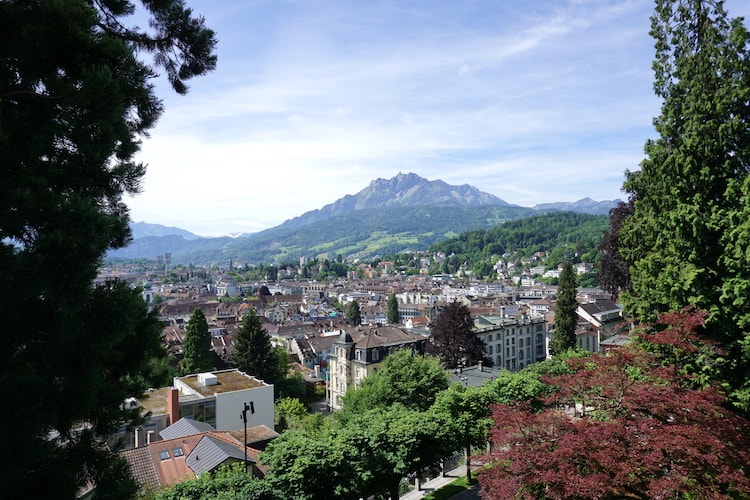 Don't miss all the incredible things to do in Switzerland outside of Lucerne. Visit this blog post to take your adventure to the next level!
We happened to be right under it when it chimed and little Beckham was fascinated by it.  We decided to climb to the top of the clock tower for a view of the inner workings of the clock (many steep steps).  The view from the top was magical as the city spread out before us and Mount Pilatus was clearly visible.  It really was a spectacular moment.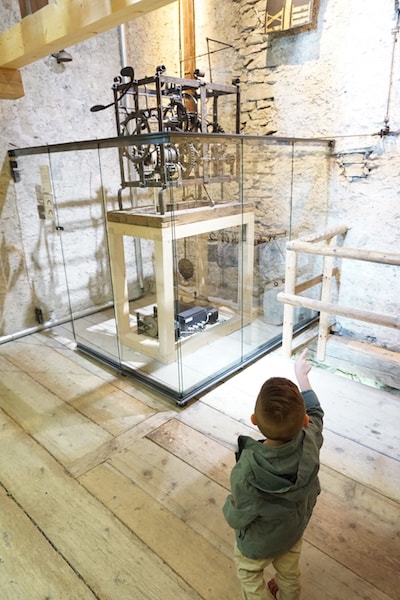 *If you have a stroller, fold up the stroller and leave it at the bottom of the tower. Just make sure to exit the wall at the same tower that you enter.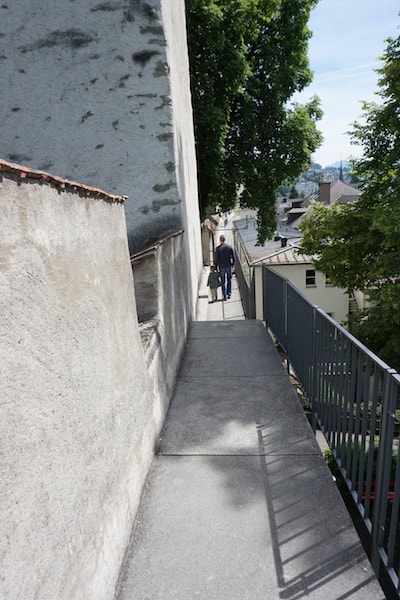 5. Go to the Dying Lion Monument
One of the most famous sculptures in Switzerland, The Lion Monument is a short walk from the river and is a must do.  I know I said we were trying to stay away from art while in Lucerne but this one should not be missed.  The sculpture is a deep bas relief carved into sandstone rock in memory of the dead Swiss mercenary soldiers who died in the Tuileries during the French Revolution in 1792.  To be completely honest, I wasn't expecting much but it is much more impressive and moving in person.  It is worth the time to see it.  Mark Twain called it "the saddest and most moving piece of art in the world."  
Lucerne is a wonderful, beautiful Swiss town that oozes charm and offers many family friendly activities.  Many of the things listed here are free which makes these ideas even better, right?  We also have some great ideas for some fabulous, adventurous day trips from Lucerne (Hint: The gorgeous Mount Pilatus and Interlaken). We will be sharing this in another post coming soon!!!
Happy Travels,
Shani
We know you'll love Lucerne and we know you'll love our Lucerne coloring page! Check it out NOW!