Have the current gas prices got you down? Me too! Unfortunately, purchasing fuel is non-negotiable in our house with baseball runs, school carpool pickups, jobs to get to, and appointments for our family of six! In order to help soften the cost of fuel at our house, we are driving our little car more and more and avoiding the SUV and truck when possible. We are also making sure that we are using the best gas rewards credit cards so we can earn points/miles in return to pay for some of our travel costs! 
To help you lessen the blow of gas prices and to earn free travel in return we have done a round-up of all of the best gas rewards credit cards and have broken them down below so you can start earning some free travel too! 
* Gas isn't the only expensive thing right now! Check out these top cards for grocery store purchases too – The Best Credit Cards for Grocery Stores!
** Not sure about how to earn points and miles and what reward travel is? Check out our Reward Travel (Travel Hacking) 101 Post Here – Reward Travel 101!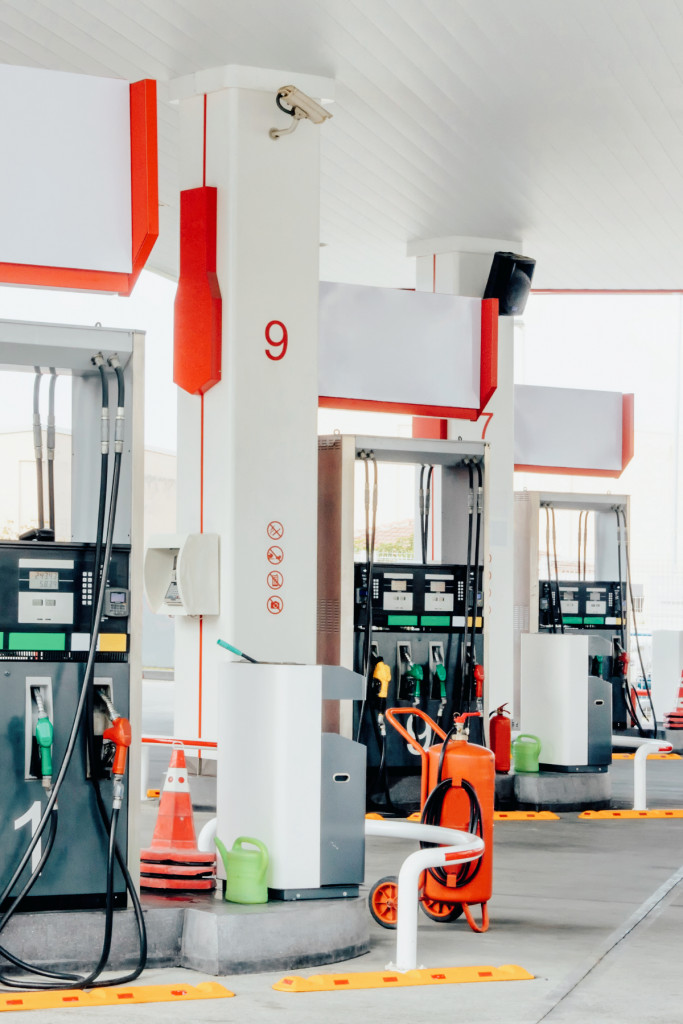 The 5 Best Gas Rewards Credit Cards!
Lessen the sting at the pump with one of these awesome cards and earn free travel on your gas purchases!
3x the points on every $1.00 spent at gas stations

60k welcome bonus  

$95.00 annual fee

Minimum spend of $4k in first 3 months
The Citi Premier Card is a great starting card and has a great standard signup bonus and flexible points that can be used in the Citi Travel Portal or transferred to your favorite transfer partners! People are less familiar with Citi ThankYou Points compared to Chase Ultimate Rewards or Amex Points, but they work similarly. This card is really one of the best all-around travel rewards cards for people starting out and the 3x the bonus on gas is a huge plus!

6x the points for every $1.00 spent at gas stations

130k welcome bonus

$95.00 annual fee

Minimum spend of $2k in first 3 months
For those who love Hilton and Hilton resort stays all over the world, this is a great option for you and your family! Aside from the awesome welcome bonus, holders of this card get Hilton Gold status (free breakfast, upgrades, and other benefits!), 10 free Priority Pass Lounge passes per calendar year and a free night award certificate. It is important to note that Hilton points are lower in value relative to other rewards programs, so make sure you know how many points are needed to stay where you would like! 

3% back on every $1.00 spent at gas stations

$300.00 cashback welcome bonus

$0.00 annual fee for the first year and then $95.00 after

Minimum spend of 4k in 6 months
If you prefer cash-back cards then this is an amazing option! Not only do you get 3% cash back on gas purchases but you get 6% back on grocery store purchases too! I prefer to earn points because the earning potential and returns are a lot better for our family! However, take a look and see if this card fits you and your family's style better. 
2x on every $1.00 spent at gas stations (perfect for wholesale stations like Costco etc…)

75k welcome bonus

$95.00 annual fee

Minimum spend of 4k in first 3 months
No doubt you have heard a commercial with Jennifer Garner talking about the Capital One Venture card since it is one of the most advertised cards out there! But there is a reason for this, it is a solid card for free travel that is very easy to use. Venture Miles are flexible because you can redeem the miles for anything deemed "travel" on your credit card statement. This card is awesome for gas stations that are "club" level or wholesale like Costco or Sam's Club because you earn 2x the points! 

6x on every $1.00 spent at gas stations

45k welcome bonus

$75.00 annual fee

Minimum spend of 1k in the first 3 months
If you love Wyndham Hotels then this is a solid option for you with a lower annual fee! Wyndham's reward chart is a little bizarre and doesn't always make sense which means that at times you can score an amazing hotel for fewer points! However, if you are not particular to this hotel brand and just know that you want to earn points on gas I'd stick to the Citi Premier, Hilton, or Venture card :)! 

Honorable Mention: 
3x on every $1.00 spent at gas stations (up to $6,000 in a calendar year combined with grocery stores, and dining.)
We really love Marriott and stay at their properties often. The Marriott Bonvoy Bold card has a small gas bonus that should be considered if you already have a Marriott card or you are a Marriott member. However, the earning potential is a lot lower because there is a $6,000.00 cap!

Time to hit the gas pumps!
And there you have it! Get one of these 5 Best Gas Reward Credit Cards ASAP so you and your family can earn some free travel on fuel that you have to purchases anyway!
Happy driving (and traveling!)
Hugs,
Kam