Our driver back to the airport after our Disneyland trip said it best "Disney is merciless" and it is true! Disneyland is not called the "Happiest Place on Earth" for no reason (because it's awesome:)) but man it is NOT cheap! However, there are several things to do to keep the vacation price out of the stratosphere.  On this last trip Stef, Becks and I went on, we cashed in on some points and we got our rooms, tickets, and flights for under 600 dollars – for all of us! Yes, you read that right, 600 US dollars people!! This post is all about utilizing points, finding deals, and giving you the tips and hints for booking a cheap Disneyland Vacation!
Booking a Cheap Disneyland Vacation 
Best Time to go to Disneyland for Scoring Deals
This is probably the most important step for scoring Disneyland deals and making your dollar go the furthest. Disneyland is never cheap, honestly, but if you go during peak season it is much harder to find a deal and it is a lot more desirable to stay on property (which is far more expensive) where you can access the early entry every morning.
Going to Disneyland in the offseason gives you some wiggle room to find ways to save and to not feel like you have to pay a premium to experience the park with fewer crowds. When going in the offseason purchasing the upcharge packages like the Fantasmic!, Fireworks and Parade Packages are not needed, and even the MaxPass option can be cut out. In other words, book your trip in the offseason and you will have more saving options for flights, rooms, meals, experiences, and even tickets.
*Don't wait for longer than 20 minutes in a line at Disneyland by utilizing this Disneyland Plan! 
Where to Stay when Booking a Cheap Disneyland Vacation
This is probably obvious, but if you are going for a relatively inexpensive Disneyland trip DO NOT STAY ON PROPERTY! The Disneyland Resort Hotels have their pros and cons but for the interest of time we will not be covering them here, just know it is MUCH better to stay at a Good Neighbor Hotel that fits these criteria if you are trying to save money:
Is within walking distance to the park (paying for parking at the park is – JUST NO!)

Offers free breakfast or breakfast is included in your rate

Gives you the option to purchase your tickets at the hotel property (we will explain this in a minute.)

Has a pull-out bed option for the kiddos and/or doesn't charge a separate fee for rollaway beds or cribs.
How We Stayed at the Marriott Springhill Suites Anaheim Main Gate Hotel for less than 300 Dollars for 4 Nights
If you want to make your dollar go the furthest, it is imperative that you consider signing up for a travel rewards credit card (or two). Credit cards can be evil, let's be honest, but the way we see it, if you want to travel and you are not making millions they are a necessary evil. It is our goal to show you how to make your credit cards work for you! First things first, almost every hotel chain has some sort of a rewards program. We have found that Marriott's is one of the best, especially since they have just acquired Starwood and it also includes the Ritz Carlton, Sheraton, and Westin properties, etc… If you are not a Marriott fan, do your research and find a chain that works for you, there are plenty!
Not only does Marriott have a great point system (at least 5-6 points for every dollar spent at a Marriott property and 1-2 points for every dollar spent everywhere else) they give you a free night's reward stay per year. We used our free night for this year's trip AND we utilized the Marriott price match Look No Further Guarantee and got 25% off our whole stay. One of the best parts is that if you have to purchase your tickets for Disneyland, you can purchase them at the hotel and receive 5x the points on your ticket costs. This helps rack up points for any upcoming trips that you want to take!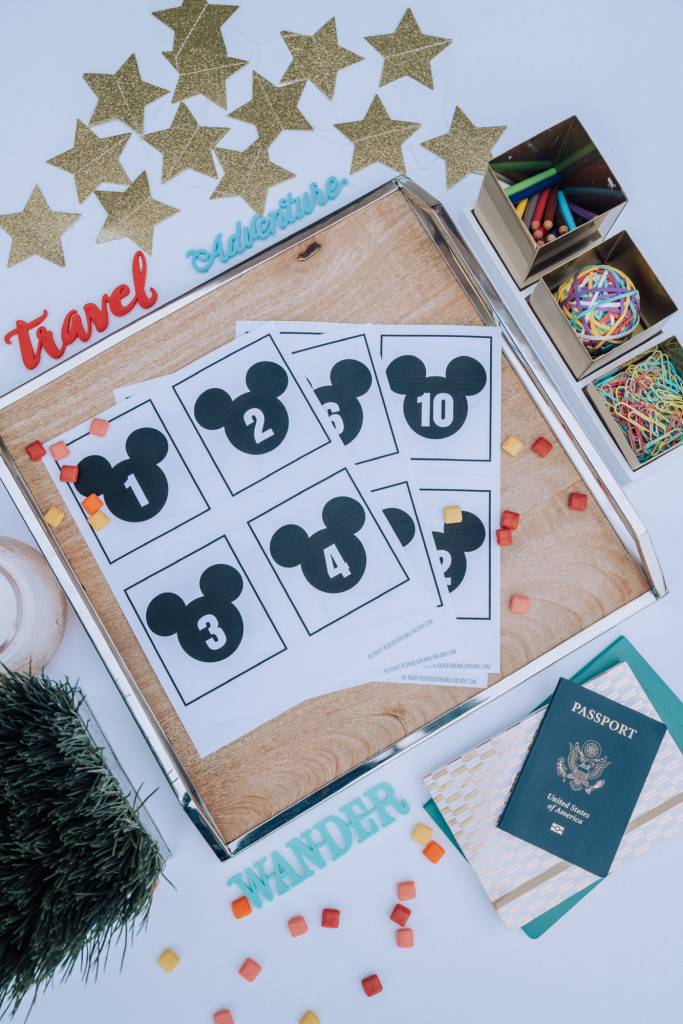 Flexible Dates and Price Matching Hotels
When booking rooms, make sure that you use the "flexible dates" option. There can be hundreds of dollars in price difference starting your vacation a day or two earlier or later. Also, when price matching I have found Google to be a good starting point. I Googled Marriott Springhill Suites Anaheim Maingate with the dates I wanted to stay and went from there. On the left-hand side of the page, you will see all of the different hotel booking options and their rates. This works wonders. Marriott will price match the lower rate and will offer you 25% off of your whole stay. To be fair, this trick does not always work. I would say about 50% of the time I am able to find a cheaper rate. However, it is something I look at EVERY time I book a hotel.
How to Make Your Hotel Reward Credit Cards Work for You

 
This is credit card 101, but don't carry a balance.

If you don't carry a balance then you won't ever be paying interest. We put almost everything we can on our credit cards – groceries, gas, preschool fees, etc. and then make sure we have it budgeted to pay them off at the end of EVERY month.

 Pick a card that offers a sign-up bonus. This is super important because you want a card that will give you loads of points upfront. Depending on the time of year, we have seen Marriott give anywhere from a 50,000 to 80,000 points bonus for sign up. They usually give the most bonuses around holidays and major spending days like Labor Day, Black Friday etc…DO NOT sign up for a card when they are not offering the bonus. You will be better off waiting for a month or so and seeing what is offered. You can also always call and see when the next time a bonus will be offered (sometimes you will get someone who will give you a hint and sometimes you won't). Be persistent here and it will pay off.

Pick a card that offers a yearly reward. Like I mentioned earlier, Marriott gives one night free per year in a category 5 or below. This is huge!!
How to Score Cheap Park Tickets
Getting More Bang for Your Buck
This one is a bit trickier because when it comes to visiting Disney, "more is better". What we mean is that the more you stay in the park, the cheaper each day ends up being. We knew earlier this year that we were going to have at least two Disneyland trips. We had a trip planned in early February with Stefen's family and then another trip planned at the end of the year with some good friends of ours. So we sat down and did the math and figured out that buying the cheapest season pass was going to be cheaper than buying park hoppers and individual tickets for these two trips.
To be clear, we ARE NOT planning on renewing our pass next year because we don't have any Disneyland trips planned but we have decided that from now on it makes more sense to plan a few Disneyland trips within a year's period and purchase the annual pass and make the most of it and wait a while to go again. Doing so locks in the best ticket rates and gives you the best bang for your buck.
Buy Tickets at a Discount if You Can
If going to Disneyland several times in one year is not for you, don't worry, there are some other options. You can find the article that explains Disney's tiered pricing here – but if you are going for saving money, NEVER buy tickets at a premium if you can get them for cheaper. Sometimes you can find discounted tickets and sometimes you can't. However, it is ALWAYS worth a shot to look. Some places I have had success buying discounted Disneyland tickets have been from www.GetAwayToday.com, www.ParkSavers.com, and believe it or not, I have seen them at Costco now and again! 
Park Hoppers Versus Single Park Tickets
Also, I would suggest having a distinct plan in place for which park you will be visiting on which day and purchasing the one park per day ticket versus the park hopper. When we visit, we only end up park-hopping about 20% of the time. With a little bit of planning, purchasing single park tickets versus park hoppers for a family can save you hundreds of dollars, and you won't notice a difference.
How to Score Cheap Flights to Disneyland
We were able to get two of our three flights for free for this trip by cashing in our Delta points and then we used our tricks for getting the other flight we had to buy for super cheap (125 dollars round trip)! You can see ALL 12 of our tips and our in-depth guide to scoring cheap flights below. Keep an eye out for prices, and put on a Google Flight notification for the flight that you want. In fact, I just saw a deal on Jetblue flights from SLC to Long Beach airport for 50 dollars roundtrip! What!!
*We cover how to find and book inexpensive flights in one of our most popular articles here – 12 Expert Tips to Scoring Cheap Airfare! 
How to Make the Most of Airline Reward Credit Cards
Again, this is all about credit cards. We only have two credit cards and they are our Marriott and our Delta cards. We put EVERYTHING on these cards and then we make sure that everything is paid off at the end of the month but we do everything we can to rack up those points which allows us to travel as much as we do. Like the Marriott Card, you want to research what airline card works best for you. Delta has a major hub here in SLC so it makes sense for us to use Delta. What to look for in an Airline Rewards Card:
It needs to be an airline that you actually want to fly and that offers flights from your nearest airport. Otherwise, it will be a waste of time and money.

Some airline cards will offer no-international fees. This is fab for when you are traveling!

Make sure they come with some perks, we get free bags on all Delta flights and for our family of three that is 75 dollars EACH one-way flight! That money adds up.

Make sure they offer a bonus sign-up program and watch for when they are the highest. When we got our Delta Amex we were able to get an 80,000 points sign-up bonus. That is the highest that I have ever seen. Usually, the sign-up bonus is between 40,000 to 60,000 bonus points.
Putting in a little bit of effort and planning can really result in cheaper and better travel! Disneyland doesn't have to break the bank, so start looking at deals and get planning today!
Be sure to sign up for our newsletter to get family travel itineraries, tips, and tricks straight to your inbox!