Lucerne is a great place for a home base AND a base from which to explore the surrounding region in a European destination for families.  When deciding where to go in Switzerland, we chose Lucerne specifically for this purpose as the city itself is wonderful to explore and the surrounding region is magical.  We would like to share with you a few of the absolute best day trips from Lucerne.
The Best Day Trips from Lucerne for Families
A Day Trip to Interlaken
Plan 8-10 hours
Interlaken and the surrounding area is one of the most popular vacation spots in Switzerland and we decided we definitely needed to see it for ourselves.  We opted to hire a driver and a car for the day.  Interlaken is also easily accessible by train and takes approximately 2 hours from Lucerne.  
What to do Around Interlaken
After our lovely ride from Lucerne to Interlaken, our first stop was Beatus Caves.  High above Lake Thun lies Beatus Caves.  Upon arrival, and at the bottom of the trail, is the view of the cascading waterfalls.  What a sight! It was magnificent.  
The hike to the top and to the entrance of the cave takes approximately 15 minutes and is steep but beautiful.  We stopped numerous times to take pictures of both the scenery above and the scenery below.  The hike didn't seem hard at all and every member of the family made it easily including 3-year-old Beckham.  There were not many people on the trail or visiting the caves so this was a nice respite from the crowds we had seen elsewhere.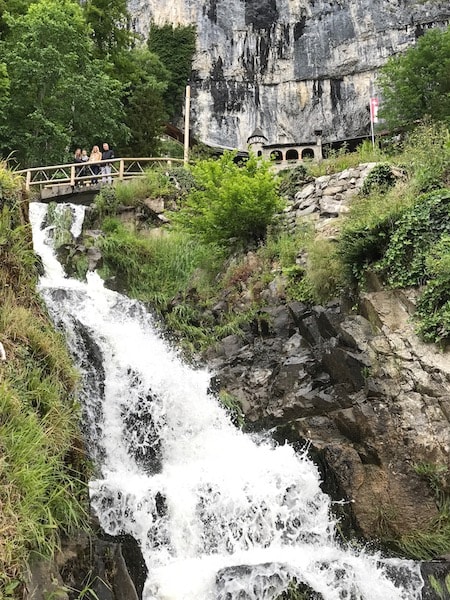 Legend says that a frightening dragon inhabited the cave and only the Irish monk Beatus (hence the name) was successful in expelling the dragon.  We storied this legend up to Beckham to help him stay engaged in the visit and interested in the caves.  We walked the entire length of the accessible cave, winding past rushing water, stalactites and stalagmites.  It was worth a visit:)
Cave Tips
To get there, take Bus 21 from Thun/Interlaken.  There is a free guided tour of the cave every 45 minutes.  We didn't take the tour and managed it very well on our own.
Inside the cave, the temperature is cool and you will need a jacket.  

Keep hold of children tightly

Strollers may not be taken inside and we didn't take the stroller at all on the entire cave excursion.

The pathway inside is paved (quite a few stairs) but is wet in spots and rather dark at times.  

There are tight corridors and some children may be frightened.  Some preparation for your child about this situation will be very helpful.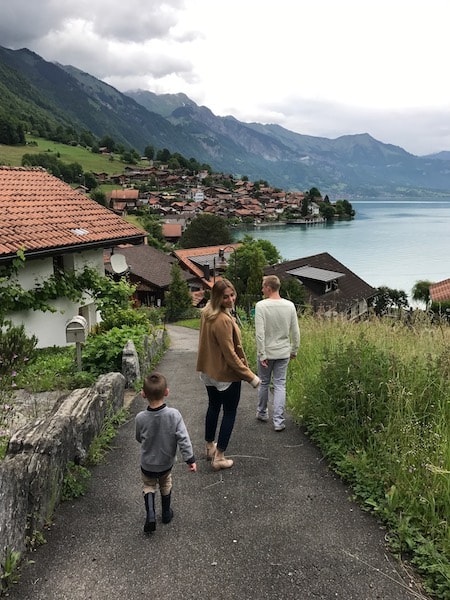 It takes under 10 minutes to travel by cogwheel train up the steep mountainside of Mount Harder.  It was thrilling and scenic (if you are afraid of heights, it may be a bit intense).  One member of our family (an adult) was a bit freaked out and was not able to even look, right Savannah? 🙂  As you rise up the mountain you will get a bird's eye view of both Lake Thun and Lake Brienz.  
Once at the top, there are many starting points for hikes, fantastic views, and a restaurant.  
The viewing platform at the top is a steel structure 4337 feet (1322 meters) above sea level and provides breathtaking views of Lakes Thun and Brienz and also mounts Eiger, Monch, and Jungfrau from across the valley.  It is also a great place for pictures!  Standing on top, looking out over the valley was an experience that made me feel so small.  
The Harder Kulm Panorama Restaurant is perched like a small castle on top and offers magnificent views, and good food.  The service was fantastic and we loved our experience there.
It is windy and much much colder at the top of Mount Harder.  Be prepared with a jacket.

Strollers were not helpful at the top and we left ours at the bottom.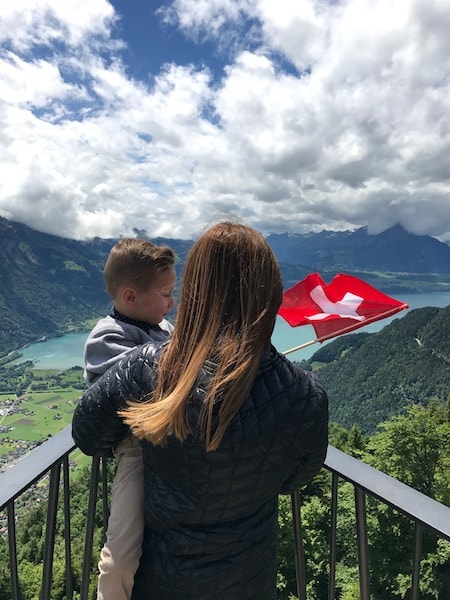 We saved this activity for later in the day and knew it would be a favorite of the whole group!  When you think of Switzerland, one of the first things that comes to mind is chocolate, right (or is it just me)?  It was only fitting that we included this fun family workshop into our schedule. 
We were in a class of about 10ish other people and learned about the origins of chocolate, why Switzerland is known for their milk chocolate and the correct way of making chocolate.  Each of us was able to decide if we wanted to make milk of dark chocolate bars.  Our leader was enthusiastic and funny -making everyone feel welcome (even the little one).
We laughed our way through the class and ate chocolate until we could eat NO MORE!  We each came away with three signature, custom-made chocolate bars.  Easton's was by far the best.  I didn't stir my chocolate enough have and after a few days, it was a chalky mess. However, between the 6 of us, we had plenty of chocolate to go around.  
Make reservations beforehand.  We made ours about a month in advance.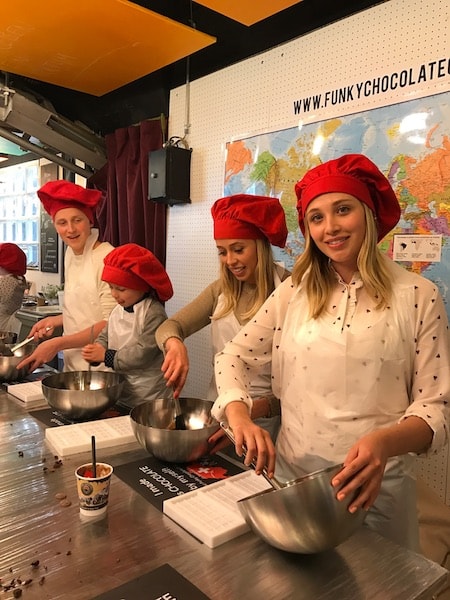 Overall, it was such a fantastic day! We had an adventure, saw beautiful mountainscapes, enjoyed a little folklore and finished the day off with chocolate!  In our opinion, it doesn't get much better than that!
A Day Trip to Mount Pilatus
Plan 7-8 hours
Hello, Gorgeous! Mount Pilatus lies 9 miles (15km) from Lucerne, is thrilling and exhilarating and should not be missed.  The cogwheel train from Alpnachstad to the top of Mount Pilatus operates May-November (weather permitting).  It is the steepest cogwheel train in the world and is 4.2 miles from the bottom to the top and takes 35 minutes to ascend.  It is a delightful and fun ride to the top.

The train slowly meanders up the steep mountain, passing iconic Swiss views; cows with bells hanging around their necks, green pastures, and idyllic Swiss chalets.  It also passes through many tunnels.  You will rise above the tree line passing rocky crags until arriving at the top.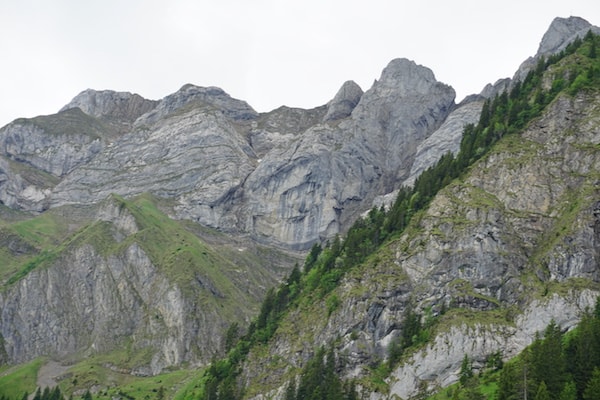 Once at the top beautiful views are to be had and there are many wonderful walks, outlooks in every direction and tunnels and pathways that wind their way around the mountainside.  We had a great time exploring the mountaintop.  
In the train to the top, try to sit in the very top car for best views above and below.

It is very COLD and windy- again, be prepared.

Visit early in the day, preferably before noon as clouds and fog often move in and hinder views.

There are two restaurants at the top of Mount Pilatus and we cannot recommend either. To be blunt the food was GROSS. We recommend taking good snacks with you and waiting until after your descent to get a meal.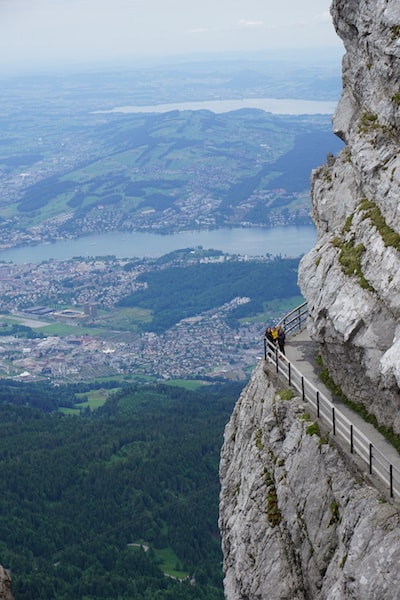 Getting to Mount Pilatus from Lucerne
From the wharf in Lucerne, take a lake steamer for a scenic, 90-minute boat ride to Alpnachstad.  The rail pass is valid on the steamer.  At Alpnachstad transfer to the cog railway.   
For descent from Mount Pilatus, ride the aerial cable car to Fraenkmuentegg.  At the Fraenkmuentegg stop, you can opt for a summer toboggan run that is suitable for nearly every family member.  Children under 8 may travel in a double sled when accompanied by an adult 18 years and older.  The Frakigaudi toboggan run is a fun, racy ride on an alpine track past cool curves, caves, jumps and alpine meadows.  One of our favorite thing we did this day!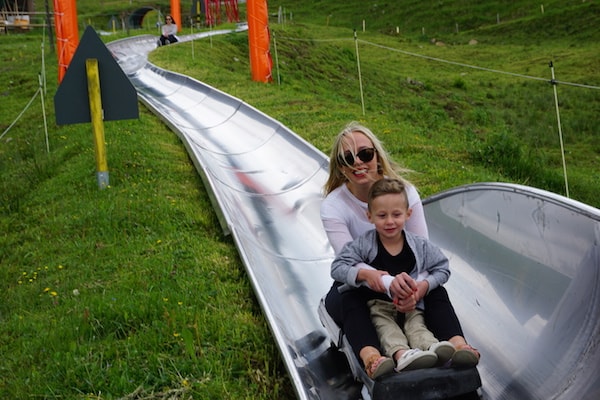 After the Frakigaudi summer toboggan run, take the smaller cable car down to the village of Kriens and then return to Lucerne on public Bus 1.
Both of these day trips are filled with fun and family adventure.  What great memories we have together!!  Just writing about these day trips from Lucerne brings a smile to my face. We hope you love these fun day trips too!!! For more suggestions on what to do in Switzerland with your family? Be sure to check out our post on Family Activities in Lucerne!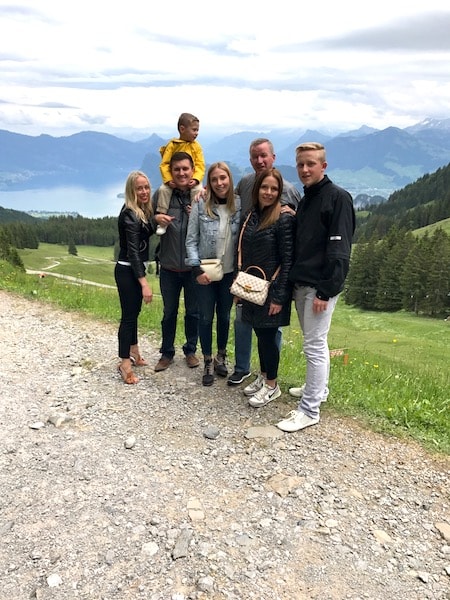 Happy Travels,
Shani
We know you are going to LOVE your time in Switzerland. Don't forget to check out our Lucerne coloring page here!