We've had our fair share of bumps and bruises while traveling. Our family travel tip today is about how to deal with minor injuries while on the road. Read on to find out why we ALWAYS travel with a first aid kit!!  To receive your own free travelers first aid kit checklist, subscribe to our blog and it will be sent right to your email!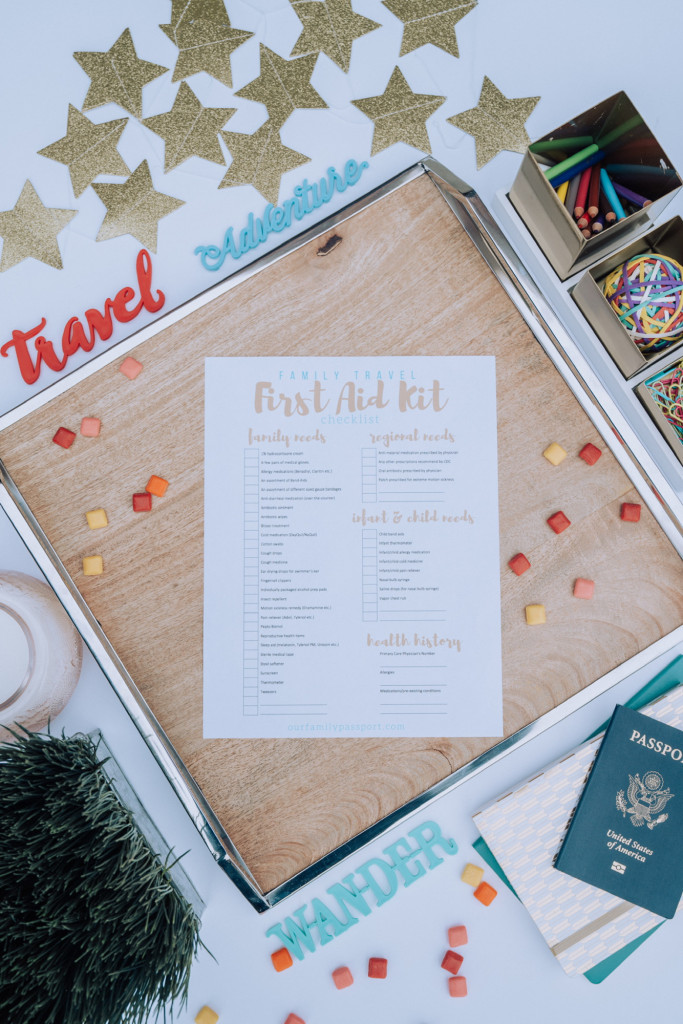 Why we ALWAYS Travel with a Travelers First Aid Kit
First and foremost, I am not sure if we are just a special bunch or what, but almost without fail, someone in our group needs the first aid kit. Not kidding. We swiftly learned the lesson that putting together a strong first aid packing list and assembling a well thought out kit saves time, money, and energy.
Whether traveling domestically; a hop, skip and a jump away, or traveling internationally to some far-flung destination we ALWAYS pack our first-aid kit.  You've heard the saying "life happens?"  I am here to tell you that life does happen, even while on the road (Think stepping on glass, spraining an ankle, falling on coral etc.).  The very last thing any traveler wants is to have a minor medical situation turn into a major medical situation.  It is a serious drag (and a pain in the rear) to have to search for a pharmacy that may or may not be stocked with the items you need.
Where You Can Find One
Many travelers pack pre-purchased kits that are widely available (REI or similar) and are rather inexpensive and easy.  This is perfectly acceptable, but we like to personalize ours to our own specific needs and assemble our own. There really isn't a right or wrong way. The worst thing would be to not carry one at all.
Ours is packed in a heavily woven, sturdy fabric bag with separate zippered compartments.  It is compact and fits easily into the corner of any piece of luggage. Remember the weight factor – keep it useful and minimal.  It may not be realistic to carry a first-aid kit weighing several pounds.  I always throw the kit into the luggage of the person who has the most room on any particular trip.
While our list is pretty awesome (wink) it isn't the end all be all of first aid. However, from our experience, the things found on the checklist are things we have found MOST useful to have on hand while exploring the world.  It is important to note – We are not medical experts and are not qualified to give any medical related advice.  Use your own judgment and pack the items that may be needful for you and your family.  In doing so, you can travel with peace of mind knowing when a minor situation arises you will be better equipped to deal with it. It is always good to be prepared!!
A Packing Tip
We always pack our first aid kit into a piece of luggage* that we check.  We do not check our needed prescriptions! (Lost luggage anyone? Looking at you Delta!)  We always keep important medications with us in our carry-on bag.  Finally, with crucial medications, we keep a few extra doses on hand (you know when you drop a pill down the sink or your flight is delayed or canceled).
*For safety tips while traveling click here. 
Now, go enjoy your adventures and be healthy and safe!!
Happy Travels,
Shani
For more tricks and tips on staying safe while traveling, be sure to check these Staying Safe While Traveling tips!
Don't forget to pin this so you can always come back to it and be sure to get your free Travelers First Aid Kit Checklist here!