Read on to find out our Top 10 Things To Do in China! 
Have you ever been somewhere wondrous, yet a little overwhelming? We were overwhelmed with how much we adored China and all this country offers. We loved experiencing the people, culture, and history! One of the biggest surprises was how welcoming the Chinese people were.  Many of the people we encountered were enamored with our blonde hair and blue eyes. We were constantly being stopped to have our picture taken. China, while overwhelming, can be an amazing destination for families. Read on to learn how we did it!
However, we weren't sure if China was a place we would have been able to navigate on our own (we traveled with an amazing private family tour company). So today, we are going to offer our Top 10 Things To Do in China to help you if you have an upcoming trip to Asia, or if you are trying to decide if you should add China to your bucket list.
Our Top 10 Things To Do in China

 – Quick Things to Consider
Here are a few things we learned about China, that we wish we would have known beforehand.
Social Norms:
The social norms in China are a bit different. Here in the U.S. if we were staring at and asking to take pictures with a foreigner, it would be considered rude and intrusive. That is not the case in China – it was meant to be a genuine compliment.  If you are fair, be prepared to be stared at, approached, and photographed.
Taking Turns:
We realized very quickly that the idea of "taking turns" doesn't really exist when visiting an attraction in China. It is more survival of the fittest. We got elbowed more than once when trying to make it to the front of the line to see something. However, we realized if we were able to fight our way to the front than nobody cared if we stayed there forever.
For example, when we were at the Panda Breeding Center there were masses of people crowding the viewing areas and we were patiently waiting for our turn to watch the pandas play. This did not happen. Instead, our guide told us to push our way to the front and once we were there nobody would expect us to leave to give anyone else a turn. It was rather strange because here in the U.S. we just don't do this. We would have been told how rude we were, but interestingly enough, this is not considered rude in China. There are so many people that crowding and forcing your way to the front is a way of life.
Historical Perspective:
Perspectives on history are rather different, and the idea of what a governing body should look like was vastly divergent from ours. It was a great lesson that history is not absolute. In our experience, many Chinese people see Mao as a hero and there are monuments erected to his honor all over the country. We had to be very careful and sensitive to this, and try to respect the views of the people. We decided as a group that it was not our place to share our opinions on this subject but just embrace the people and be courteous to their views.
The Food:
The only thing we really struggled with was the food. If we are completely honest, for us, it was terrible (but it was all part of the experience). We had heard from many other American travelers that the food was rough in China. Based on our palettes and what we were used to eating, this ended up being true for us. Just a note – don't go in expecting Panda Express or PF Chang's. We took a lot of granola bars and snacks and we were so thankful for those bad boys by the end of the trip.
The Top 10 Things to do in China List
1. The Great Wall of China
One of the 7 Wonders of The World – The Great Wall did NOT disappoint (and we had some pretty high expectations – get it haha)! There are several different spots where you can visit along the 4,000 to 5,000-mile long wall. We visited at the Mutianyu section and had a fabulous toboggan ride down. The Mutianyu section is greatly restored but you can walk further along (about an hour) to see a  more "crude" area of the wall. The view is spectacular!
2. Tiananmen Square and Memorial Hall of Chairman Mao
While only one member of our group actually remembers the infamous 1989 Tiananmen Square Incident and the "tank man," it was something that the rest of us had studied in history. It was rather perplexing and remarkable to stand in the vast square where countless historical events have unfolded.
Just adjacent to Mao's monumental portrait stands his memorial hall (basically a giant mausoleum) which currently* houses Mao's body in a glass coffin. Expect long lines, and few tourists as this is mainly a pilgrimage site where Chinese people come to pay respect to their supreme leader. Our guide discouraged us from going in as we clearly don't revere Mao.  If you go, be prepared to show your documents. There are no cameras, bags, or talking allowed.  As history buffs, it was an opportunity we couldn't pass up and in the end, it was experiential learning at its finest.
* Mao's body is still here at time of writing. However, we have heard from several sources that he is going to be moved soon.
 3. Pedi-Cab Ride Through the Hutong Alleyways of Old Beijing
One of our favorite things about China was being able to get a glimpse into the everyday life of the local people. Getting out of the touristy area of Beijing was refreshing, and being able to experience the hutongs and the maze of old homes and courtyards was enlightening. Watching local artisans at work was a highlight.
*Looking for some more Asian itineraries like this? Check out our Thailand Posts here!
4. Terracotta Army
This was my (Kam's) favorite thing the entire trip. As an art history nerd, I was in literal heaven. Emperor Qin Shihuangdi was clearly nuts, but man did he commission some serious cultural gems! Expect to see an entire complex of warriors in several different excavation sites. The coolest thing for me was seeing the individualization of each of the warriors and getting a glimpse back in time to see the dress and military standard of dynastic China. It is an active excavation site where treasures are still being uncovered. It is one spectacular time capsule (gruesomely built on the backs of many serfs and slaves). Just a note – in the main excavation area, you can pay extra money to get down closer to take pictures. Do it, you will not regret it! (SERIOUSLY – THESE ARE SO FLIPPING COOL!)
5. Han Dynasty Tomb Museum of Emperor Jingdi
Not quite the Terracotta Army, but close. We had few expectations for this tomb but were thrilled when we realized how much we loved it! This underground tomb is almost completely excavated and you walk along glass floors which provide a perfect vantage point into the tomb of Emperor Jingdi and his wife. It is almost like this giant underground dollhouse with everything from clay food to animals and dolls modeled after each of his concubines. Why you ask??  The theory is that he was hopeful to carry these things with him to the afterlife. These figures are much smaller and not as well known as the nearby warriors, so the tomb museum was almost completely empty (and a little eery).  The visit was a welcome break from the mass of people at the Terracotta Warriors.
6. Wenshu Monastery and the Surrounding Area
7. Seeing the Pandas at the Chengdu Panda Breeding Center
Big pandas, little pandas, baby pandas, fat pandas, happy pandas.  Pandas, pandas, and more pandas!  We loved them all. Cuteness overload. Enough said. PS did we mention there were lots of pandas?? 🙂
8. Biking and Floating along the Yulong River and Gumdrop Mountains
This was something out of an old Chinese painting. Picture unbelievably stunning mountains peeking through into the fog and greenery cascading over the peaceful Yulong river. It was so beautiful, it felt surreal. We floated down the river on traditional Chinese bamboo rafts and then biked back to town. It was a truly lovely experience to see the unbelievable beauty of this region. (Piece of advice here – have insect repellent on hand and ready to go! The mosquitoes are VICIOUS!))
9. Watching Cormorant Fishing on the Li River
At the dark of night, special fisherman raft along the Li River with a trail of cormorant birds in their wake. These amazing birds treat the fishermen like fathers and follow their biddings.  These birds are trained to start at just 6 months old to dive into the water, catch fish in their mouths, and then spit them back out into a basket on the raft. This kind of fishing is still a way of life. It was sensational to watch.
10. Visiting the Bund in Shanghai
The contrast between the massive Chinese cities and the Chinese countryside is apparent when standing in the midst of some of the world's tallest buildings and experiencing the "bund". It is an over-the-top location housing financial powerhouses and millions of people. Shanghai is a colorful and cosmopolitan city and is unforgettable!
Your Own Chinese Adventure
We hope this list is a starting point to help you plan your own Chinese adventure.  For those of you on the fence about visiting China as a family, we encourage you to take the leap and GO!  For us, it was a magical experience.
Happy Travels,
-The Smith Fam
*Click to check out our darn cute Beijing coloring page for children!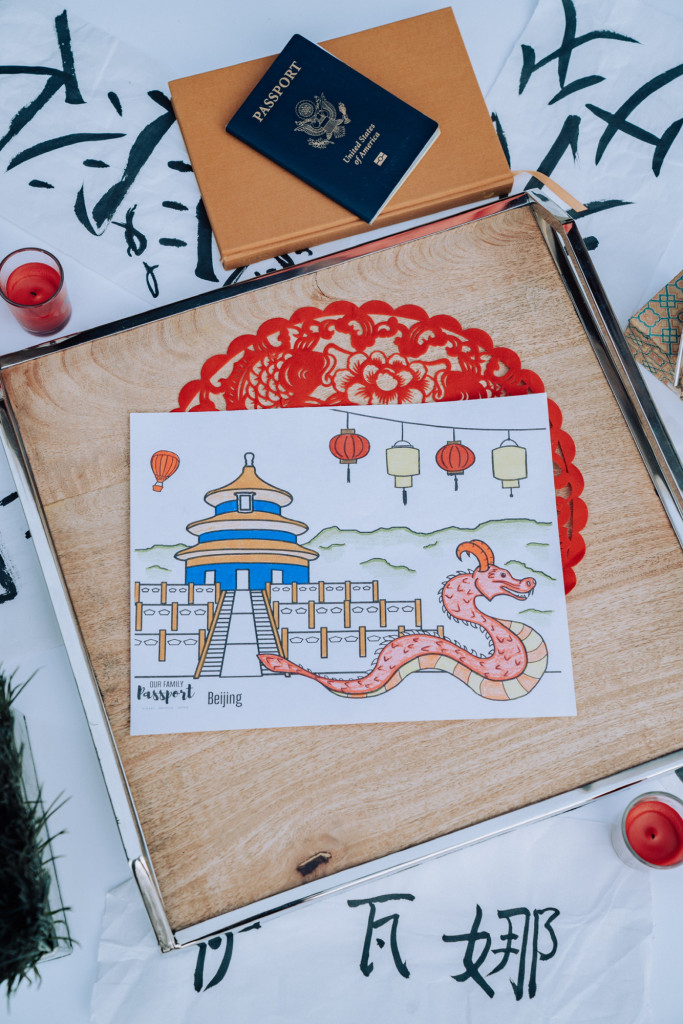 *Don't forget to subscribe to our newsletter, to get our #coloringtheworld starter kit FREE!!