The Bahamas are HOT right now and by hot we mean that pictures from the Bahamian white sand beaches and crystal clear waters are all over Instagram and nearly every other social media platform. With 700 different islands and loads of things to do, it can be difficult to know how to plan the best Bahamas vacation for your family. We have done the work for you (and I mean, how much work is it really to sit at different beaches and decide which ones are best haha) and are covering How to Spend a Perfect Five Days in Nassau, Bahamas with Kids!
In this post, we will specifically discuss – why Nassau should be your starting point for your Bahamas family vacation, where to stay in Nassau with kids, how to book your stay, and finally what to do in the Bahamas with kids!
This post may contain affiliate links. We only ever suggest products or services that we think are fabulous and we do so at no extra cost to you.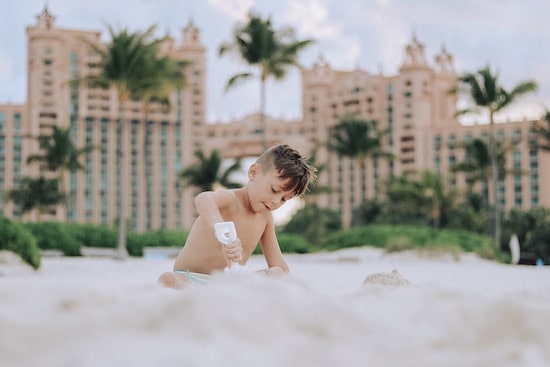 How to Spend a Perfect

Five Days in Nassau, Bahamas with Kids
Why Nassau is the Perfect Starting Point for Your Family
Aside from the fact that to get to most other Bahamian islands, you have to go through Nassau, Nassau provides for the perfect spot to get you and your kid's feet wet (pun intended) on what the Bahamas can offer. We think that 4-5 days on the island of New Providence is a perfect amount and then suggest heading to another island to experience the super slow pace of Bahamian life.
Where to Stay with Kids in the Bahamas
It is nearly impossible to think of the Bahamas without thinking about the pink coral towers of the Atlantis resort. And to be honest, overall, the Atlantis property is really pretty darn cool! (There were a couple of things that we did not love and we share these below.) For families, the Atlantis resort is a complete water paradise and it would be possible to stay 4-5 days at the resort and never leave.

What we Really Loved about the Atlantis Resort
The water park Aquaventure is SO. MUCH. FUN. We are not joking when we say that Beckham rode the Rapid River (The Atlantis version of a lazy river) at least 12 times and would have ridden it more if he could. The water is warm, the pools are immaculate, the slides are so fun, and it seems like there are so many things to explore, do, and see! With an endless supply of different pools, slides, and activities, your littles will love just hanging out and playing here!
The Aquariums
We actually really loved the Aquariums at Atlantis and we are kind of aquarium snobs. (You can read our thoughts about the Sea Life Aquarium in San Fran here.) The Dig aquarium area is very well done and we loved the outdoor aquariums as well. There are dolphins, pools with turtles, stingrays, piranhas, and our most favorites were the hammerhead sharks!
The Beaches at the Atlantis
The beaches are lovely and are kept really clean. The sand is so soft and we actually didn't ever feel like the beach areas were too crowded, which was a nice change of pace from some other beach resorts. While all the beach areas are nice, by far the best area is over by the Cove Tower. Becks could have stayed and played at this beach FOR.EV.ER.
The Different Rooms at the Atlantis Resort
We stayed at the Cove Tower and loved, LOVED the rooms there. We also were able to spend some time in the Royal and Coral Towers. The rooms were nice and clean and the Royal Tower and offered some really beautiful ocean views. We felt like the Coral Tower needed a bit of an update.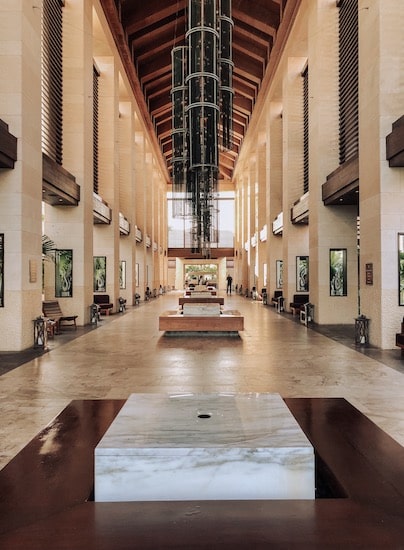 What We Didn't Love about the Atlantis Resort
We felt like at times, the service left a lot to be desired. For the scale and scope of the property, and the price, the service could be improved. The food is pretty pricey, so be prepared. If you have allergies or young children and you request a refrigerator they will bring it up. However, we had to ask several times, but we did eventually get a refrigerator and didn't have to pay extra for it.
We had read that the food was expensive so we bought stuff for cereal, Peanut Butter and Jelly, and oatmeal for the mornings. There are several Starbucks and a few sundries stores but eating breakfast on property in a restaurant is going to set you back. Even with some of these issues, we still can recommend staying at the Atlantis wholeheartedly but want to give you both the good and the bad!
What to Do on Nassau with Kids in 5 Days
Play at the Atlantis

2-3 Days
This should come without saying, but we think that if you are staying at this resort using the amenities and getting everything out of what the Atlantis offers is a no-brainer! We suggest taking 2-3 days out of your itinerary and planning on staying on property. Visit the beaches, play at the water park, go to the aquariums and then if your budget allows, do some of the extra add-on activities! Beckham absolutely loved the Sea Squirts program and there are so many different things you can do from feeding the sharks, to swimming with the dolphins.
*Note: We did two activities at the Dolphin Cay. While we thought they were fun, we have enjoyed some of our other dolphin experiences elsewhere. Just something to be aware of.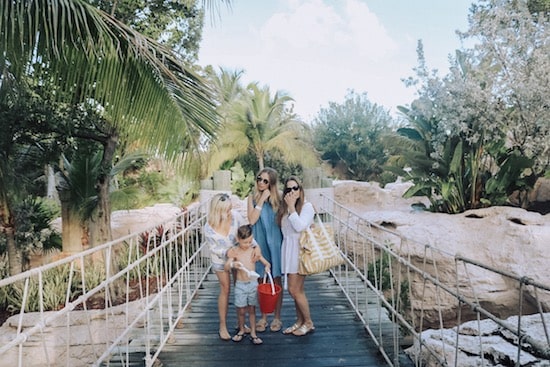 Explore Downtown Nassau
1 Day
If this is your first foray to the Caribbean then we say go explore downtown Nassau for sure! The history of the Bahamas is really interesting and is all intertwined with Columbus, and colonial Spain and England and there are some notable sites that are in easy walking distance from the central downtown area. We also visited Graycliffs, and went to Frankie's Gone Bananas for some traditional Bahamian fare, and enjoyed both of those things. However, we found the downtown area to be pretty cookie-cutter to many other Caribbean islands and felt like the area felt really touristy due to the cruise ship port and think on our next trip we might skip out on the downtown area altogether.

Take Some Day Trips to the Nearby Islands
1-2 Days
You guys, one of the greatest parts of Nassau is that it is at such an easy distance from some seriously amazing off the grid places! (At least, they feel off the grid.) We found that there are a bunch of different companies and outfitters who offer everything from private luxury day trips to group snorkeling activities. Just googling "Best Day Trips from Nassau" will be a great start to finding some different activities that will fit your interests and budget.  We took a private tour to the island of Spanish Wells one day and thought it was an absolute dream. The sandbar at Spanish Wells was one of biggest we have ever seen, and the sand was seriously like baby powder in both consistency and color. Not to mention, we had the whole beach to ourselves… Um, yes, please!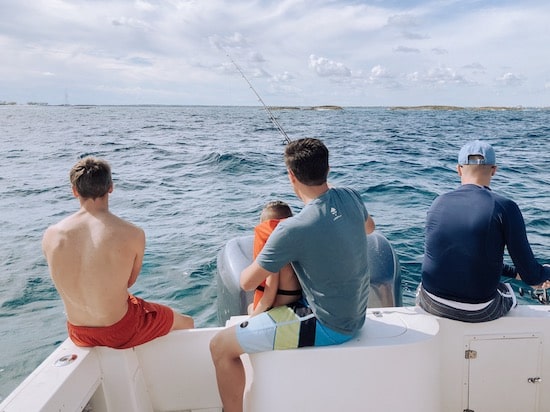 We then also took a fishing, jet skiing, and snorkeling charter another day and explored the nearby islands. Then we swam with large sea turtles in their natural habitat and caught some amazing fresh fish that was cooked for us beachside on Rose Island. Aside from running into a shark, yep that really happened (oh my gosh, it was scary for a second haha) we had the absolute best time!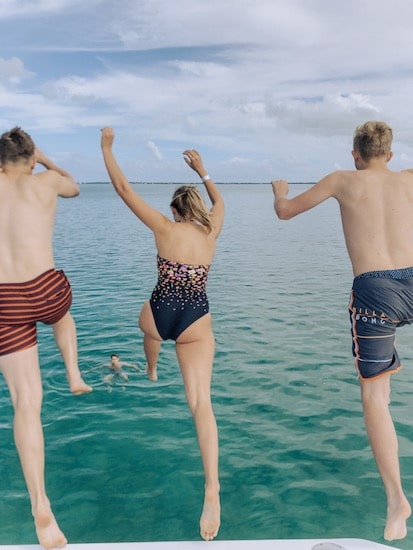 *Click to check out our darling Bahamas coloring page that is easy to download and color!!