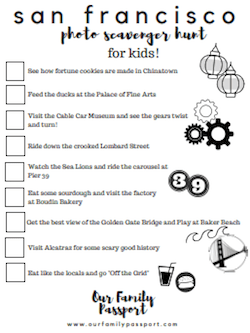 13 Nov

San Francisco Photo Scavenger Hunt Checklist for Kids

Posted on 2018-11-13 at 17:17
Last updated on November 29th, 2018 at 11:31 am

We are so excited about our newest Free San Francisco Printable that goes along with our new little series on visiting San Francisco with kids! When we were in San Francisco last and while we were staying at the Ritz Carlton they gave Beckham a super fun photo scavenger hunt list and it made sure that we hit all of the quintessential spots in San Francisco and Beckham loved it! It helped keep him engaged and aware of where we were, so we decided that we would make our own version just for you! So regardless of where you stay, or how long you are there for, you have a chance to go on a super fun scavenger hunt with your tribe! Keep reading to see how you can get this Free San Francisco Photo Scavenger Hunt Checklist for Kids (hint – it is SUPER easy!).

This printable will have you visit 10 of the top child-friendly spots in San Francisco and are some of our favorites. It will make sure you stop at the Golden Gate Bridge and the famous Pier 39 but will also take you off the beaten path for some fun local places like "Off the Grid". This free San Francisco printable goes along with our 10 Ulitmate Things You Have to do with Kids in San Francisco! Download and start exploring now :).

Click to Enter Your Code and Download The Free San Francisco Photo Scavenger Hunt Checklist Printable
How to download The San Francisco Photo Scavenger Hunt Checklist for Kids Printable:
Are you a VIP Our Family Passport Subscriber? Subscribing is free, super easy, and can be done with any sort of email. Once you subscribe you will receive a code that will unlock all sorts of free family travel printables, guides, and coloring pages. Of course, we will NEVER, EVER share your information with anyone.
If you are already an Our Family Passport VIP click the link above, and enter your code to start downloading now!
Four easy steps to get your free San Francisco printable now!
Receive your code via email
Click the link above and enter the code
Download and print
Get out there and have the best time with your family in San Francisco! (Make sure you eat some extra yummy treats for us!)
XO,
Kam, Sav, and Shani :)
*Don't forget to pin this!