Let's face it; adulting is hard. I love being an adult and all the cool things associated with it, but I'd be lying if I said I don't sometimes miss the simple life of being a kid! Well… that's the magic of Disney World. With this young couple's guide to Disney World, you can step back to the magic of being a child!
Okay.. okay.. but I know what you are thinking, "is Disney World fun without kids?"
Well I am not a parent yet, so I wasn't missing any children at home, but Cole and I had SO much fun at Disney just the two of us. So whether you have children or not, I will tell you how we were able to enjoy Disney World without kids.
*Note if you ARE going to be going to Disney with Kids at some point, check out our 10 Disney Mom Hacks you Need to Know Now!

FIRST THINGS FIRST, DON'T BE AFRAID TO BE A KID AGAIN AT DISNEY WORLD
One of my favorite things about Disney is how magical they make the entire experience. When you are planning to go to Disney World, plan on rediscovering your inner child. Think back to when you were a kid and the things you loved as a kid.
For example, Cole has always been a huge fan of Star Wars. He grew up watching Han Solo and Luke Skywalker save the universe with his dad. It was a huge part of his childhood. So when he saw Darth Vader and his clones coming down the street towards him.. I saw that twinkle in his eye and knew his nerdy little heart skipped a beat. That's right… I knew it made him feel some type of way.
Bottom line: be a kid again. If you want to stand in line for hours to see Rapunzel in the flesh; do it. If you want to get Mickey's autograph; do it. If you want to get bedazzled Mickey ears and ride Dumbo 100 times; by all means DO IT.

DO WHAT YOU WANT AT DISNEY – YOU HAVE NO KIDS YET! 
I touched on this a little bit in the last section, but one of the pros of visiting Disney World without kids is… you get to visit Disney World without kids! You get to tailor your trip around exactly what you and your S.O. want to do! If you want to sleep in or stay out late, you can do it. You don't have to work around a child's schedule which can be so nice.
You can also miss out on some of the attractions that are more tailored towards kids if you want to and keep your focus on the bigger rides that children are too small to ride.
Bottom line: you and your S.O. don't have to work around a child's schedule. You get to do whatever you want to do.
OUR PERSONAL FAVORITE ATTRACTIONS FOR YOUNG COUPLES AT DISNEY WORLD
Let's talk about some of the best Disney World attractions for adults. Here is a list of mine and Cole's favorite rides and attractions:
MAGIC KINGDOM:
I love the Magic Kingdom because it is so classic Disney. I love the main street and the castle and basically everything within that park. The Magic Kingdom is probably my favorite park overall. Here are my top picks in Magic Kingdom for couples.
SPLASH MOUNTAIN

BIG THUNDER MOUNTAIN

SPACE MOUNTAIN

PIRATES OF THE CARIBBEAN

SEVEN DWARFS MINE TRAIN

HOLLYWOOD STUDIOS:
Hollywood Studios is so much fun! Hollywood Studios has my two most favorite rides in all of Disney World: Rock n' Roller Coaster and Tower of Terror. I get butterflies every time on both rides. Also, their Toy Story Land is the absolute cutest. Cole and I are looking forward to returning to Hollywood Studios once the Star Wars Land is finished, but until then, here are our top picks:
TOWER OF TERROR

ROCK N' ROLLER COASTER

SLINKY DOG DASH

TOY STORY MANIA

STAR TOURS
EPCOT:
Epcot is also so much fun. I love how they showcase different countries and cultures. In my opinion, Epcot doesn't have as many fun rides as some of the other parks. BUT walking around and experiencing the beauty of the park alone is worth it to me. Here is what I recommend:
SOARIN' AROUND THE WORLD

TEST TRACK

FOOD AND WINE FESTIVAL
ANIMAL KINGDOM:
The Animal Kingdom is probably my least favorite park in Disney World, but there are things about it that I still love. They have my favorite soft-serve ice cream cone in the entire world and I would go to animal kingdom purely for that hahah. Animal Kingdom seems to be more crowded to me than the other parks because the park isn't as big and doesn't have very big walkways. With that being said, here is what you cannot miss when you visit Animal Kingdom:
EXPEDITION EVEREST

IT'S TOUGH TO BE A BUG

PANDORA WORLD

AVATAR: FLIGHT OF PASSAGE

KILIMANJARO SAFARIS
*This is not a complete list by any means! There are so many other rides and attractions that you should definitely do if you get the chance. These are just my personal favorite rides and ones that I can go back to over and over again.

USE THE SINGLE RIDER LANE:
Don't be afraid of the single rider line… especially if the park is busy! The single rider lane isn't available on every ride, but I recommend using the single rider lane whenever you can. It'll save you so much time. You will be able to stand in line with your S.O. and lots of time you will end up sitting close to each other on the ride. Cole and I did this and it was totally worth it. This article from Trip Savvy covers how to maximize the benefits of the single rider line. 
THINGS TO SKIP AT DISNEY WORLD… BECAUSE YOU DON'T HAVE KIDS
PARADES: If you are just dying to see the parades then do it… if not, watch the fireworks while riding something fun! While everyone is flocking to watch the parade, take advantage and go on some more rides while the lines are shorter. My favorite attraction to ride at night is Big Thunder Mountain.
WAITING IN LINE FOREVER TO GET AUTOGRAPHS: Again, if you are dying to do it then do it. But in my humble opinion, I think it is a big, fat waste of time. Time is of the essence at Disney World so don't spend precious time on that.
THE FOOD STANDS: Don't get me wrong, I love a good turkey leg as much as the next person, BUT… if you don't have children then you can skip the food stands and go to one of Disney World's delicious sit-down restaurants.
PARTY HARD: Spend time with your significant other and stay out late! You don't have a fussy three-year-old who is dying to go to bed.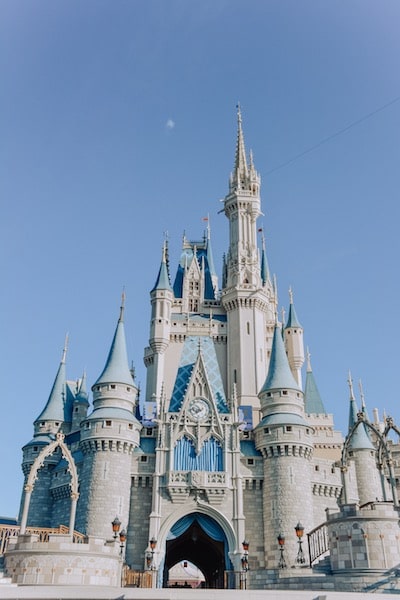 I hope you have so much fun with your significant other in Disney World. It is one of my favorite places to be a kid again! What are your suggestions? Do you have a place that you like to escape adulthood for a bit? 
Xo,
Sav
Subscribe to our newsletter for more travel tips and get your hands on our FREE Color The World starter kit!