Nassau, Bahamas is one of the largest and most visited Carribean cruise ports.  Chances are that if you are going on a Caribbean cruise, you may stop here at some point! We recently spent over a week on the island of Nassau and wanted to narrow down what are the absolute BEST things to do when you get to visit this little slice of paradise for a day while on a Caribbean cruise. In this post, you will find out where to go, what to skip, and the things you ABSOLUTELY Have to do While Visiting Nassau for One Day on a Cruise.
Things You Absolutely Have to do While Visiting Nassau for One Day on a Cruise
Where to Go When Visiting Nassau, Bahamas on a Cruise
Okay, so this is our VERY honest opinion and it might be a little harsh but we spent quite a bit of time in downtown Nassau and we feel like the cruise port itself and downtown Nassau are very so-so. The actual history of Nassau and the Bahamas is fascinating, but in terms of things to see and do, there are better ports and towns to sight-see and peruse while on your cruise. However, the beaches and water activities that are offered on Nassau are some of the very best! We think the smartest thing to do when you visit Nassau, is to head to the beaches and the water park and skip the sightseeing for another port of call.
To help you and your family prepare for your fun trip to the Bahamas, be sure to download our Bahamas coloring page!
The Best Beaches on Nassau to Visit
The Bahamian sand is some of our most favorite, and the seawater is clear, blue, and crazy warm! So slather on your sunscreen and get away from the crowds at the port and ship and head to one of these beaches for some R&R. Below are the best beaches on Nassau you can visit when you only have one day.
Paradise Beach at Atlantis
This is our top suggestion and not only is it a super fun beach but, only a few steps away is Aquaventure – the Atlantis's monumental water park. If you visit here you will have a chance to experience all that the Atlantis resort has to offer, making for one super fun-filled day. (See more on why you should visit Atlantis and what you should do while there below.)
*If you are planning on visiting the beach at all on your trip (which hello – of course you are :)) you MUST check out our Beach Bag Essentials here!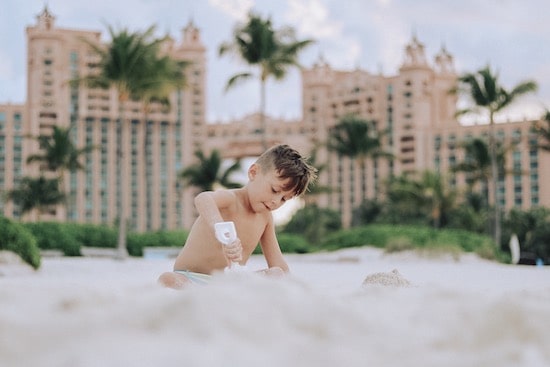 Other Exceptional Beaches on Nassau
If visiting Atlantis is not your thing, but you still want to experience the best beaches that Nassau offers these are great options!
Cable Beach

Jaws Beach

(I still cannot believe a beach is named after an infamous shark haha!)

Junkanoo
The Things You Have to Do at The Atlantis Bahamas Resort
Like we suggested above, visiting Aquaventure and Atlantis when you visit Nassau on a cruise is our top suggestion. It is super clean and family-friendly. It has gorgeous beaches, decent food, and super fun water slides and activities for all ages. If you do end up visiting the Atlantis when visiting Nassau (which we strongly suggest you do!), there are certain things you want to make sure you do while there! It can get crowded and it is hard to know what are the must-do rides or experiences, so we have broken it down for you!
EXPERT MONEY SAVING TIP:
Sometimes it is cheaper to book directly through Atlantis for your day pass and get a Taxi versus booking it through your cruise ship. Before you shell out extra money to visit Atlantis through your cruise ship, check the prices here. If you do decide to plan your own visit versus going through the cruise ship, don't forget to factor in the taxi fare. Make sure to negotiate the taxi far BEFORE you get into the Taxi Cab. You should expect to pay anywhere from about 30-40 US dollars (one way) for a transfer to Atlantis from the cruise port.
Top Recommendations for Aquaventure Park
Get there as early as you can and snag your spots by the pool.

Go to the Mayan Temple area first and do the Leap of Faith ride which usually has the longest wait times and goes through the sharks. (However, you can't really see them on this ride.)

If you want to see the sharks, then the Serpent Tube Ride is a must. (Also, the kids slide at the Mayan area are really fun! Beckham loved them!)

Head over to the power tower and make sure to hit as many rides as you can there.

At any point of the day make sure you experience the "Rapid's River".  You will probably want to do it more than once. This was Beck's favorite and this river ride is Atlantis's take on the "lazy river". Let's just say there is nothing lazy about this river!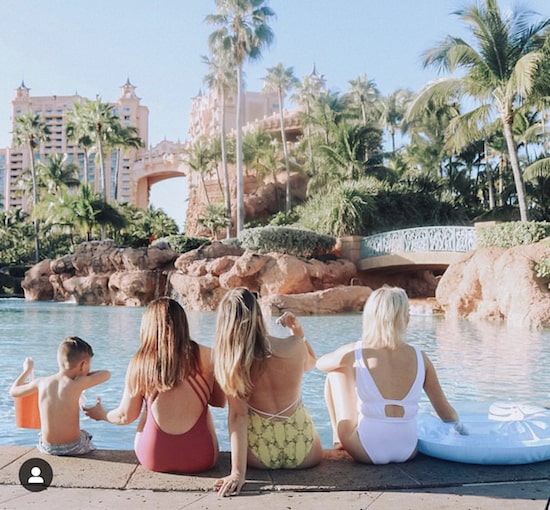 Top Recommendations for Dry Activities at The Atlantis Bahamas
Everyone, even the most water-worshiping, can get sick of being wet and sticky from the saltwater. If you fit into this category, we have given our top recommendations if the weather isn't fantastic or if you need to swap your wet swimsuit out for a dry set of comfy clothes.
Visit "The Dig" aquarium which is super cool AND free! It is easy to spend at least a couple of hours wandering around and watching the different fish. Our favorite was the massive manta ray! Also, we know that they have piranhas here as well but for the life of me, we couldn't find them when we were here last. If you do end up finding them, will you be sure to drop in the comments below where they are???

Walk over by the hammerhead sharks and the rope bridge near the Coral property. This area is super pretty and great for pictures. (Also, I don't know about you but hammerhead sharks fascinate me! I could watch these guys for hours.)

Enjoy a walk around the whole property. Go through the lagoons and the plethora of tide pools and beach-side walking paths.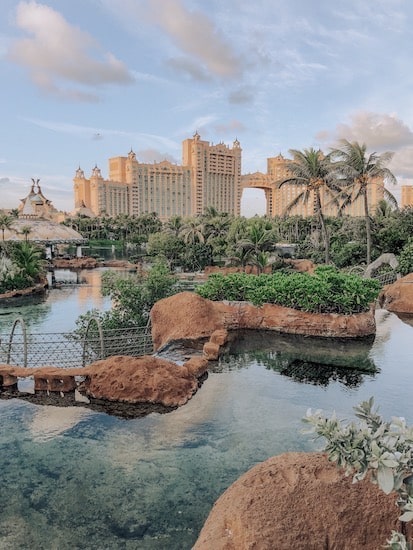 What to Eat While Visiting Atlantis
So the food is – decent. It isn't earth shattering but it also isn't terrible. We stuck to the most economical options because spending tons of money on so-so food isn't what we love to do. Below are the two poolside restaurants that were our favorite. We made sure to include the best option on the menu.

Breakwaters Grill




Chicken BLT/Burger




Splashers Grill




Tortilla Melts Spicy Chicken
Best Paid Extra Activity at Atlantis
Easily the cutest additional paid activity for kids is the "Sea Squirts" program. It is darling, informative and captivating for the younger ones.  Make sure to book this ahead of time on the Atlantis website.
What to SKIP at Atlantis
Skip the pricey restaurants here – not worth the time and money.

Skip the Dolphin encounters. We have done many different dolphin encounters or learning activities at different beach destinations and this was our least favorite. It was the least engaging and one of the most pricey. Unless you had your heart set on experiencing the Dolphins here, we say skip them and enjoy the rides included in your pass.
Want more Bahamas? (I mean, who wouldn't? Is it too much to ask that I get to sit on a beach for at least half of the year haha?) See How to Plan the Perfect Bahamas Family Vacation here!
Check out our Bahamas coloring page today! It'll be the perfect companion on your beach vacation!